AT&T stores stepping up advertising a tad?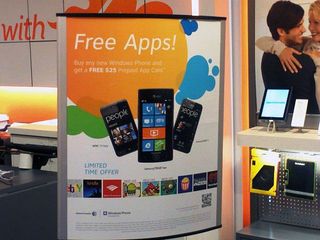 AT&T is in a tight pickle around this site: they're at once awesome, for having the Focus S, Titan and Flash in addition to being the largest carrier in the US. That's good for Windows Phone. On the other hand, they tend be a bit sloppy sometimes and at their support for Microsoft has been bit under whelming (but we're a bit biased here too).
Some of that may be changing. We've seen some effective commercials, they do have plans for Nokia and though their stores are a bit haphazard, at least we now see some in-store promotion going on. From this pic from reader Jeff B., we can see AT&T pushing the $25-app card that Microsoft is sponsoring for new phone purchases.
Game changer? No. But we think AT&T is trying here so we'll give a tiny golf clap. Let us know if you see anything similar in your local AT&T store. Now give us an epic Titan commercial and we'll be happy ;-)
Thanks, Jeff, for the report!
Windows Central Newsletter
Get the best of Windows Central in in your inbox, every day!
Daniel Rubino is the Editor-in-chief of Windows Central, head reviewer, podcast co-host, and analyst. He has been covering Microsoft since 2007 when this site was called WMExperts (and later Windows Phone Central). His interests include Windows, laptops, next-gen computing, and for some reason, watches. Before all this tech stuff, he worked on a Ph.D. in linguistics, watched people sleep (for medical purposes!), and ran the projectors at movie theaters because it was fun.
My AT&T is heavy on advertisement with their Samsung Focus Flash ( not the S or Titan, which is weird ).

Gonna check my store today will report back and let you know.

The US is quite spoiled, Canada has one Carrier with one Phone. The times I have gone in to inquire have been less than satisfactory.
Another carrier did carry WP, but the staff always ran to the Android devices and argued when you asked for something different.
The $25 is not available in canada...

I went into a coporate AT&T store this week to see if they would allow me to upgrade a month early. I explained my extreme frustration with my current (android) phone to no avail. However, I was impressed that the girl that I spoke with admitted that she used a Windows phone and explained features she enjoyed; mainly Zune and Office live access. She even attempted to placate me by letting me in on a "secret" concening a new Nokia phone coming in January. Although there was no Windows Phone kiosks, the employee I spoke with was 100% on the platform bandwagon. Alas, I shall wait 27 more days to ditch the little green robot.

It can be a tough wait, but it'll be that much sweeter when you bump up :)

Wow, man. That's actually a pretty good unofficial scoop you got there. Nice that you ran into a Windows Phone supporter at the AT&T store.

I actually found a Windows Phone fan in the AT&T store I went into to try out the Focus S and the Titan. The first salesman was an iPhone fan, and kinda crinkled his nose at WP until he realized how enthused I was over it. In came a second Salesman that was happy to share WP experiences. Fun to find some change on the ground floor level.
I am happy you will have a shot at Nokia. Hopefully, a top end 900 one as a reward for your patience and common sense decision to leave the over-rated OS you now have. ;-)

Good to see this. I also don't get the weird looks when I walk in to an AT&T store asking for a WP7 accessory. Also in this particular store they had the iPhone 4S set up right next to the Focus S and Flash. They both work and are quite eye catching. Nice placement if I do say so. ;)

I stopped in a local AT&T store the day before the one cent sale (so Friday after Thanksgiving). I'm interested in taking the WP plunge (but still haven't as of yet). I wanted to know if the HTC Titan would be eligible for the massive price reduction. Of course you have to purchase the device from the website, but no sale prices were listed for any phone (at least not until the day of the sale). Since the Titan is arguably the "best" and newest WP7 device on AT&T I had my doubts. The sales person wasn't knowledgeable about the WP devices, and it seemed nobody was. She was pretty positive the Titan was not eligible for the sale. She said something about a sales rep coming in to educate the store about the promotion, but the rep only talked of the Samsung devices. As I was not interested in any other device, I decided to leave without really playing with the phones to get a better feel for WP7. My wife quipped that I should just get an iPhone (an ongoing joke between the two of us since she knows I don't want one). Upon hearing this, the sales person said that was a really good idea. She certainly had more enthusiasm about me getting an iPhone than any WP7 phone. Of course this is just one person at one store.

It must be a regional thing. The AT&T nearest me always had a nice display for WP7 devices.

ATT salespeople here have never been knowledgable; they sound like the Evo4G video with the geebees and wanting it in white, only selling you the phone based on geebees and that it comes in white.
Went into the store yesterday to get a screen protector, the WP7 handsets were almost behind the counter, no signage. They did not have the screen protector (surprise) and when I checked if they had one for my Focus that is goign to the wife, they tried to sell me a Focus Flash screen protector, "oh, there is a difference?"
Microsoft is gets a cut of just about every Android handset sold, but it sucks that more people are not joining into the ecosystem.

Must be painful to hear "is there a difference?" between the Focus and Focus Flash. Reminds me of a friend who genuinely asked me if there was a difference between Windows Mobile and Windows Phone. Ugh.

If WP is going to become a major player, it will have to be through us users promoting it and because AT&T keeps offering great options and starts getting the word out. I keep hoping AT&T uses their WP offerings as a way to seperate them from other carriers. They have all 3 iPhones (3GS on up), a very good Blackberry selection, a decent Android selection, and the best Windows Phones offering on the continent. They are the only carrier that can say all that. Why not use it as a selling point?

At the ATT store in Fort Collins, Colorado, the Windows Phone salesman was definitely excited on the new S and Titan, but the store layout had the Windows Phones next to the iPhone 3GS on one side and the 4S with an 8 foot tall 4 foot wide banner proclaiming the 4S and an Android banner directly above the Focus and the Titan.
The salesman has told the store manager that there is no Windows Phone marketing at all in the store. Does not seem to be of great importance to market these phones at the store.
Side Note: No accessories at the store for the Titan - AT ALL! Could not get a protective case (even from the website). Have had the phone for more that a week and after having smartphones for more than a decade (always got a case for them), it took a dive out of my shirt pocket an smashed the screen. Went back to ATT store and they had a case cover available ONLY from the website.
Ordered it and got it on the phone, but it sucks to need to pay a $200 deductible for a 1 penny phone to get the screen replaced.

Well, one thing I've noticed recently is that in a couple of at&t stores, they have a prominent display of accessories, that is to say iPhone cases and what not of iPhones right when you enter. Also the eye-catching 4G LTE advertisements showcasing android phones. But definitely, the WP are getting better treatment than they were used to.

Just gonna add that while AT&T doesn't get a pass in its lack of advertising, let's not let MS off the hook for their ineptitude in the department. Sure, there has been recent uptake in the WP advertising. But in the last year, it was horrendous compared to Apple and to a lesser extent, Google. So MS, IMO, is the more egregious party in this situation
Windows Central Newsletter
Thank you for signing up to Windows Central. You will receive a verification email shortly.
There was a problem. Please refresh the page and try again.