Avengers Assemble with RJS! for Windows Phone 8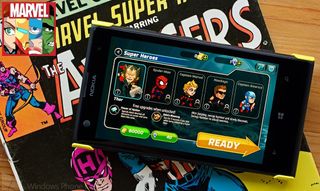 Run, Jump, Smash! landed in the Windows Store last month and the Windows Phone 8 version was released this past weekend as the abbreviated title RJS! The game is an endless runner where you guide a team of Marvel Comics superheroes across an obstacle course filled with obstacles and enemy minions.
Your goal is to advance far enough to fight super villains such as Loki. Superheroes can be upgraded or additional characters unlocked with the coins you collect as you run through the game. Graphics are rather nice, game play challenging and possibly the only downside to RJS! is the lack of a trial version.
Assembling Your Avenger Team
When you first launch RJS! you will have the option to sign into your Facebook account to participate in the online leaderboards. From there you will need to assemble your team of four superheroes.
RJS! Superhero Line-up
This is an easy task to begin with, in that you only have four superheroes available, Captain America, The Hulk, Ironman and The Black Widow. Additional superheroes can be unlocked with the coins you earn during game play. Additional superheroes include Thor, Hawkeye, Captain Marvel and Spiderman.
You will have to choose your S.H.I.E.L.D. Agent with your choices being Nick Fury or Maria Hill. The S.H.I.E.L.D. Agent is your core player for the game. As your guide the Agent across the playing field they will come across superhero tokens, that when collected will release one of your superheroes. The superhero will run the course for a short time and then the S.H.I.E.L.D. Agent will return to the game. There is a meter just below the Special Attack bar on the game screen that will reflect how much time you have with the superhero. You will also see a countdown bubble appear as the transition back to the S.H.I.E.L.D. Agent approaches.
RJS! Avenger Upgrade
Prior to jumping into game play, you have a few options to consider in assembling your team of Avengers. First up, you can upgrade each superhero with the coins you earn during game play. Each upgrade will give your superhero a new set of skill enhancements that will improve their abilities to run, jump and smash.
Next up, you have the option to buy enhancements with your coins to give your superheroes an added boost during game play. These enhancements include shields, wings to fly you across a portion of the playing field, and strength charms.
RJS! Help Section
Once you have upgraded, unlocked and enhanced your Avengers you will be ready to jump into game play. If you have any questions on game play or what an icon/token stands for, RJS! has a nice help section that is accessible from the main pages (the '?' button in the upper right corner).
Hulk Smash!
RJS! game play does require a data connection (Wi-Fi or 3G) and does take a few seconds to load. However, while the requirement of being tethered to a data connection feels restricted the game seems to randomly generate each gaming session. That is no two runs are the same.
RJS! Game Load Screen
You will see similarities but where you ran into a flaming obstacle on one run, you might find an evil minion in the same spot during the next run. A nice touch keeps you on your toes.
Your first game will begin with a series of tutorials to get you accustom to game play. The game screen has two control buttons at the bottom of the screen, one to jump your character the other to fire their weapon/activate their super power.
RJS! Tutorial Windows
Across the top of the screen you will find your Special Power meter, any enhancements you have purchased, and your score.
Each gaming session begins with your S.H.I.E.L.D. Agent running across the deck of an aircraft carrier. Coins are scattered about the screen that can be collected for points. The more points, the more coins you earn at the end of the game.
The goal is to run your team as far as you can, eventually battling Loki. You will need to jump over various obstacles such as flames, breaks in the road, electric fields and battle evil minions. As you run across the Avenger tokens, the S.H.I.E.L.D. Agent is temporarily replaced by that Avenger.
Additional tokens are present throughout the game that will increase your Special Attack meter, make collecting coins easier by magnetizing your character to attract the coins, providing a shield around your character and more. Once the Special Attack meter is full, you can swipe across the screen to unleash the special attack power of whichever superhero is in play at the time. The special attack basically wipes out everything on the screen.
Should your superhero stumble before the natural transition back to the S.H.I.E.L.D. Agent, you will see Nick Fury or Maria Hill return to action ahead of schedule. If your S.H.I.E.L.D. Agent hits an obstacle or is taken out by a minion, the game ends.
RJS! Captain America vs. Minion
A gaming summary will appear, coins awarded and you will return to the main set of menus where you can upgrade superheroes, unlock additional heroes, buy enhancements and jump back into game play.
Good, Bad or Ugly?
I have to admit, RJS! has grown on me. It was a little disappointing that the superheroes didn't get more game time but the more I played RJS!, the game developed an addictive quality about it.
RJS! Black Widow in Action
Graphics are rather nice, game play challenging and the randomness of your runs keeps the game from growing stale. I do think the cost of unlocking the additional superheroes is a little on the high side (100,000 coins to unlock Spiderman!) but you can buy gems through in-app purchase that can be converted to coins to get a jump on things.
I am still on the fence about requiring a data connection to play the game. If my suspicions are correct it does allow game play to have a bit of variety and should minimize the amount of storage needed on your Windows Phone (core game is 34MB). Still, an offline option would not hurt.
RJS! Mystery Window
I did experience a few mystery windows yesterday when playing RJS! There was no dialog in the window and even with the mystery windows popping up, I was able to eventually make it to the game. If you try to play the game without a data connection, you will get a similar window but with a warning that a data connection is required. Our best guess is these mystery windows are the result of the server driving the game experiencing technical difficulties.
While the RJS! gaming experience was enjoyable, I think the biggest hurdle RJS! will have is the lack of a trial version. I feel RJS! is an entertaining game for Windows Phone 8 but not everyone will share this view. RJS! would be more attractive if it had a trial version that would let you play the game for a few times before requiring a purchase to continue.
RJS! does have a casual feel to its game play but challenging enough to keep you interested. It's an appealing gaming title for Windows Phone 8 and a fun way to pass the time with.
Again, the Windows Phone 8 game lacks a trial version and is currently running $1.49. You can find RJS! here in the Windows Phone Store. RJS! is not available for low-memory devices such as the Nokia Lumia 520.
Additionally, if you prefer to play on a larger screen Run, Jump, Smash! is available for Windows 8. The Windows 8 version is also running $1.49 (no trial either) and you can find Run, Jump, Smash! here in the Windows Store.
Get the Windows Central Newsletter
All the latest news, reviews, and guides for Windows and Xbox diehards.
George is the Reviews Editor at Windows Central, concentrating on Windows 10 PC and Mobile apps. He's been a supporter of the platform since the days of Windows CE and uses his current Windows 10 Mobile phone daily to keep up with life and enjoy a game during down time.