Background audio is publicly rolling out for Groove Music on Xbox One, bringing tweaks on Windows 10
Xbox One users outside of the Preview should now be able to update Groove Music to include background audio playback.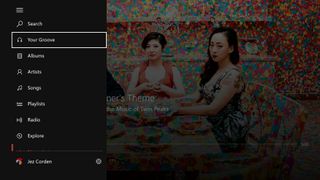 Groove Music is Microsoft's subscription-based streaming service, available across Android, iOS, Windows 10, Windows 10 Mobile and Xbox One. With the console's Summer Update, the Universal Windows Platform version of Groove Music hit Xbox One. However, up until now, it was only available on the Xbox One Preview while Microsoft ironed out some remaining bugs.
As confirmed by Groove community manager Ellen Kilbourne, this update will allow you to listen to your favorite tracks on top of games without snapping the app, finally bringing one of the most highly fan-requested features to the console.
How to force the update on Xbox One
Go to your Games & Apps section, located at the top right of the main dashboard screen.
Select the apps tab.
Select Groove with the view key on your controller, and hit update.
The update should bring Groove Music to version 3.6.2395, to match what is available in the Xbox One Preview and the Windows 10 Insider Fast Ring.
New features for Windows 10 users
This latest version (opens in new tab) contains some features across from the Fast Ring for Windows 10 users, as follows:
Check out the new focus on genres in Explore. You can now see curated playlists, new releases, best new songs, top albums, and top artists...all by GENRE!! Available in US, UK, FR, CA, and DE.
Radio stations show up in Recent Plays in Your Groove.
You can check out which artists are included in a playlist in Explore more easily now because they are highlighted when you click on a playlist.
You can give feedback on playlists in Your Groove with a thumbs up or thumbs down. You can also mute specific songs in a Your Groove playlist if you don't want to hear it anymore.
Muted songs will be excluded when you play that playlist later or save a copy to your collection.
Introduced landmarks in Groove to reduce tabs when using Narrator.
If you can't see the update yet, it should materialize in the next few hours. If you are an Xbox One owner who hasn't used the Windows 10 version of Groove before, the app has undergone significant changes. Take a look at the video above or some of the links below for more information on how to use the Universal version of Groove Music.
What artist will you listen to first? Let us know in the comments!
Windows Central Newsletter
Get the best of Windows Central in in your inbox, every day!
Jez Corden a Managing Editor at Windows Central, focusing primarily on all things Xbox and gaming. Jez is known for breaking exclusive news and analysis as relates to the Microsoft ecosystem while being powered by caffeine. Follow on Twitter @JezCorden and listen to his Xbox Two podcast, all about, you guessed it, Xbox!
I used it last night. I like the interface.

Great :) Posted via the Windows Central App for Android

But can I play music from my hard drive? What good is it if I can't do that?

Probably not. Groove apparently only reads local storage on Windows 10 and Windows Phone. On Android, iOS and the Xbox such features are missing. Posted via the Windows Central App for Android

Indeed, idk why they're doing this, I can't get the logic behind it. Do they want Groove to be a streaming service mostly or a full music player that can play music you already owned? The lack of playback on Xbox said to be a technical limitation if UWP, though why this hasn't been addressed beforehand, who knows why. On iOS and Android where there is a large userbase which mostly will own an Windows 10 PC, Groove doesn't give any good experience for them, the app is a joke. It seems MS just wants them to stay on Spotify, Google Music, etc.

Groove is excellent. Notwithstanding that this is a single app, that works on Xbox, Phone, Tablet, PC. Think about it for one second in between your whining. Does Apple or Google have this? No. You're an edge case. Yes most people stream. Or have legacy collections, stuffed into OneDrive (or other drive service) Anyone "collecting" music, and keeping it on local hard drives is a dinosaur. My kids don't even understand the concept of "buying" music. The future is absolutely streaming.

UWP apps on Xbox don't have access to internal storage, you can upload music to OneDrive though, or play from an external HDD

Which is odd since you can on external storage device but not internally. Idk why this hasn't been addressed at the start. Good thing at least, Xbox team is more active at push updates.

No need to. If you have music in your OneDrive "Music" folder it will be available. I just tested it and it works perfect! Whenever I get new music I just drop it in OneDrive for playback on my 950, tablet, etc. It's a great replacement for the old sync over wifi that Windows Phone 7 and Zune had!

Actually there is a benefit, so that you don't have to use the internet to listen to your music.

With all the plans that don't charge you for going over any threshold, why worry about that? Even throttled, you can still listen to your music. Plus, WiFi.

No Internet, and taking it with you is fine for downloading on a mobile device that may go out of signal range (or blow an allowance). An Xbox is stationary, so it makes the no internet argument moot and irrelevant.

No it doesn't specially since there's World outside the US and in many places ISP's services are utter crap. Posted via the Windows Central App for Android

You can import files from your hard drive yes. And also plays directly imported from OneDrive to. Please do research people.

Then prove it. Because absolutely nowhere in the app there's an option for importing from the local hard drive. Posted via the Windows Central App for Android

Yes. And you can play imported from OneDrive.

How to get into the preview for the box? Do we need to be invited? The should release a build with the insider options in settings.

Yes u need an invite im Aussie Michael send me a message on Xbox ill organise invite

Cool, does this actually mean i can use the new groove app now... I guess not.

Did you even read the article?

I read the article. Looks like Groove Music is still not supported in my region.
To make it worse the summer update made my XBox unable to recognise one of my external drives.
Everything is getting worse for me.

Bring Videos back!!!!!!!!!!!!! Please!!!!!!!!

They already announced its coming back.

Another great walkthrough video Jez. Thanks

No videos or voice controls. Every update takes something huge away. I don't know why I bother anymore.

They announced at videos are coming back, relax.

How about they release the app after they support it? We are already plagued with "soon" so why not get it right the first time? Such bullshit. I've started feeling the tax of being on this platform. Nothing is ever released anymore with us in mind. I don't know if Microsoft is to blame or the insiders.

They redesigned the app. You shouldn't have expected it right away if it wasn't on mobile or pc version yet. Development takes time. They said it's coming back so relax

Sweet, been looking forward to this! Will have to download it later tonight. One question... Does the background audio from Groove replace any in-game music, or does it just play over top?

It overlaps the ingame music. But. You have a slider to adjust the volume of the groove music when you double tap the white Xbox Button.

I get an error every time. Can't update this app...

Error "cant sign in" seriously!!!

Finally. It's just like the phone and pc I think it's s little further I don't remember seeing the option to like playlists in my groove on my phone yet

Can you try this version then roll back or are you able to have the old and new versions on the console. I don't want to update and lose the videos until the new app has it.

I can't sign in, there is no option to give feedback as well

I want my music videos back! Where did they go?

If only they would use this feedback to alter the playlist/radio they produce for me

Groove is really awesome. It has more music available than google music and Spotify. And it lets you play your own music directly imported from OneDrive. Best music player and service out there.

"It has more music available than Google music or Spotify" Boy, you are on some HEAVY drugs for sure... Posted via the Windows Central App for Android

Dlna not working. Redirects me to the old app . Its a loop.

And for some reason I'm now unable to have it snapped. And voice controlling is not working when you're using OneGuide (have my PC connected to the HDMI in temporarily cause a monitor broke) which is kinda sad.

I think this release of the Groove UWP on the Xbox One is one of the most imprtant app releases we have seen, background music isn't important for me, far easier to have any other device playing music whilst I am doing stuff on the Xbox. But for me the important things is I now have an intergrated look for my music across all my devices, Xbox One, PC, SP3 and phone and seeing as my Xbox One is hooked up to my biggest screen (The TV) and my Hi-Fi system it was being a UWP that I wanted, with the added bonus that music playing from what I last played no longer starts when I start up Groove on the Xbox One, and for those of you who wanted it you can now do background music

OK I take the background music bit back, I was laying on the settee, the Rolling Stones playing, but I wanted to check out a couple of things on the Xbox, "What was on telly just now" and have a look through the menu's, and all of this was done with the sound of Richards and friends, better and more useful than I thought

Groove won't let me sign in. I click the 'Sign In' button, and nothing happens :/

Too bad there is an audio bug in the Windows 10 Mobile version of the app. Everything plays but with no volume effectively muted.

I haven't come across that, yet.

I couldn't sign-in but then found I had a system update to install. Works fine once installed. Still no MSN weather app for UK

I am so so so p*ssed that they took off music videos!!! Posted via the Windows Central App for Android
Windows Central Newsletter
Thank you for signing up to Windows Central. You will receive a verification email shortly.
There was a problem. Please refresh the page and try again.