Backing up your Windows Phone pictures and videos with OneDrive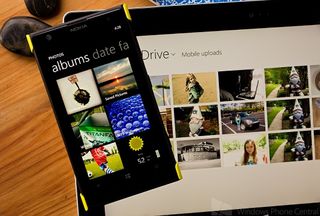 Spring is quickly approaching and with the warm weather, everyone will start finding their way outdoors and our Windows Phone cameras will become more active. We'll be shooting pics of flowers, the kids running around the back yard, little league ball games, vacation spots and other warm weather hot spots.
These photos are important to you and should something happen to your Windows Phone, you would want them backed up, right? Well, for those new to Windows Phone (and those who have forgotten) there is an easy way to back up your photos.
Everyone who has a Windows Live ID has a OneDrive (formerly known as SkyDrive) cloud storage account. The free plan, which most enjoy has 7GB of storage. Additional storage comes at a cost and every now and then, you can find deals for free storage increases (like this Bing Rewards offer). To set your Windows Phone images to automatically be backed up to your OneDrive account, here is what you do.
Go to your Windows Phone Settings, scroll across to Applications
Choose "photos+camera"
Scroll down the camera settings where you will find the option to Auto Upload and turn it on (still refers to SkyDrive)
The auto upload has a few options to consider that main deals with the quality of your back-up file. You can upload a good quality image (slightly downsized) over your wireless data plan or go for best quality that will require a Wi-Fi connection. The options are available for both video and photo uploads.
Once you turn on the auto upload feature, your images and videos will be sent to your OneDrive account. Now, if you drop your Windows Phone into the lake, it gets melted by the wall charger, have angry seagulls carry it off or otherwise have your Windows Phone meet its fate, your pictures will be stored on your OneDrive account.
It should be noted that the high-resolution images captured from the Nokia Lumia 1020 will not be uploaded. Instead of the 38 MP images, the lower-resolution 5 MP images will be backed up. For those looking to back-up the larger image files and are on the AT&T network, here is how you can use your AT&T Locker to back-up these files.
Windows Central Newsletter
Get the best of Windows Central in in your inbox, every day!
George is the Reviews Editor at Windows Central, concentrating on Windows 10 PC and Mobile apps. He's been a supporter of the platform since the days of Windows CE and uses his current Windows 10 Mobile phone daily to keep up with life and enjoy a game during down time.
I assume the 1520's 16 mp photos don't get backed up either?

Yes, they don't. For that you need sometihng like pocket file manager

I hope that they allow for high res backups in 8.1.

I hope they allow you to add a new microsoft account without factory resetting the device..

Lol ray !
Anyway, how can pfm auto sync the pictures ?

I did not say that pfm can auto sync, just can hell you to cy high res file to onedrive

How do you do that? I bought the app but can't figure it out

I love this feature. Its helped me 'sell' 3 WP's to friends. OneDrive gets better and better.

Same upload issue with Icon

Hey, wpcentral team, don't write that one drive is 7 GB only, you can increase it to 15 GB for free, unlike Google drive, its only 10 Gb and they say about it 15 ...

I'm on 30GB due to offers etc...

i guess you missed the 100 gb data offer then....too bad :p

proceed with caution. violate the terms of service with nudity and your SkyDrive... OneDrive will be locked. I know you're thinking "but my photos are private." if you share a link with even a single individual, MS will review your photo.

1) Don't share your camera roll with other people or mark it public. It will save you embarrassment when you take stupid pictures or drop your phone while using the bathroom. 2) They don't lock it for nudity or pornography unless there is a specific law in your country that prevents their abiliy to store it on their servers. For most places this only includes things child porn.

you got that wrong. Onedrive has explicit regulations of what you can store. Many people think "my account, my personal space " not the case here. you are using their servers, their storage space...you conform to their rules. (downside to free, right? ) They did specify in "terms of service" how they try to "honor" global and regional laws but as for any account holder....MS reserves the right to "check" your storage "at will" and does NOT need your permission. They have what is called "content storage regulation" and use "quality of service guidlines upon entering in your account. they claim to test their storage capacity with the content of what you store to be optimal. and YES ..they can even scrutinize whats inside.' porngraphic material of any kind will not be tolerated; erased and account will be withdrawn (you will recieve an email for violating terms of service), acts considered to be offensive to others, items or photos that constitute a crime, think of their storage cloud as a public place....whether you are sharing or not....if you dont want a real live person to see something private or racy.....do put it in there.

how do i stop the redundancy of the backups? i understand "camera roll" pictures being backed up to onedrive but every other picture you have on you phone gets backed up as well. for example, those promotional pictures that come with your new windows phone get backed up... if you save a picture from an email attachment, facebook, or from a website, it gets backed up... if i make a post on instagram and use a filter, a copy of that filter picture gets saved along with the original in my camera roll, and then they are both backed up to onedrive. this seems ridiculous. why is there no option to select which folders get backed up and which ones dont? and why is there still no option to be able to hide or lock a picture folder, or get rid of all your facebook picture folders without disconnecting your facebook account? and there is still no way to disable the thumbnail preview cycling in the onedrive desktop version.

your main issue is your phone.,.....get an iphone. everything you just said above i can do.,

My only problem with one drive is none of my videos play right. They all freeze and buffer.

yeah, one drive's video servers are powered hampster in a wheel. MSFT may as well auto upload them to youtube, or buy vimeo already, or anything. onedrive is basically worthless for video.

They freeze a tad bit sometimes, but they pretty much work.

i find that funny cuz I uploaded a few HD movies to it and had no issue at all.

I never have that problem, whether over 3g or WiFi. All run smooth as..

Yes, same here. I think its because of bitrate and our internet speed. Onedrive is basically file sharing service, not a multimedia sharing service like g+!

Uploaded Xmas video then deleted on phone, only to find the quality sucks! Pissed

Always use the WIFI best quality, especially before you delete anything. (I don't know why they won't let us have that option over the data connection, since most of us understand how much available bandwidth we have. It is almost an throw over of the WP7 and 3G days.)

Agree, should be best quality over 3G or WiFi as an option.

It should also be noted that everything you posted on the past using those setting will be in a folder called "Skydrive camera roll" All new ones are located in "Pictures - Camera Roll" Wiped my phone thinking it didn't sync any more. Oh well, at least it's a fresh start now.

Let the mass storage problem begin....

you need to update your system first bud. accept all frimware and platform updates.

Hi all. I have been enjoying this WP8 feature as well as the OneDrive sync feature for documents and other photos across multiple devices. Very nice. Yesterday, I was just about to "take it to the next level" and move 50 GB of family photos to a sync'ed folder structure on OneDrive. But I found out that if you do that, Windows 8.1 will not do File History backup with OneDrive sync'ed folders! And apparently OneDrive supports undelete only for Office files and only for 30 days. This is quite disappointing, because Microsoft does not truly support OneDrive as a backup solution (see T&C limitations), but the backup solution that they have provided for Windows 8.1 does not support OneDrive!

SkyDrive has been broken since they pushed 8.1, doesn't upload anymore at all from the desktop client

Works with 100% reliability for me.

It sounds like something in your profile has been screwed up. I see this more often on user accounts that were upgrade from 7 to 8 to 8.1, but even on a few 8 to 8.1 accounts that use more than one computer. To fix it... Unlink your MS account from your profile. Create a new login username as a LOCAL account (don't link you MS account yet). Then log into the new account, and then connect your MS Account. (This also fixes weird Sync/App/Store errors that are a hold over from Windows 8.)

Pick one machine that is your 'server'. Make the OneDrive/SkyDrive folder ALL available Offline on it. Then use it for back up.

Yep, that's exactly what I'd like to do -- except with Windows 8.1 File History backup to an external drive to save me from accidental modifications and deletions. Something that OneDrive can't/won't do.

Save a bunch of low res versions of my pictures on some company's hard drives? Yeah, no thanks.

Good for you. I utilize this feature and it's the BEST.

Your emails are "saved" on some company's hard drives. What about that?

microsoft: here have this awesome phone that takes raw images but no, you shall not back them up to onedrive! yet again MSFT proving it doesn't get even its own OS.

Went to a wedding 2 weeks ago and took like 200 pics. I get home and not one of the pics uploaded to one drive. It totally glitched on me.

Isn't this a global site? We don't all live in America George! ;)

My Cinemagraph pics were corrupted when I did this

This won't screw up my "Other Storage" anymore?

By default it adds Saved Pictures and Camera Roll to sync with OneDrive. How can I add more folders such as WhatsApp to sync?

Love the backup feature, I just wish it was a complete sync experience. Kind of a pain that I have to delete photos from 2 locations, as opposed to just one.

Does 1520 users get the High resolution picture when uploading to att locker??

Love this feature. Although I have found I prefer to do it manually since I get to choose what I back up versus having everything backed. I just press the ...>Save to SkyDrive, wait a bit and done.

I'm with you. I prefer the hands on approach. Full control = less issues.

"Girl you look good when you back that thang up".I Love Sky, I mean Onedrive. Microsoft seems to be doing a good job of adding features as well as improving the quality of the service, as you would expect. Though maybe not as fast as some people would like, also to be expected. My needs are met with the service as is. Family pics from my Lumia get uploaded. I can store my high rez porn pics elsewhere.

I've a problem each time I activate OneDrive Backup. Each pictures are displaying lots of time in camera roll of my phone !! And when I delete duplicated ones, the original picture is corrupted and cannot be found anymore !!! Onedrive bacuck sucks :/

Hey I just Backed up my Pics to OneDrive From my Windows Phone. I have been using the phone for while now. My pictures do get uploaded but the thing is only the pictures that I have taken AFTER I set my settings to Auto Upload to OneDrive have been uploaded. Is there a way to upload all my other pictures which I took belfore the the date I set to Auto Upload them??? Hope you guys get my Question :)

I started backing up ,my pics recently. But it's only the pics that were taken after I started backing up have been uploaded. Is there a way to upload all the previous pics???

I would like to change my moniker. I did not see the selection opportunity. I have one I use. thanks.

Does anyone know if there is a windows phone setting which allows users to backup photos which were taken before the auto backup setting was turned to on? As far as I've worked out, I will have to retroactively add each of hundreds of photos I took ages ago one by one to onedrive. Anyone have a better solution?
Windows Central Newsletter
Thank you for signing up to Windows Central. You will receive a verification email shortly.
There was a problem. Please refresh the page and try again.