Ask for translations on the Microsoft Band with Band Translate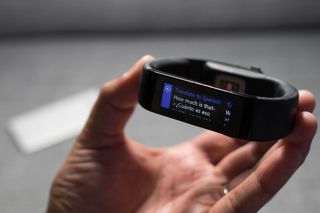 The Microsoft Band has a lot of potential and you can see that from the apps that third-party developers have come up with. Band Translate is a great example. It lets you ask for translations directly from the Microsoft Band. After installing the app, you can press and hold the action button on the Band and then say, "Translate [What you want to translate] to [In what language you want to be translated]." The translation then shows up on your Microsoft Band. Is that something you'd like to do? Check out our hands-on video to see Band Translate in action.
Before installing Band Translate on your Windows Phone, you need to make sure your band is paired with your phone. When you open the app, tap the Install Band Translate to Band button. Confirm that you want to add the Band Translate tile to your Band in the next step. That's it!
Your phone must have Cortana enabled in order for Band Translate to work. After the request goes through, the translation shows up within the Band Translate tile in the Microsoft Band. There are over 30 supported languages including Dutch, Spanish, Finnish, French, German, and more.
Like most of the third-party apps for the Microsoft Band, the Band Translate app has a very basic user interface. It's not pretty, but it works. Band Translate is created by 16-year old developer, Jake Iannacone. This is his first app for Windows Phone. You can reach him within the About section of the app for feedback or questions.
Band Translate is a free download from the Windows Phone Store. There's definitely room for improvement, but it's worth checking out if you have a Microsoft Band. Go download it now and let us know what you think!
Windows Central Newsletter
Get the best of Windows Central in in your inbox, every day!
So many apps for MSB by the time MSB2 hits, if it's even in development, the ecosystem will be ready for PT..... Does anyone have any idea how many apps are available❓

I have no idea brother but for some reason everytime there is one I usually buy it.

I wonder if those apps will work on future MS bands, and watches..

Great idea, the forwarding doesn't make it as fast as typing into Translator app, but I dig the potential, will definitely use it tho.

Very nice! It's always nice to see ones my age reaching out to this awesome platform myself :). I would love to make a Band app once I get one.

It would great if the band supported Cyrillic characters.

While Microsoft is busy to support Apple Watch, it's good to see some developers out there care about Microsoft Band.

It's really bad. Just for the Apple Watch Mircrosoft has already released OneDrive, PowerPoint and (today) Skype. The Band is now about six months old but doesn't get any (app)love from Microsoft. I guess because it looks like a mobile device...

jesus, u actually want to do Powerpoint on the microsoft band?! are u fucking kidding me. Youre bitching about powerpoint or OneDrive on Microsoft band?!

Trying to wrap head around useful use cases for having OneDrive, PowerPoint, and Skype on Band. There's not much screen real estate for navigating OneDrive. Even with both my contacts in and my glasses on, I don't think I'd be able to read the text in PowerPoint slides. Skype? I'd go for an alert that I've got something incoming, but beyond that I don't see the utility. Doesn't get any app love from Microsoft... I guess you don't ride a bicycle or use any of the other updates.

Unfortunately when I click "install to band" I get some weird exception errors on my 930 8.1 (update 2) - will try again in a few days and forward error message I'd still not working..

​Possibly reached tile limit?

Thanks.. noticed comment below regarding 13 apps max, didn't know it came already full up..

You can only have a total of 13 tiles on the Band so make sure have an open slot or the installation will fail.

Probably wrong translation though... the "How much is that" one

It's always fun to hear english speakers pronounce german words :) edit: btw. well done, 16 year old sir!

Sadly, it looks like this is one of the apps that instantly crashes on Windows 10. I look forward to using it when my phone is a little more stable.

it is indeed one of those apps... much like kakaotalk.
Windows Central Newsletter
Thank you for signing up to Windows Central. You will receive a verification email shortly.
There was a problem. Please refresh the page and try again.