Batman: Arkham Knight PC owners can finally grab a bug fix and improvement patch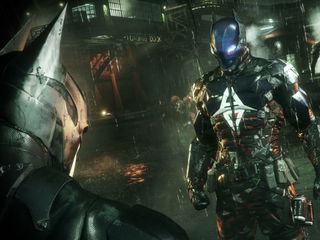 Earlier this summer, the long-awaited super-hero action game Batman: Arkham Knight was released for a number of platforms, including the PC. However, the game turned out to have a ton of bugs and performance issues and publisher Warner Bros. Interactive made the decision to suspend sales of the PC port. This week, it received a major patch designed to fix a number of Batman: Arkham Knight's issues.
Here's what owners can expect when they download the patch:
Reduced frame rate hitches
Optimizations for system memory and VRAM usage
Improved performance on all GPUs (requires the latest drivers)
More Comprehensive In-Game Settings
Fixed low resolution texture bugs
Fixed hitches when running on mechanical hard drives (HDD)
However, this won't be the final update as Warner Bros. Interactive says it is still working on the following features in future patches:
Adding support for SLI and Crossfire
Adding support for the latest DLC & Season Pass content
Adding support for additional updates such as Photo Mode
Continued improvements and bug fixing for a Windows 7 specific memory issue that occurs on configurations with 8GB of system RAM and some NVIDIA GPUs during extended game play
Continued improvements for Windows 10 specific issues on systems with some AMD GPUs
In the meantime, digital sales of Batman: Arkham Knight for the PC remain suspended and there's no word on when the game will be available to purchase again.
Source: WBGames
Yes finally. Starting the download now!!

Yay! Will download the update late (Although it already ran perfect on my PC).

I've completed 98% of the game. I can't go on anymore! I've completed all the DLCs. It's a good game though and the story isn't so bad. Enjoy the game boys.

Confused between this or Nathan drake collection for next month

If you have a PS4, get the Nathan Drake Collection. If you have a PC/X1, get Batman.

How do I download this game in my pc?

Steam is unable to sell it until WB allows the PC sales to resume. If you already own it, you can get the patch.

Now here's what I'm wondering. Why was the game released in the first place if after a major patch there is STILL a laundry list of crap that needs to be fixed. I'm sorry if I come off harsh, but I can't stand when developers over hype a game and then half ass the thing. Posted via the Windows Central App for Android

Curious if anyone else got a refund for it, but then didn't see it removed from their Steam library. Which makes sense as I bought it from Green Man Gaming, but it's put me in this odd spot where I have the game, but shouldn't, but can't buy it again because its not for sale, so do I download it and try?

Almost finished the game. The best batman ever keeping aside the smoothness issues. I had high hopes for rocksteady and shame on them to fail for the final game. I have some issues but most of the things are working good so far.


It ran fairly well for me compared to many others (Playable at least) but I was really disappointed too. Especially to find the PC version wasn't created by RockSteady after seeing videos of people apparently working on the PC version talking about how much easier Nvidia Gameworks made it to do awesome things in the PC version (Just a marketing thing to big up GameWorks most of the time, but this person was presented as working for RockSteady if I remember right - And they didn't actually do the port)
Windows Central Newsletter
Thank you for signing up to Windows Central. You will receive a verification email shortly.
There was a problem. Please refresh the page and try again.