Batman: Arkham Knight for the PC will finally be re-released on October 28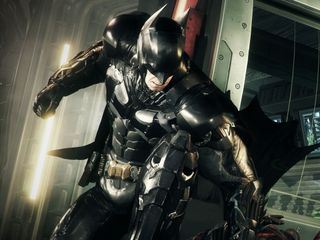 Batman fans on Windows who have been waiting patiently for Batman: Arkham Knight to be re-released on the PC will finally get their wish on Tuesday, October 28. That's when Warner Bros. Interactive will finally offer the acclaimed action game for sale again on the PC platform.
The publisher suspended sales of the PC version in late June a few days after it went on sale, due to a ton of bugs being discovered in the game after it was released. People who bought the game before it was pulled got patches that improved Batman: Arkham Knight and now Warner Bros. Interactive feels the improvements are good enough to let people buy the game again.
In a Steam Community message, Warner Bros. Interactive stated
PC owners of the game who signed up for the Season Pass worth of extra post-release content will also be able to access those packs for the first time as well. It includes a ton of new story missions, Batmobile tracks, new challenges, and a host of character and Batmobile skins.
Source: Steam Community
Windows Central Newsletter
Get the best of Windows Central in your inbox, every day!
The season pass should be free for pc players because of this... Just my opinion

Trust me... Huge number of people screaming same thing on steam but wb isn't buying any of it... Is all about $ dollar $

Biggest reason to never buy a product from them again.

Well, i wouldn't go that far. Just don't preorder from them.

I don't do pre orders anyway because of things like this

Don't preorder, period. Games are almost never worth it at launch. They all got the bargain bin eventually :)

WB didn't code it, they subbed it out. So I'd be more weary of that design team, but id imagine they have a hell of a black mark on their name as it is now with all publishers.

WB is just a publisher. Blame the developer if anything. Avalanche Studied, behind Mad Max and Just Cause make wonderful PC versions of their games. Same goes for developer Monolith with Shadow of Mordor.

It would have been clever to offer one of a selection of their older publications, or maybe some clever DLC like "my game was buggy and all I got was this stupid skin" kinda thing. An affordable peace offering, really. On the other hand, kudos for at least pulling sales when it was broken. Sega? Wanna pay attention to that? Please?

Rekt.tm because they will have to fight with a lot of holy days release games

It was already good enough for me to play when the first patch came out and I upgraded my Nvidia drivers. I enjoyed the game, it was a lot of fun.

NO SUCH thing as Tuesday the 28th of October

Lol.. Yea.. 27th seems to be Tuesday and 28th wednesday

Didn't specify what year! ;) Posted via the Windows Central App for Android

Pc master race... 3 months later

If the game looks and works better, then sure.

Finally! Can't wait to finish the arkham series :) Posted via the Windows Central App for Android

I'd hold on a bit longer. I expect the usual 'enhanced' edition will be out for Christmas making this PC late release a bit pointless.

I'll wait for a Steam sale at $14.99. I've waited this long I can wait a little longer. With Steam this is one of the best way to let WB know your not happy. The other way is too not buy it at all. Posted via the Windows Central App for Android

I agree, totally not a full price game. Steam is def responsible for making this better though by allowing gamers to properly vote with their wallet.

Definitely I bet if steam refunds weren't a thing, it would still be for sale. Posted via the Windows Central App for Android

Agreed, steam isn't perfect, but it's def helping PC gaming.

I can't believe how WB has treated is customers, first they release a game which wasn't ready, and now they want to not only charge us full price for a somewhat Old game, whereas there are tons of alternatives but no promotional stuff as a sorry or discount, I stupidly pre ordered the limited edition for my brother for his Birthday which was in July!!!! I won't be doing that again!!!! I might just buy it on Xbox One!!!!! Hope I'm not disappointed by the limited graphics and frame rate though.....:\

Put simply, poor management decisions were made at WB.

Lame lol that's why I wait until I can get them for 5 dollars

Finished this already about 80% I.e. Except riddler challenges the game was playable and awesome but wasn't as smooth as previous ones.

What was the price on Steam before it'd removed?