Batman: Return to Arkham collection gets Xbox One X Enhanced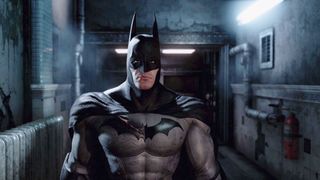 Batman: Arkham Asylum and Batman: Arkham City are two of the most acclaimed superhero games on Xbox 360. They're phenomenal not only due to their story, but also due to their combat mechanics and detailed open worlds. A few years ago, both experiences were remastered for Xbox One. Since then, many gamers have been asking Warner Bros. to upgrade them for Xbox One X.
Batman: Arkham Asylum pits Batman against the Joker and other villains who are locked up inside Arkham Asylum. Due to a riot, a lot of these characters escape their cells and it's up to Batman to restore order. Batman: Arkham City expands the playground to a large section of Gotham City. Batman: Return to Arkham contains both of these games.
Today, Xbox Live's Director of Programming Larry Hryb announced that the Batman: Return to Arkham collection was Xbox One X Enhanced. We've been testing out the updates for a few hours and you can definitely see the difference. The resolution seems to be higher and the frame is much smoother. Hopefully the publisher will detail the changes soon.
Currently, Return to Arkham is available for roughly $20 at retailers like Amazon and the Microsoft Store. If you love Batman — or superhero games in general — be sure to give this collection a go. While the titles may be a little dated, they're still a lot of fun to play.
Keep an eye on WindowsCentral.com/Gaming for all the latest in Xbox and Windows 10 gaming, accessories, news, and reviews!
Asher Madan handles gaming news for Windows Central. Before joining Windows Central in 2017, Asher worked for a number of different gaming outlets. He has a background in medical science and is passionate about all forms of entertainment, cooking, and antiquing.
When I get my Xbox One X I'm gonna be spoilt for choice with all the Xbox One X enhanced games I'm gonna have, it's too good to be true. But I'm totally gonna have to get an additional external HDD.

Cool! I wondered why they were updated! 👍

Targeting new Xbox owners? And thanks to FC (Win10+UWP), they can continue selling this game on Next Xbox. Since they already have the high-res resources, the enhancement's prob an easy job.

I am constantly surprised by how many games are getting X enhancements. I expected new games to get them, obviously, but I was skeptical that much of the back catalogue would see a new coat of paint. I'm very pleased by how wrong I was. Now I just hope the next Xbox is at least a couple years out, and carries forward the improvements Microsoft has made to the One. Given the shine post-Mattrick Xbox has given to the One, I'm excited to see what the team can do when they get to start with both feet on solid ground.

Now this is a surprise. Do we know if Arkham Knight will get the X update too?

Rocksteady specified they won't bother with either PS4 Pro or X1X upgrades. Which is a real shame given it's one of the very best titles of this generation.

And why is that? I would really love to see Arkham Knight in 4K. It would look so amazing!

Nice!!! I swear I just picked this game up return to Arkham two weeks ago brand new for the Xbox! I have a One X as well. Great $10 find

lol wait until you play it you will want a refund. Better off playing originals on PC.

cool, next $10 sale I get these.
too bad you can't put in the 360 discs and just download them though.

Saw the update yesterday I think. Love the Arkham games.

Please don't promote this rubbish effort on X . It's barely enhanced at all. It has no resolution above 1080p and often drops below it. One of the games is even capped at 45fps which is insane as how many console players use a freesync display. Watch the Digital Foundry analysis of this terrible patch as they state it is not recommended in it's current state. Worse than PS4 Pro and worse shadows too which only match base Xbox one. A dynamic resolution of 1080p is a complete joke on a 6 Tflop GPU. Prey is significantly more challenging than this game and the dev managed to get the X to 1440p at 30 fps with next to no issues with frame pacing or frame drops. Either something is severely wrong with Unreal Engine 4 on the X hardware or the devs should be hung drawn and quartered to release this crap. (It's only a saying for the precious amongst the readers)
Windows Central Newsletter
Get the best of Windows Central in in your inbox, every day!
Thank you for signing up to Windows Central. You will receive a verification email shortly.
There was a problem. Please refresh the page and try again.