A beginner's guide to Mixer
Want to know more about Microsoft's streaming platform? Here are some handy pointers.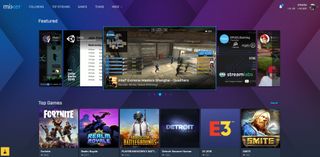 So, Mixer. You've heard about it more and more, recently garnering headlines as Twitch icon "Ninja" moves exclusively to the service. Microsoft's fast-growing live-streaming platform stows considerable potential, already tailing Twitch and YouTube for a piece of the gaming pie. If you're curious and want to get your Mixer on, here are five things to set you on your way.
1. What is Mixer?
If you're familiar with Twitch, it'd be an easy comparison to make with Mixer. At its core, it's a live broadcasting platform allowing you to stream yourself doing, well, something. The majority audience is gamers, for both viewing and streaming, but it doesn't have to be about games. One of the marquee features of Mixer is its low latency, which means streamers and their audience aren't separated by a delay. Which in turn means a more interactive, engaging experience, backed by complementary community-oriented features. Mixer is far faster than both Twitch, and YouTube Gaming for streaming.
If you have something to broadcast and the means to do so, you can do it on Mixer. It's free to sign up and you can do so either with an email address or by using existing Microsoft, Twitter or Discord accounts to log in.
2. Great, so how do you broadcast?
At the very basic level, you need something to broadcast and software to do it with. The two most popular options are XSplit and OBS, the former being a paid subscription and the latter being free. XSplit has far more features than OBS, and is also far more stable and less resource-intensive, so we recommend XSplit if you can afford it.
These are the conduits to which you will share your entertainment with the world through Mixer. Setting up is easy on both, check out our comprehensive guide on how to get going.
Since the early days, you can now stream to Mixer directly from your Xbox One console and Windows 10 PC where the capability is built into the operating system. You can also use Elgato Game Capture HD software if you're using one of the company's capture cards.
How to stream from the Xbox One to Mixer
3. Watching Mixer channels is one big game
One of Mixer's standout features is the gamified nature and interactive elements. The boffins behind it didn't think you should always be limited to just watching your favorite broadcasters, they wanted you to be able to interact directly with the stream.
And so you can, if the person broadcasting enables the feature. As you watch or stream content on Mixer, you gain XP and sparks. The XP levels you up just as you would in a game and the sparks are basically Mixer cash. You use them to unlock features if you're a streamer or you can use them to carry out interactive instructions in someone else's stream.
You're not just consuming on Mixer; you're actively participating all the time you're there.
4. Mobile support
Mixer has official mobile apps right now for Android and iOS, and both are pretty good. Basic, but decent. They'll cover the essentials of viewing and interacting with content, ideal for watching your favorite streamers.
The mobile web client for Mixer is also pretty good. You have full access to all features that Mixer has to offer, which can't be said of the mobile apps for the iPhone and Android. Mixer's site is generally good to use be it desktop or mobile, tailored as the "true" experience.
5. The future of Mixer streaming is now
FTL is Mixer's secret sauce. It's super low-latency technology that allows broadcasters and viewers to interact in what is essentially real-time. It's now more widely available than when Microsoft acquired the service, built into XSplit and Elgato software as well.
Mixer has also been built into Windows 10 and the Xbox One, and one of the latest and greatest features to roll out is co-streaming, where you and up to three buddies can stream at the same time on the same channel with your own individual window. It's pretty amazing, and there are no doubts the Mixer team will continue to build and keep making the platform even more awesome.
Mixer has also undergone changes to deliver a better viewing and streaming experience, with the MixPlay toolkit making it easier than ever to build interactive elements into your streams.
How to start a co-stream on Mixer
That's just a quick intro to what Mixer is and how you can get involved. If you're ever floating around over there be sure to stop by our channel where you'll find regular, quality broadcasts from the team.
Affordable accessories that'll pair perfectly with your PC
Every one of these awesome PC accessories will enhance your everyday experience — and none cost more than $30.
KLIM Aim RGB gaming mouse (opens in new tab) ($30 at Amazon)
Whether you're a gamer or not, this is an absurdly good mouse for the price. It's ambidextrous, has a responsive sensor, a braided cable, tank-like build quality, and, yes, it has RGB lighting, though you can turn it off if that's not your thing.
AmazonBasics USB speakers (opens in new tab) ($16 at Amazon)
These neat little speakers may only pack 2.4W of total power, but don't let that fool you. For something so small you get a well-rounded sound and a stylish design. And they only cost $16.
Razer mouse bungee (opens in new tab) ($20 at Amazon)
Use a wired mouse? You need a mouse bungee to keep your cable tidy and free of snags. You get no drag on the cable, and this one has subtle styling, a rust-resistant spring and a weighted base, all for $20.
Richard Devine is an Editor at Windows Central. A former Project Manager and long-term tech addict, he joined Mobile Nations in 2011 and has been found on Android Central and iMore as well as Windows Central. Currently you'll find him covering all manner of PC hardware and gaming, and you can follow him on Twitter and Instagram.
Thank you for the great overview. I'll check it out the mobile web client.

In acquiring Beam, Microsoft not only obtained some great technology, but they also acquired some outstanding young programmers. Let's hope they retain them.

Exactly, good purchase for Microsoft. I even watched E3 streams through it this year.

It's very simple to use and it guides you through it nicely. Very happy with Beam.

Jim likes your comment !
8-)

It is really nice. But without a client yet on Xbox haven't yet bothered with it. Of course it also has a very small (compared to Twitch) streamer base so not always going to find what you want to watch just yet.

Uhm, XBox One has had a built-in client for about a year at this point...? Plus you can stream directly from the console too...

Sounds better than twitch.

I am already using it to stream and watch streams. It's a great platform and easy to set up. I am 100% satisfiied. Already recommended for my streamer friends to try out. Cannot wait for the Win10 App and additional improvements.

https://www.engadget.com/2018/02/20/microsoft-mixer-lets-viewers-buy-gam... A feature you & your friends might find a useful.

I'll be interested in this when I can play Jackbox games with my adult children residing in different US states (using a private room so that other people don't come in to ruin our experience)...

Not quite sure why you would need that if the game is multiplayer anyway!!!

So this is Microsofts Trojan Horse Snapchat integrated Competitor. Today it's just for the dedicated streaming croud. But soon it will morph to all things and it will get simplified. And every windows device along with iOS and Android will have another Snapchat Alternative. Clever Microsoft. Keep pointing at twitch while you create a more advanced Snapchat competitor natively existing in Windows.

So this is Microsofts Trojan Horse Snapchat integrated Competitor. Today it's just for the dedicated streaming croud. But soon it will morph to all things, and it will get simplified. And every Windows device along with iOS & Android, will have another Snapchat Alternative. <SNIP> Keep pointing at Twitch, while you create a more advanced Snapchat competitor natively existing in Windows.

How do you figure that? I don't suppose you could elaborate?

um i have streamed for more then 5 hours non stop usualy i hit 3 and im tired. but still snap chat is what 60 sec??

I'm not sure why this is down voted, this is a good thing. If they can add functionality to make it similar to Snapchat and take some users from that platform that is a significant win.

Mixer isn't a Snapchat competitor, it competes with Twitch. Both Snapchat and Mixer are totally different platforms for totally different things.

Mixer and Snapchat are totally different platforms for totally different things, until you can broadcast from Snapchat then they will NEVER compete. Mixer competes with Twitch.

Why does this always require a 3rd party streaming platform? I'm curious.

What third party streaming platform are you talking about?

Xsplit and OBS, not really needed for streaming from Xbox One or PC on Mixer now as that functionality is integrated anyway.

I love beam its getting better all the time!!! BEAM is my future! yes i stream level 82!!!

How do I created an embedded player to show my stream on my own website?

code one yourself? iframe if you don't want to go too technical.

I wholeheartedly endorse XSplit. It has remarkably professional features, particularly if you are into broadcasting more than just games. A lot more.

I agree but the article forgets that there is a free version with ads to upgrade to the paid version and limitations on options.

It's disappointing how quickly you dismiss OBS just because it's free, rather than just linking to resources for the user to decide on their own. Some of us do prefer open source, you know. They're also not the only methods - the Game Bar on PC allows you to stream directly to Mixer, as does built-in functionality on the Xbox One.

Your site has been infected. Whenever I try to get a link to your site (no others), I end up with a link to a 'Telefonica' Scam (not the real Telefonica as they now are called Movistar anyways). Some of your ads are obviously hijacking your site!