Best D-Link Wi-Fi Extenders in 2022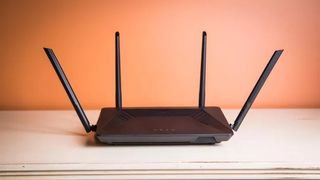 Even with perfect placement, sometimes your wireless router just doesn't have the power to cover your entire property. You can easily eliminate the weak points in your network coverage by adding in a Wi-Fi extender from D-Link. The D-Link DAP-1720 (opens in new tab) Wi-Fi extender provides a great balance of speed and size and will be a powerful addition to any network in need of a bit more range.
Best Overall: D-Link DAP-1720
Why you can trust Windows Central Our expert reviewers spend hours testing and comparing products and services so you can choose the best for you. Find out more about how we test.
D-Link DAP-1720
Fast and small
Reasons to buy
+
Fast AC1750 speed
+
Gigabit Ethernet port
+
Signal meter
+
Plugs into power outlet
The D-Link DAP-1720 has a strong set of features aimed at helping you get as much performance out of your router as possible. It brings fast AC1750 speeds with its dual-band Wi-Fi 5 technology. It proudly features three antennas on top of the unit with a gigabit Ethernet port on the side to get an older wired device connected.
It doesn't support multi-user, multiple-input, multiple-output technology (MU-MIMO), which manages all of the signals to and from devices to keep things consistent when the usage gets high with multiple devices. Luckily, this will only really be an issue if a lot of devices try to access data at the same time.
This extender plugs right into a power outlet on the wall and blends in thanks to the main body of the unit being no wider than a standard outlet cover. There's also a signal meter on the front that makes it a breeze to find the best spot with a good, strong signal.
Best Top Speed: D-Link DAP-1860
D-Link DAP-1860
Full speed ahead
Reasons to buy
+
Super fast AC2600 speed
+
MU-MIMO
+
Signal meter
When you need a lot of speed on a lot of devices, the D-Link DAP-1860 will keep things running smoothly with super fast AC2600 speeds. It also makes sure it can keep up that speed when there are a lot of devices connected with support for MU-MIMO. At AC2600 this extender's dual-band connectivity may not be able to keep up with large file transfers at full speed all the time. A tri-band solution could have helped keep the speeds high all the time.
Four antennas with two on top and two below the main body can make it a bit more of a challenge to integrate into a room since it takes up a lot more vertical space. It does feature a signal meter on the front so you can be sure you have a good connection and continues the trend of gigabit Ethernet ports to get older devices online.
Best Feature Set: D-Link DAP-1650
D-Link DAP-1650
I need more ports
Reasons to buy
+
Four Ethernet ports
+
Internal antennas
+
Can be further from outlet
+
Nice matte black finish
Reasons to avoid
-
Bulky design
-
No tri-band
-
No MU-MIMO
Setting up a home office or video game area with a lot of wired network devices is made a lot easier with the D-Link DAP-1650. With it, you'll only need one networking device to ensure wired and wireless devices alike have a good strong signal to stay connected.
With speeds at AC1200, it's not the fastest extender out there, but it makes up for it with its extra ports. You can connect numerous wireless devices as well as four wired devices to this extender with enough speed for normal computing and video game downloads. At this size, however, it would have been nice to see tri-band or MU-MIMO supported.
This package is quite a bit larger than others on this list, with its more traditional form factor requiring some desk or shelf space. This does allow for more flexibility in positioning since it can be further from a wall outlet and closer to wired components. The matte black housing doesn't stand out that much except for its green and red accents.
Best Value: D-Link DAP-1620
D-Link DAP-1620
Wi-Fi 5 on a budget
Reasons to buy
+
AC1200 speed
+
Gigabit Ethernet
The D-Link DAP-1620 is impressive bringing Wi-Fi 5 speeds and other features from more expensive models into a restrained design. With wireless speeds hitting AC1200 and a gigabit Ethernet port built in, this Wi-Fi extender has a great balance of speed and utility.
This is a strong choice if you only have a smaller space that needs coverage or fewer devices to connect. If you are trying to get several data-hungry devices online with this extender you will likely see some slowdown. This will not provide a great experience as a primary access point.
The DAP-1620 has two antennas on top and a clear and simple signal meter to make sure it is placed in the most optimal spot for wireless signal. It lacks support for more advanced technology like MU-MIMO but should still provide all of the speed and consistency needed for most everyday computing and video streaming.
Bottom line
D-Link makes a wide variety of Wi-Fi extenders with features sets that let you choose what makes the most sense for your needs. The D-Link DAP-1720 (opens in new tab) has a strong balance of features and speed that makes it the extender that will fit best into most wireless networks. Anything on this list will get you fast Wi-Fi 5 speeds and as long as you don't need more than one Ethernet port, your choice comes down to how much speed you want.
Get the Windows Central Newsletter
All the latest news, reviews, and guides for Windows and Xbox diehards.