Best free Windows PC backup software
Keeping your data safe by backing up your PC is a task many still fail to perform. But it's easier than ever to set up a solution that does everything for you. Here are the best backup suites for Windows that are free.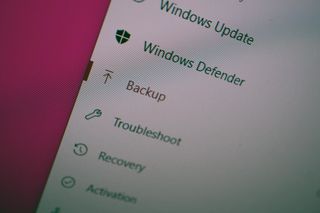 Backing up a PC is something we should all do on a regular basis, whether it's simply copying across sensitive files to an external drive or using dedicated software to create system images that can be restored at a later date. The best part about backup suites is you're not required to part with hard-earned cash, as many of them perform vital tasks without additional costs.
Best free Windows backup software
Why you can trust Windows Central Our expert reviewers spend hours testing and comparing products and services so you can choose the best for you. Find out more about how we test.
Genie9 Timeline
Timeline by Genie9 is a solid piece of kit, even for beginners. Interestingly, there's no bloatware included in the installer for Timeline, which is great news for those who happen to find themselves accidentally installing unwanted tools and services. The best part about Timeline, however, is the excellent wizard that walks you through selecting drives to store data and then selecting exactly what you'd like to have backed up.
By default, Timeline will capture emails, files and folders in the document directory (including desktop) with options to include bookmarks from browsers, Office files, iOS backups, and other ISO images and files. Even with the free version, it's possible to take a full-featured backup of what's stored on your PC. As an added bonus, it's all carried out in the background, allowing you to continue working away without issue.
Timeline will even provide a protection level, which shows the health of a particular backup. Overall, it's a sound solution to keeping system and personal files safe and sound. Upgrading to the premium version of Genie9's Timeline for $39.95 unlocks technical support, more frequent backups, scheduling, and more.
Download Genie9 Timeline (opens in new tab)
EaseUS Todo
EaseUS Todo is a comprehensive backup utility that allows for the creation of full system backups, which adds an extra layer of protection atop the built-in System Restore feature of Windows 10. Not only does Todo back up files, but it also creates disk images and can even take copies of files currently in use without interrupting operations.
After installing the software and unchecking the box for installing additional optional bloatware, you're greeted by the main welcome window, which houses connections to various tasks, including disk/partition, file, system, smart, and email backups. Smart backup takes care of the documents folder, as well as favorites in supported browsers, detecting changes made every half hour.
The interface is really easy to use and a joy to look at. System images, disk backups, and other options are simple to perform and a breeze to carry out. Some handy additional options are included too like solid state drive (SSD) optimization on disk backups, which is ideal if you're moving up from a mechanical drive to solid state. Overall, it's a comprehensive package that makes sure you don't lose another file.
There are paid versions available, one for the home and a second for businesses, but the free edition is more than enough for the majority of users. You are required to enter your email address should you download the tool from the EaseUS official website. The commercial versions (starting at $29) introduce technical support, Outlook integration, and event scheduling.
Download EaseUS Todo (opens in new tab)
Comodo Backup
Comodo is a big name when it comes to certificates and PC protection software. The company also offers a dedicated backup tool to handle the creation and restoration of PC backups. Unlike some other free software options, Comodo does not attempt to trick you into installing sponsored tools during installation, but you will be asked as to whether or not you want to install the company's cCloud solution as you navigate through the wizard.
Comodo Backup is a handy tool that connects to the company's online backup service, making for easier backups without having to rely on external media stored on the same premises as the PC. The main window upon installing the software will show the current status of the PC, as well as the most recent backups and restores. Files, folders and other bits and pieces need to be manually added within the backup utility before the suite commences.
The tool is able to handle personal documents, disks, partitions, registry files, and entries. These items can be copied to a local or external storage drive, network location, or externally using FTP or Comodo's own Backup service. The backups themselves can be configured to be password protected, and scheduling can be set up to run backups after logging into Windows, or on a daily, weekly or monthly basis.
CrashPlan
CrashPlan is an online backup service that enables you to backup important files to the cloud and have everything safely secured off-site. A free version is available that also allows for external backups to other PCs and drives without extra cost. As well as a free 30-day trial, the free version for offline use offers the following:
Back up to other computers.
Back up to your external drives.
Automatic, once-daily backups.
448-bit file encryption.
Online support.
Online documentation and user forums.
The only downside to using this solution is the requirement to create an account, even if you do not plan to use the online functionality. That said, once you have logged in, the suite automatically starts scanning your personal directory. Hitting the change button allows for the selection of pretty much anything on the PC to be included in the backup.
Online support, in the form of official contact and user forums, is available for even the free version. This is handy for those who don't have spare change to spare for commercial software but still run into an issue or two. Prices for the two premium plans are set at $59.99 and $149.99 for one and up to ten PCs, respectively.
Your backups
What software do you use on a daily basis? Have a free solution that didn't make our list? Sound off in the comments!
Rich Edmonds is Senior Editor of PC hardware at Windows Central, covering everything related to PC components and NAS. He's been involved in technology for more than a decade and knows a thing or two about the magic inside a PC chassis. You can follow him over on Twitter at @RichEdmonds.
I'm rather fond of the free SyncBack. Easy to have it backup what I want and put it on a schedule.

DirSyncPro is the best one i think. The interface is not so ease to learn... but it is so powerful and its free for all :)

I'll take a look at it, but the crappy interface is why I moved on from FBackup. It's pretty powerful for a free backup program, but the UI is horrible.

How about Macrium Reflect Free Edition. Full image backup of local (system) partitions are made or restored in just more than 5 minutes.

Why even recommend a product that could contain potentially harmful addons that less tech savvy users are more likely to install?

I can't recommend Macrium Reflect highly enough

aomei backupper standard is the best. you are recommending those crap because you get paid for it, lel

This is indeed a strange article, at least when the site did not get paid for it: The most recommended apps are AOMEI Backupper and Macrium Reflect. I have used both of them and can only recommend them too. Even over paid software as the bad boy of the industry Acronis or the better regarded O&O DiskImage or Paragon Disk Manager. They are simpler and as reliable. They too give you boot versions from either USB sticks or CDs.

My favorite feature in AOMEI Backupper Standard is their file sync. I write thesis these days, and sync my paper to external drive every single day. It helps a lot, really.

What's wrong with simply using OneDrive? After all, it is one's data that is precious. Not the programs.

Backup images of the system drive are very useful at times, trust me

OneDrive is OK for files, but everyone should make system images to protect the current state of the OS and your apps. OneDrive doesn't do that.

Yes, it is important to backup one's data. And as these data normally are small (if you dont make videos), it is really no big deal to sync those files to one or two backup destinations. But is a pain in the ass to reinstall Windows from scratch with all the programms, plugins passwords, macros etc, that had been accumulated. And it takes hours and hours. And you realize within the next few days that you forgot this and that. A running Windows with all the updates and neccessary drivers installation is a precious thing that everybody should backup too. The best target is a harddrive to be stored away in a desk, normally not connected to one's network. Then for instance every successful malware attack throws you back only to your last backup. A few minutes later and the PC is running again.
Another good reason for backups is the possibility to save an old Windows for future use as a virtual PC in a newer system version. I had software that ran only under Windows 7 as I learned the hard way. No problem with a VHD backup and Virtual Box for instance.

I do use OneDrive for my system data folders, but it won't backup app data (at least not by itself).

What do you think of Bvckup 2?

It is quite useful for portable apps: I duplicate them from the system drive to a "backup" drive on the network. In case something goes wrong I simply copy the backup back to C:

I like UrBackup. Open source, multiplatform, and client/server based.

You forgot to mention File History...?

Windows Backup + File History is enough for me.

AOMEI Backupper is the best.

For incremental file backups, I find SyncBack works wonderfully. At 4am every morning, it backs up all files from my Windows PC to a backup SAMBA partition on my Linux server. Once a week, I run Macrium Reflect to image the C: boot drive, to a file image on the D: drive, which in turn is backed up every night at 4am. Once a month, the Linux backup partition is copied to an external disk that goes in a fireproof safe. Yeah, it's overkill. Until it's not. This way I've got a bootable C: partition that I can restore (using a WinPE boot CD that can read the Macrium image), on the off chance my PC gets furbar'ed, and can't boot. And for all the other data, the oldest backup is a day old. The most important thing in this is, other than the monthly copy to the external disk, there's no manual step required. I see people comparing file backup utilities against image backups. They both have their place. The reason I keep my C: drive small (32GB) is so that it's imaged quickly, while file backups are incremental.

AOMEI file backup freeware

I do not use backup software on a daily basis, i normally just copy the files myself across. I do use Reflect to back up the whole C drive every month, but I do not store documents on that drive. I used to use a bit of software called second copy years ago, it was good and small, but a bit of a pain to use, maybe that is why I stopped using it, it is not free, That Genie9 Timeline looks interesting. I tried Comodo copy once and it did not work that well with the nas.

you can use partitionguru Free to backup data: clone hard drive, image a hard drive, clone partition or back up partition to an image file.
Windows Central Newsletter
Thank you for signing up to Windows Central. You will receive a verification email shortly.
There was a problem. Please refresh the page and try again.