Best Graphics Cards for 4K Monitors in 2020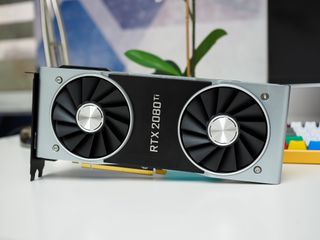 (Image credit: Harish Jonnalagadda / Windows Central)
When it comes to PC displays, it doesn't get any better than 4K monitors. Offering four times the resolution of traditional HD displays and often featuring special features like HDR support, they allow you to both enjoy and work on things like games, videos, and more at a quality level that wouldn't be possible otherwise. However, due to how taxing running and rendering things at 4K is on computers, you're going to need a beefy GPU to support your system. Amongst the best graphics card options available, our favorite choice for 4K display owners is the MSI NVIDIA GeForce RTX 2080 Super due to its strong performance, fair pricing, and the fact that you get access to NVIDIA-exclusive ray tracing support.
Best Overall: MSI NVIDIA GeForce RTX 2080 Super
Why you can trust Windows Central Our expert reviewers spend hours testing and comparing products and services so you can choose the best for you. Find out more about how we test.
MSI NVIDIA GeForce RTX 2080 Super
The all-around champ
Reasons to buy
+
Excellent for high-end 4K media
+
Ray tracing support
+
High value on the dollar
If you want a high-end 4K experience, but you don't want to shell out the money required to get your hands on the elite RTX 2080 Ti, the MSI NVIDIA GeForce RTX 2080 Super is your best bet. It delivers excellent performance that will enable you to run games at 4K and 50-60 FPS without breaking a sweat, and it will also comfortably handle any 4K media projects you're working on as well. It also comes with 8GB of DDR6 VRAM as well, so video memory won't be a concern at all. Additionally, like all of NVIDIA's RTX cards, it can power ray tracing in games and programs that support it. Lastly, this GPU is nicely priced — it's still expensive, but when you consider how high the 2080 Super scores performance-wise, it's easy to see why it's such a great value buy.
Best Elite Pick: ASUS NVIDIA GeForce RTX 2080 Ti
ASUS NVIDIA GeForce RTX 2080 Ti
Who needs a budget, anyway?
Reasons to buy
+
Insane 4K performance
+
Extra fan significantly helps to fight heat
+
Ray tracing support
If you have thousands to spend on a crazy powerful PC and you're aiming for elite quality, look no further than the absurdly-expensive RTX 2080 Ti. It's one of two graphics cards that will allow you to hit a consistent 60 FPS (or higher!) framerate at 4K resolution in games, and it will easily handle whatever other projects you throw at it, too. Thanks to its massive 11GB of DDR6 RAM, you'll never even have to think about video memory concerns either. And, of course, you also get to enjoy the benefits of ray tracing.
There are many versions of the RTX 2080 Ti on the market, but ASUS' ROG Strix variant is our favorite due to its triple fans. Compared to other versions that only have two fans, the extra one on this version of the GPU will significantly help control all of the heat that your rig will be generating.
Ultimately, the issue with the RTX 2080 Ti is the cost. This is a GPU you should only buy if you're not limited by a budget, as the 2080 Super is a much better purchase in terms of value-per-dollar.
Best Elite for Workstations: NVIDIA Titan RTX
NVIDIA Titan RTX
I, for one, welcome our new GPU overlord
Reasons to buy
+
Best 4K performance
+
24GB of VRAM is perfect for workstations
+
Ray tracing support
If you thought the 2080 Ti was expensive, then the $2,500 price tag of NVIDIA's Titan RTX GPU will probably have your jaw on the floor. It delivers enough power to surpass even the mighty 2080 Ti, but most of that extra power will only be leveraged in creative programs used in elite workstations. This is because the card's insane 24GB of DDR6 VRAM will make a massive difference in graphics-related work scenarios, but won't be felt in games because modern games don't use anywhere near that much video memory. However, it should be noted that if you like games, the Titan RTX can handle them just as well as an RTX 2080 Ti can. Ultimately, you shouldn't even think of getting this GPU unless you can take advantage of its workstation-focused benefits.
Best Mid-Range: ZOTAC NVIDIA GeForce RTX 2070 Super
ZOTAC NVIDIA GeForce RTX 2070 Super
Affordable and dependable
Reasons to buy
+
Solid 4K performance
+
Ray tracing support
+
More affordable
Reasons to avoid
-
Have to reduce some settings if you want higher FPS
The ZOTAC NVIDIA GeForce RTX 2070 Super is the ideal GPU to go with if you want a quality 4K experience for a mid-range price. It's a bit less capable than the 2080 Super and will deliver framerates in the 35-45 range at 4K in games (you can lower in-game settings to boost this), but that's still a very respectable and value-filled performance in its own right. Additionally, it handles creative applications great, and you also get ray tracing support. Like the 2080 Super, it also comes with 8GB of DDR6 VRAM. Ultimately, this card is perfect for people who don't mind settling for reduced 4K performance to save some money.
Best Budget: EVGA NVIDIA GeForce RTX 2060 Super
EVGA NVIDIA GeForce RTX 2060 Super
Save money
Reasons to buy
+
Decent 4K performance
+
Ray tracing support
+
Most affordable
Reasons to avoid
-
You have to lower many settings to make 4K viable
If you want to spend the least amount of money possible to enjoy 4K reasonably, the EVGA NVIDIA RTX 2060 Super is perfect. It's less capable than the RTX 2070 Super, and even with settings tweaked, you'll only be getting around 30 FPS in games. However, that's not bad, and thanks to the fact that it comes with 8GB of DDR6 VRAM, the RTX 2060 Super handles creative 4K tasks reasonably well. Especially when you consider the fact that it's the most affordable of the cards that can handle 4K, the 2060 Super stands out as the best budget 4K choice.
Bottom line
4K monitors are excellent, but to run and render things at 4K, you're going to need a powerful graphics card. With one, you'll be able to play games at higher framerates in 4K and will also be able to work with 4K media in creative apps faster without any slowdown.
All of the graphics cards on this list are excellent for 4K depending on what your budget is, but if we had to pick just one it would be the MSI NVIDIA GeForce RTX 2080 Super. With it, you'll get top-notch 4K performance, plenty of VRAM and ray tracing support for a high, but very fair price. While it won't be perfect for everyone, it does stand as the best value choice for people looking to get the best out of a 4K setup. For more on graphics cards, don't miss our roundup of the best graphics cards for gaming as well as our list of the best cheap graphics cards.
Get the Windows Central Newsletter
All the latest news, reviews, and guides for Windows and Xbox diehards.
Brendan Lowry is a Windows Central writer and Oakland University graduate with a burning passion for video games, of which he's been an avid fan since childhood. You'll find him doing reviews, editorials, and general coverage on everything Xbox and PC. Follow him on Twitter.