Best Race Wheel for Project Cars 3 on Xbox and PC 2022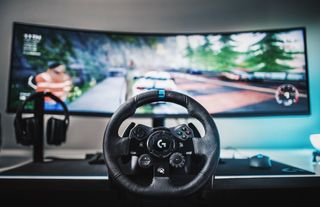 (Image credit: Logitech)
When it comes to racing games, the Xbox One and PC have some of the best titles on the market. With Project Cars 3 releasing just earlier this month, some may be looking to invest more into their racing titles and looking to pick up a racing wheel. With that in mind, we've got a fairly comprehensive list of some of the best racing wheels for Xbox One, starting with the incredible Logitech G920.
Best Overall - Logitech G920
Why you can trust Windows Central Our expert reviewers spend hours testing and comparing products and services so you can choose the best for you. Find out more about how we test.
Logitech G920
On balance, an excellent wheel for all
Reasons to buy
+
Excellent design and construction
+
Attractive price
+
Three-pedal setup
+
Great force feedback
Reasons to avoid
-
Stick shift additional purchase
If you're looking for a solid wheel that's going to give you the best all-around performance, the Logitech G920 is your best bet. Not only does it sport a reasonably affordable price, but Logitech's track record with design and longevity are also key here, as the G920 should last anyone who buys it a long time in their virtual racing career.
The G920 is a well-built wheel with all the creature comforts you need to go racing. It includes a built-in vibration motor that aims to provide accurate feedback according to whatever in-game surface you're driving on and also features 900-degree rotation, leather grip, and sports a full three-pedal setup. This will allow players to race in nearly any way they'd like, including having the option to buy a separate gearshift to make things feel even more real.
Best Wheel for Hardcore fans - Thrustmaster TS-XW
Thrustmaster TS-XW
As close to real as you can get
Reasons to buy
+
Excellent design and construction
+
Modeled on a real-life wheel
+
Three-pedal setup
+
Incredible accuracy from force feedback
Reasons to avoid
-
Very high price
-
Heavy compared to other wheels
The Thrustmaster TS-XW isn't a cheap wheel by any stretch of the imagination, which means if you're in the market for this, you're someone who is fully dedicated to the realism of racing games.
TS-XW's price isn't the only thing that makes it a realistic wheel, though. While designing the wheel, Thrustmaster partnered with Sparco, making sure the TS-XW was essentially a recreation of a real-life racing wheel. The exact model they aimed to recreate, the P310, is one of Sparco's best, and Thrustmaster has faithfully copied nearly everything over for racing games fans to pick up.
Force feedback on the TS-XW is also great, and it comes equipped with a dual belt-pulley system and metal ball-bearing axle, and has 1080 degrees of full rotation. Thrustmaster also includes a fully adjustable pedal set that are 100% metal, meaning you're getting incredibly high-quality materials to last you a long time.
Best for Beginners - Thrustmaster TMX
Thrustmaster TMX
A great first step
Reasons to buy
+
900-degree rotation
+
Great force feedback
+
Leather trim
+
Solid build quality
+
Affordable price for beginners
Reasons to avoid
-
Only two-pedal setup
-
Plastic pedals
If you've just picked up Project Cars 3 and want to get a bit more serious, or are ready to upgrade from the controller and onto something a bit more advanced, then the Thrustmaster TMX is for you.
Thrustmaster has become one of the go-to brands for racing wheels precisely because of its wide variety of options. While they may have some premium products for diehard fans, the TMX is a perfectly acceptable entry-level wheel that manages to retain many of the great features and design integrity of other Thrustmaster wheels.
The TMX comes complete with a 900-degree rotation, leather trim, and paddle shifts, which are big pluses for those looking to up their racing game. While the pedals are plastic, they're still adjustable and strong enough to last you for quite some time as you perfect those courses on Project Cars 3.
Best Xbox Only Wheel - Hori Racing Wheel Overdrive
Hori Racing Wheel Overdrive
A super-affordable way to get into using a wheel
Reasons to buy
+
Fantastic price
+
Licensed by Microsoft
+
Grippy rubber trim
+
Solid build quality
Reasons to avoid
-
Only two-pedal setup
-
Rotation limited to 270-degrees
-
Not compatible with PC
A racing wheel can be a serious investment for some, but there may be some players who simply want to pick one up and have some fun while racing every now and again. For those, Hori's Overdrive wheel may be the best option, as it provides an incredibly affordable price, albeit with some limitations.
Unlike most of the other racing wheels listed here, the Hori Racing Wheel Overdrive only supports 270-degree rotation, which isn't a whole lot but should be enough for mostly every racing game, including Project Cars 3. It comes equipped with adjustable output options and a mount security for those who may need to secure their wheel somewhere.
However, the biggest drawback to the Overdrive is the fact that it's not compatible with PC. This means that if you're looking to pick up this wheel for Project Cars 3 or any other racing game, you'll have to be sure that you're playing on an Xbox One.
Best Direct Drive: Fanatec Podium Racing Wheel Formula
Fanatec Podium Racing Wheel F1
Like driving the real thing in the comfort of your home
Reasons to buy
+
Ultimate realism
+
Superb build quality
+
Also supports console
+
Ecosystem of accessories
Reasons to avoid
-
Incredibly expensive
-
Pedals aren't included
The final wheel on our list is one that's meant for those who take racing games and simulations extremely serious. A direct drive wheel attaches the wheel right onto the motor, resulting in the highest quality force feedback, unlimited rotation, and the best accuracy that you'll get on any wheel.
As far as features go, the Podium is packed with them. It boasts peak torque of 20nm and a holding torque of 15nm, a built-in hub, carbon fiber, and Alcantara in its construction and a built-in OLED display on the base for easy tuning. There's also a wide variety of mappable buttons, as well as an integrated display on the wheel itself.
Of course, wheels like the Fanatec Podium Racing come at a premium, and the price tag for Fanatec's wheel is incredibly high as far as all things are considered. However, the Podium does support both Xbox and PlayStation 4 along with PC, making it an extremely versatile option for those who are seriously ready to dive into the world of racing simulators.
Racing best on Xbox One
With the next-generation of consoles on the horizon and games like Project Cars 3 out already, racing simulators have likely never been in a better place then they are now. While it's perfectly possible to jump into the game and have fun with a controller, those looking for racing wheels also have some of the best variety of all time as it stands, but the incredible Logitech G920 stands above the rest.
Not only is it well designed and beautifully made, but it's priced very competitively as well, and comes with a full three-pedal setup that will ensure that you won't have to upgrade anytime soon. It might not sport the most complete set of features and realism, but it does come equipped with enough to make it one of the most attractive options in a sea of racing wheels.
Both beginners and seasoned veterans of racing games will be excited about this wheel, and thanks to Logitech's excellent track record, the G920 should make for a significant investment as we head into a future of even better racing titles.
Get the Windows Central Newsletter
All the latest news, reviews, and guides for Windows and Xbox diehards.
Anthony Nash has been writing about games and the gaming industry for nearly a decade. When he's not writing about games, he's usually playing them. You can find him on Twitter talking about games or sports at @_anthonynash.