Best Xbox Racing Games 2023
Burn rubber and dominate roads with Xbox's best racing games.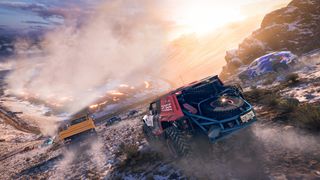 (Image credit: Xbox Game Studios | Microsoft Store)
The video games industry is filled with countless genres and categories of awesome games to choose from, but some of the most popular are racing games. Driving a wide variety of vehicles at speeds ranging from glacial to hypersonic, meticulously tuning and customizing every ride to exact specifications, going head-to-head with other racers from all over the world, and exploring beautiful worlds and tracks are all part of what makes racing games special. Fortunately, Xbox is one of the greatest platforms to find great options. Here are the best racing games for Xbox right now.
An overview of Xbox racing games in 2021
Why you can trust Windows Central Our expert reviewers spend hours testing and comparing products and services so you can choose the best for you. Find out more about how we test.
Racing games is a pretty major genre, so dozens of companies and teams have attempted to tackle the space and deliver their vision of a premium racing experience, to differing degrees of success. Xbox is often considered to be one of the best places to play for racing fans, if only because Microsoft has two powerful forces in the genre under the Xbox Game Studios banner: Turn 10 Studios and Playground Games.
Turn 10 and Playground are two halves of the same coin: Forza. They work together on the ForzaTech game engine and the illustrious, established Forza racing franchise. Turn 10 handles the Forza Motorsport series, a more simulation-centric racer that features wide rosters of real racetracks from all over the world. On the other hand, Playground handles the Forza Horizon series, an open-world arcade series that follows the fictional Forza Festival and lets players race wherever they want, however they want.
Beyond Forza, Xbox also offers a ton of other great racing games from third parties, including more long-running franchises like Need for Speed, F1, DiRT, and more. All in all, there's no shortage of great choices, but quality tends to be inconsistent at times due to the surprising complexity and nuances of a good racing game. One of the few major racing franchises that Xbox misses out on is Gran Turismo, which is exclusive to Sony's PlayStation consoles.
Not all racing games are created equal, and many cater to entirely different categories of players. Are you looking for the most realistic simulation racer possible? An off-roading adventure? How about a casual yet expansive open world? There's a lot to think about, so we've compiled the absolute best of the best for any racing game fan. Some of these games have even risen to be considered on our list of best Xbox games.
The games on this list are the best Xbox racing games right now, which means they can be available for Xbox Series X, Xbox Series S, Xbox One, and PC. Some of these games are also available through Xbox Game Pass and even Xbox Cloud Gaming, making it easy to jump in and play.
Without further ado, here are our picks for the absolute best racing games currently available on Xbox.
Forza Horizon 5
Forza Horizon 5 — Xbox & PC
Reasons to buy
+
An impossibly beautiful and diverse world
+
Hundreds of intricately detailed vehicles
+
Inclusive gameplay that rewards all play styles
+
The promise of extensive post-launch support
Reasons to avoid
-
Some bugs and issues, especially with the online experience
Available on Xbox Series X|S (Optimized), Xbox One, and PC with Xbox Play Anywhere support; through Xbox Game Pass and Xbox Cloud Gaming
Forza Horizon 4 has held the title of "best Xbox racing game" for three glorious years, but it's finally vacating its throne in favor of its more intricate and grand successor. Forza Horizon 5 is finally here, and it somehow manages the impossible by delivering on nearly every promise Playground Games has made. This time around, the Forza Horizon series heads to Mexico with the largest and most diverse map yet, and a huge roster of over 500 cars.
Forza Horizon 5 is not just bigger and better than its already-excellent predecessor in practically every way, it also benefits from the promise of years of constant support. The return of the Festival Playlist means FH5 will continue to grow and evolve over time. Like other entries in the Forza Horizon franchise, FH5 is a simul-arcade racer, so it's still not as realistic as its Motorsport counterpart or other series. However, Forza Horizon 5 is the most accessible and inclusive entry from Playground Games ever, so it's easier than ever to jump in and play no matter who you are.
Forza Horizon 5 isn't like other racing games, and gives players the freedom to play however they desire. It's a nearly perfect game, really only let down at the moment by bugs and issues (most of which affect the online experience). In our Forza Horizon 5 review, FH5 proved itself as the unchallenged champion of open-world racers, and has helped elevate the entire racing genre with mainstream appeal and attention not paid to other options in the space.
DiRT 5
DiRT 5 — Xbox & PC
Reasons to buy
+
Great, fun casual rally racing
+
Lots of variety and ways to play
+
Solid performance on current-gen consoles
+
Supports Xbox Play Anywhere, Game Pass, and Cloud Gaming
Reasons to avoid
-
Visuals and customization are just okay
-
Not as "real" as its predecessor
-
May be a little bit too easy for some
Available on Xbox Series X|S (Optimized), Xbox One, and PC with Xbox Play Anywhere support; through Xbox Game Pass and Xbox Cloud Gaming, and Xbox Game Pass Ultimate on Xbox Series X|S, Xbox One, and PC via EA Play
The Xbox Series X|S current-gen consoles are beacons of power and advanced gaming features, and they need games to show off what they can do. One of the earliest games to launch on the consoles was DiRT 5, a continuation of the popular DiRT franchise from Codemasters (now a part of Electronic Arts) that went in a different direction for the series but still manages to deliver lots of fun to players and fans of intense off-roading action.
As the name implies, DiRT games are all about taking highly modified cars off the beaten path to create new trails, and the franchise has appealed to a large variety of racing fans over the years. DiRT 5 is absolutely a different, more casual game than its predecessor, but this doesn't hold it back for most players. The game is ridiculously fun, easy to get into, and features a wide variety of game modes and races with a non-linear campaign and player-made "Playgrounds." There's also a diverse range of environments, complete with dynamic weather, that spice things up even more.
If you're looking for a more simulation-like, off-roading game, however, DiRT 5 is not that. The game is pretty simple and easy to get into, and even more serious difficulties probably won't be an extreme challenge for veteran racers. Visuals in DiRT 5 are also slightly inconsistent, ranging from pretty good to kind of "off." Finally, vehicles and vehicle customization are sadly lacking in DiRT 5, with the livery editor especially offering disappointing options and ways to design.
DiRT Rally 2.0
DiRT Rally 2.0 — Xbox & PC
Reasons to buy
+
Authentic and challenging rally racing
+
Great driving mechanics and physics
+
Tons of additional DLC content and expansions
+
Visuals, audio, and performance are great
Reasons to avoid
-
Tracks can become repetitive and boring
-
Singleplayer campaign is shallow
-
Game may be too challenging for newcomers
Available on Xbox Series X|S, Xbox One, and PC; through Xbox Game Pass Ultimate on Xbox Series X|S and Xbox One via EA Play
For those who desire a hardcore off-road racing experience with no holds barred, there's really only one good choice: DiRT Rally 2.0. The Rally half of the DiRT franchise is more simulation-focused than its non-Rally counterparts, and aims to test the skills of even the most experienced off-road drivers. Players should expect an authentic rally challenge when they step behind the wheel of a DiRT Rally 2.0 vehicle. with little-to-no handholding.
DiRT Rally 2.0 makes its claim to fame with excellent driving mechanics and physics, including surface degradation on tracks and tire wear, blisteringly difficult AI opponents and simulation-like racing, class-leading audio, and a decent selection of rally-grade vehicles to drive on through six countries. DiRT Rally 2.0 still more than holds up today, especially with a ton of post-launch DLC and additional cards, and is a great choice for any rally fan looking for a challenge.
It's not all perfect, of course. DiRT Rally 2.0's tracks can become repetitive over time, with a pretty limited number of options to choose from, and that simulation-like racing and difficulty would be forgivable if not for the lack of tutorials to ease newer players into the series and the genre. DiRT Rally 2.0's singleplayer campaign, as well, leaves a little to be desired. Pick up the Game of the Year Edition if you want access to DiRT Rally 2.0's extensive DLC collection at a compelling price.
F1 2021
F1 2021 — Xbox
Reasons to buy
+
Class-leading Formula One simulation racing
+
Excellent visuals, customization, and features
+
Solid singleplayer campaign
Reasons to avoid
-
Very similar to F1 2020
-
Not quite as intense as real F1 racing
-
May be missing some tracks and content
Available on Xbox Series X|S (Optimized) and Xbox One
Another entry from racing champions Codemasters and their newfound parent EA, F1 2021 is the latest installment in another long-running racing franchise that revolves around the global and well-known Formula One racing series. Featuring real drivers, teams, sponsors, and high-performance formula race cars across a wide variety of meticulously recreated real-world tracks and circuits, F1 2021 is the culmination of years of expertise from Codemasters handling Formula One.
Their newest game follows the aptly named F1 2020 and delivers a mostly familiar Formula One racing experience with better visuals and customization than ever before. F1 2021 even includes a full-fledged campaign mode that will likely keep players interested and engaged for hours to come, even if it likely won't win any rewards for storytelling. If you love the idea of driving a formula race car in any sense, there's seriously no better option than the officially licensed F1 series, and the best of the bunch is F1 2021.
F1 2021 will likely only cater to those who are interested in racing formula race cars, but it does feature a ton of options, customization, and ways to tinker the experience to be as real as you want it to. Of course, F1 2021 will never quite approach what real Formula One racing is like, since the game is limited by its "E for Everyone" rating, and Codemasters has followed their traditional F1 formula, for better or worse.
Project Cars 2
Project Cars 2 — Xbox
Reasons to buy
+
Solid tutorials and great singleplayer campaign
+
Still-gorgeous visuals with dynamic weather effects
+
Great driving mechanics on a huge number of tracks
Reasons to avoid
-
Can be too challenging, even with tutorials
-
Small car list compared to other racing games
-
Lack of customization or livery editor for vehicles
Available on Xbox Series X|S and Xbox One
It may seem strange to have Project Cars 2 on this list without its successor, Project Cars 3, but for many players the older game is the clear winner. While Project Cars 3 stripped a lot of its features and realism, losing most of its identity in the process, Project Cars 2 continues to be a generally excellent simulation racer — and a solid competitor for Forza Motorsport.
Project Cars 2 features a ton of gorgeous, officially licensed vehicles, and a huge variety of different tracks, complete with impressive visuals (that still hold up today) and dynamic weather effects. There's even a decently robust singleplayer campaign, which will take players through multiple events and race types. In many ways, especially for fans of simulation racers, Project Cars 2 comfortably beats its successor and still remains competitive with more modern racers.
While Project Cars 2 does feature pretty decent tutorials for newcomers, many may still find this game a little too challenging. A smaller car list and a lack of customization for vehicles are big negatives when compared to Project Cars 2's biggest competitor, Forza Motorsport 7. If you're looking for another great racing game, though, Project Cars 2 makes a solid case.
Burnout Paradise Remastered
Burnout Paradise Remastered — Xbox
Reasons to buy
+
Intense racing and awesome collisions
+
A faithful and proper remaster of the original
+
An expansive open world with lots of personality
Reasons to avoid
-
Annoying menu and UI quirks remain
-
Cars are not officially licensed
-
Visuals still don't compare to newer games
Available on Xbox Series X|S and Xbox One; through Xbox Game Pass Ultimate on Xbox Series X|S and Xbox One via EA Play
Many people may think of the legendary Need for Speed franchise when they think "casual arcade racer," but the Burnout series was equally as infamous back in its prime. Unfortunately, there hasn't been a proper addition to the Burnout franchise since the incredible Burnout Paradise, which paired Burnout's glorious crashes and intense arcade races with an open world. Over a decade later, EA let players return to Paradise City with the arrival of Burnout Paradise Remastered, and it's one of the best racing game remasters.
Everything that was great about the original Burnout Paradise remains great in the remastered version, but EA of course modernized the visuals with support for up to 4K, better and more stable performance, upgraded textures and lighting, and much more. Players still get to drive around a beautiful open world and engage in several different race types all over the city. Crashes and collisions are still immeasurably satisfying, and are miles above many of the top racing games available today.
Burnout Paradise Remastered still features many of the same annoying menu and UI quirks of the original, which may be frustrating for some players. The cars are generic semblances of real-world vehicles, as Burnout Paradise lacks the official licensing of other racers, but they still look and drive great. Especially for fans of the original, though, Burnout Paradise Remastered is an excellent facelift and one of the best open-world racers right now.
GRID
GRID — Xbox
Reasons to buy
+
Gorgeous visuals and details
+
Simple, fun gameplay
+
Easy to jump in and out of
Reasons to avoid
-
Lack of content in base game
-
Lack of online and multiplayer content
Available on Xbox Series X|S and Xbox One
Codemasters has managed to place a ridiculous number of games on our list of best Xbox racing games, and now we're adding another one. Another classic racing franchise was brought into the modern gaming world with GRID, one of the finest racing experiences you can currently play. While GRID may leave behind some aspects of the originals that made players fall in love, the new and improved GRID can still stand toe-to-toe with the best racers today.
GRID looks absolutely fantastic, and shares a similar vibe with DiRT 5 in that it's an excellent and incredibly fun casual racer to pick up and play at any moment. The difference is that GRID takes a decent collection of carefully chosen and well-known vehicles and puts them on a wide variety of road-based tracks. There's also a non-linear singleplayer campaign here, and it all exists to help players jump in a race exactly the way they want to.
As a casual racer, GRID is all about casual, sheer racing fun, and it mostly delivers. However, you may need to splurge for the Ultimate Edition, as it includes a ton of additional content that makes the base game feel slightly empty. If you're looking for a vibrant and varied multiplayer scene in GRID, you're not going to find it. Overall, though, GRID is a gorgeous and detailed casual racer, and the Ultimate Edition does include a ton of content for players to enjoy.
The Crew 2
The Crew 2 — Xbox
Reasons to buy
+
Beautiful open-world version of the USA
+
Lots of vehicles to choose from
+
Mostly great arcade racing
Reasons to avoid
-
Feels messy and unfocused at times
-
Planes, bikes, and boats feel out of place
-
More arcade-like than Forza Horizon
Available on Xbox Series X|S and Xbox One
There's a relative shortage of proper competitors for Playground Games' genre-leading Forza Horizon series, but Ubisoft took a crack at the title with The Crew 2, an open-world racer that encompasses a shrunk-down version of the United States of America and a wide variety of different vehicles to drive — and players aren't limited to just cars.
At its core, The Crew 2 is about cars and a casual arcade racing experience, and in this aspect it mostly delivers with a decently sized roster of vehicles and pretty fun gameplay. However, Ubisoft wanted to deliver a more ambitious and encompassing experience than Forza Horizon, often to its detriment. It does mean that, if players desire, they can get behind the wheel of a bike, plane, or boat, in addition to all the traditional cars.
The Crew 2 is gorgeous, as one would expect from an open-world Ubisoft game, and it is a joy to explore this version of the USA that Ubisoft has built. However, The Crew 2 suffers from feeling too ambitious and ends up becoming messy and occasionally frustrating. If you're looking for another open-world racer that's a little bigger and a little more arcade-like than Forza Horizon, though, The Crew 2 can still offer hours upon hours of fun.
NASCAR Heat 5
NASCAR Heat 5 — Xbox
Reasons to buy
+
Looks and plays great
+
Officially licensed drivers and circuits
+
Lots of options for players
Reasons to avoid
-
Nearly identical to its predecessor
-
Not likely to win over non-NASCAR fans
-
NASCAR 21 Ignition is replacing it
Available on Xbox Series X|S and Xbox One
NASCAR is one of the biggest racing championships around, but many racing games leave the stockcars behind in favor of other vehicles and more variety. For NASCAR fans, there's only one great option and that's NASCAR Heat 5, the best stock car racing game and one of the better racing games on Xbox right now. NASCAR Heat 5 is the complete package for NASCAR fans, and features officially licensed real-world cars, teams, brands, and tracks, complete with a long career mode and plenty of options.
NASCAR Heat 5 also looks pretty great, even if it's not going to best some of the other best racing games out there (and lacks enhancements for more powerful consoles). Driving feels great, and you have a ton of circuits to choose from, which all look amazing and detailed. There are also a lot of options for assists and settings, and a test mode to ease you into driving a new car, learning a new circuit, or taking control of a new team.
Where NASCAR Heat 5 falls apart is how it differentiates itself from its predecessor. NASCAR Heat 4 players will likely find very little reason to purchase the new game, as Heat 5 only includes a few relatively minor improvements and remains mostly the same in visuals, performance, and physics. It's also worth mentioning how the Heat series is being replaced by NASCAR 21 Ignition, which features major improvements in a variety of ways (but has launched with some issues and middling feedback from the community). However, for newcomers to the franchise, especially NASCAR fans, NASCAR Heat 5 is one of the better options.
Forza Horizon 4
Forza Horizon 4 — Xbox & PC
Reasons to buy
+
An incredibly detailed open world
+
A huge roster of officially licensed vehicles
+
Tons of activities and different ways to play
+
Regularly discounted
Reasons to avoid
-
Forza Horizon 5 has replaced it with many improvements
Available on Xbox Series X|S (Optimized), Xbox One, and PC with Xbox Play Anywhere support; through Xbox Game Pass and Xbox Cloud Gaming
Holding (and deserving) the title of "best Xbox racing game" for several years, Forza Horizon 4 is still an excellent game. Set in an absolutely gorgeous open-world rendition of the UK, Forza Horizon 4 hands players the keys to a massive roster of over 700 officially licensed and high-quality vehicles from dozens of manufacturers, and tells them to go nuts. Playground Games and Xbox Game Studios have faithfully supported FH4 for three years with constant content updates and additional features, so the game has improved steadily since its release in 2018.
Forza Horizon 4 is an open-world arcade racer with simulation elements, so it's far from the most realistic racer on this list. Still, you have a fantastic array of customization options to make your car look and perform exactly the way you want, and there's a decent set of tuning tools to give you that extra edge in a race. FH4 is also consistent, so it's easy for even novice racing fans to get into, and provides a ridiculous amount of freedom to play the way you want. Something about Forza Horizon games and their expansive open worlds even draws in players who normally wouldn't touch racing games.
Still, there's no ignoring the elephant in the room: Forza Horizon 4 has been replaced by its far-superior successor, Forza Horizon 5. That being said, FH5 is still a full-priced game, while FH4 regularly sees heavy discounts and sales. Even if you already own and love Forza Horizon 5, it still may be worth revisiting its predecessor to see what's changed (and the UK-based map is still wonderful to explore).
Xbox makes it easy to love cars
When it comes to racing games on Xbox, it's obvious fans of the genre have plenty of options to choose from. It might seem unclear at first glance what the best among the best racing games are, but Turn 10 Studios and Playground Games have proven their expertise and greatness repeatedly with the Forza franchise. Whether you're looking for a simulation-like arcade racer in Forza Horizon 5 or an in-depth simulation racer like Forza Motorsport 7 (now end-of-life), Forza is indisputably the king of Xbox racing games.
Codemasters, now under EA, certainly gives the Forza duo a run for their money, however, with a wide range of excellent racing games that cater to a variety of audiences. From casual arcade racers like DiRT 5 and GRID to simulation racers like DiRT Rally 2.0 and F1 2021, Codemasters is certainly a master of their craft. Of course, you can't go wrong with any of the racing games on our list of best Xbox racing games, as every title here has something to offer for lovers of cars and high speeds.
Xbox Game Pass Ultimate (Xbox & PC)
All your gaming needs, in one subscription
Windows Central Newsletter
Get the best of Windows Central in in your inbox, every day!
Zachary Boddy (They / Them) is a Staff Writer for Windows Central, primarily focused on covering the latest news in tech and gaming, the best Xbox and PC games, and the most interesting Windows and Xbox hardware. They have been gaming and writing for most of their life starting with the original Xbox, and started out as a freelancer for Windows Central and its sister sites in 2019. Now a full-fledged Staff Writer, Zachary has expanded from only writing about all things Minecraft to covering practically everything on which Windows Central is an expert, especially when it comes to Microsoft. You can find Zachary on Twitter @BoddyZachary.
Windows Central Newsletter
Thank you for signing up to Windows Central. You will receive a verification email shortly.
There was a problem. Please refresh the page and try again.