The best VR experiences unveiled at GDC 2018
What to look forward to in VR.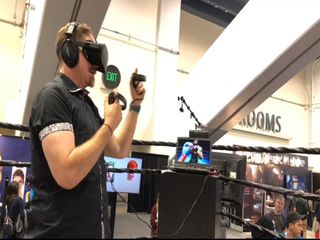 Game Developers Conference (GDC) is a convention that serves as the world's largest professional game industry event. If there was ever a time to find the news about what's coming for VR, this is it! We collected all the information we could find on the best experiences coming to you in VR for 2018 and compiled them into this singular post. So, check out below and let the hype begin.
Games
Why you can trust Windows Central Our expert reviewers spend hours testing and comparing products and services so you can choose the best for you. Find out more about how we test.
Catan VR
The one thing every tabletop fan will ask for is a way to bring the best of board gaming to a more immersive environment, and that's exactly what Experiment 7 and Asmodee did when they released Catan VR. In this title, you can bring your friends or allow yourself to be mix-matched with strangers, as long as you bring the love of strategy gaming with you. This title can be found on the Oculus Store for $9.99 for GearVR or $14.99 on the Oculus Rift. Another cool thing about this title is that you can play while sitting or standing.
SiegeVR
Time to show them that you're the King of the castle. HTC Vive Studios and Sixense have announced a partnership to bring you SiegeVR, a fun and immersive game to show you the sides of battle from a medieval time. Take on the role of the army's archer and use your enemies battle plans against them. The title is out now and you can buy it on Steam for $9.99 on the HTC Vive.
Budget Cuts
In this futuristic world, you are a sneaky assassin with one goal, making sure you reach the top of the company ladder. This will require you to move your way through the company's building unnoticed by either being the stealthiest person alive or killing everyone you come across before they can kill you or sound off the alarms. Budget Cuts should be coming very soon in May to HTC Vive via the Steam store and, unfortunately, there hasn't been a price mentioned for it yet but we're still excited! There are plenty of developers posting their gameplay on YouTube and I can't get over how fun this title looks. So start collecting all of your office supplies, you're going to need all the weapons you can find
Creed: Rise To Glory
A new boxing game is going to hit the shelves and it's coming at you from Survios and MGM Interactive. The company hopes to have the game released later this year after the movie Creed hits theaters. "But we have Knockout League and other boxing titles already, what's special about this one?" you might ask. Well, for starters, Rocky Balboa himself is your personal trainer. Not just that, but they are going to be introducing a bunch of new mechanics for their games including a Stamina Meter and a sluggish punching mechanic while fighting.
The Stamina Meter resides in your fists for you to see while you fight. Basically, if you punch too fast then you (as Creed) will start to be more sluggish in movement. This game actually teaches you how to box and it's a fight to the finish. As a VR boxing fan, I'm excited to see what they can bring to the table.
Pixel Ripped 1989
Take it back a few decades and let's get back to the games that started it all. Yeah, I'm talking 8-bit. Pixel Ripped 1989 is about a second-grade girl who brought her favorite gaming device to school. Get back to your childhood and jump into the nostalgic world of Pixel Ripped, set to launch on PlayStation VR, Oculus Rift and HTC Vive on May 22, 2018.
Think back to what playing games was like when you were as young as the second grader in Pixel Ripped. About how the universe of the game molded around you with your wildest imaginations. Well, this title is giving you the chance to not only experience that imagination once again but bring it to life with actual visuals and color.
Rollercoaster Tycoon Joyride
We all remember our childhood of building up the best theme parks with Rollercoaster Tycoon Dino Digs, growing all of our Raptors and T-Rex's from small eggs ... and then plugging a boulder in front of the entrance after we deleted the fences that kept our little monsters away from the guests. Well, Atari has announced it will be releasing its first VR game ever with Rollercoaster Tycoon Joyride sometime in the first half of 2018. So far it has been confirmed that it will run on the PlayStation VR, regular Playstation 4 and PC.
Roller Coaster Tycoon Joyride will have single and multiplayer options, as well as the ability to do the thing we love most - build roller coasters. Not just that, but if you check out the image available you'll see an option for a "ride and shoot". Make your coasters that much more phenomenal by turning them into mini-games you and your friends can fight for the top place on the leaderboard. Are you excited yet? I am!
Dr. Splorchy Presents: Space Heroes
Google and Squanch Games are working together to bring you this interesting title that will be exclusive to Google Daydream, and the first of a series. Doctor Splorchy is a sassy scientist who's sense of humor might remind you of a certain blue-haired madman named Rick. That's cause Justin Roiland, the co-creator of Rick and Morty, helped develop this title. By the small glimmers of what we've seen so far, it looks like this title is mostly going to be a mystery until release but there are hints of it being a first-person shooter.
No matter what, I'm looking forward to the start of this series and every game that comes after it already. With no word on a release date, it looks like we'll be even more in the dark, but that's OK. A little suspense never hurt anybody.
Thoughts?
What looks best to you? What are you most excited for in VR for 2018? Tell us in the comments.
Get the Windows Central Newsletter
All the latest news, reviews, and guides for Windows and Xbox diehards.
Essa Kidwell is an expert in all things VR and mobile devices who can always be found with an Oculus Go, a Pixel 2, and an iPhone 7+. They've been taking things apart just to put them back together for quite some time. If you've got a troubleshooting issue with any of your tech, they're the one you want to go to! Find them on Twitter @OriginalSluggo or Instagram @CosmeticChronus.