Best Xbox One wireless headsets 2022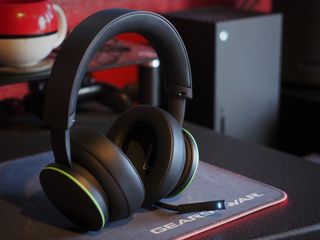 (Image credit: Windows Central)
Still holding off on next-gen Xbox Series X|S consoles, but need a new wireless headset? Perhaps one of these will be just the ticket, and luckily, everything here will also carry across to the new-gen consoles as well when you do eventually feel like upgrading.
The best wireless Xbox One headset for you will be different depending on your needs. If you want to find the best Xbox One headset for you, and don't necessarily mind using a 3.5mm wire instead, take a look at our best Xbox One headset roundup article over at that link. If you're dead set on finding the best Xbox One wireless headset, then look no further.
Note: Every headset in our best wireless Xbox One headset roundup is confirmed to work on both Xbox One and Xbox Series S and Series X consoles.
What is the best Xbox gaming headset?
Xbox wireless headsets take convenience to the next level, ditching the restriction of cables to let you roam free. Or, at least within the listed range. The best wireless Xbox One headset will be different for everyone, depending on your individual needs or preferences. Sadly, there aren't a ton of truly great options out there, at least as of writing, but more and more manufacturers are ditching the cables as the technology has improved over the years.
The vast majority will be more than satisfied with the excellent LucidSound LS35X. We also list it as our best Xbox One headset in general for 2022, owing to its luxurious coolant-gel earcups, gorgeous audio, and convenient features. We also highly recommend the Astro A50, but its RRP is a tough sell for most budgets, costing almost as much as an Xbox One console by itself. That's because it comes with a powerful magnetic charge dock to complement its overall sound experience, which features excellent audio, exceptional comfort, and beefy battery life. You don't have to smash the bank to pieces to get a good wireless experience, either.
Here's our list of top picks for the best wireless Xbox One headset in 2022, examining every use case, price range, and feature set.
1. LucidSound LS35X — Best overall wireless Xbox One headset
Bottom line: The LS35X is still our number one pick for best Xbox One wireless headset for a number of reasons. First of all, its direct-to-Xbox connectivity makes it a front-runner for convenience. It's also supremely comfortable, owing to its premium fabrics and cushioning, complete with inner coolant gel that helps disperse heat in the warm summer months. Most importantly of all, it has truly tremendous sound, with a balanced audio profile that won't disappoint.
Speakers: 50mm neodymium | Frequency response: 20-20,000Hz | Compatibility: Xbox Wireless, 3.5mm | Features: Removable mic, on-ear controls, 15-hour battery life
The LucidSound LS35X is the best wireless Xbox One headset out there, if not the best Xbox One headset in general, owing to its great features, design, and general quality. My favorite feature of this product is the earcups, which are packed with dreamy coolant gel that makes it pleasant to wear even if you're not gaming. It just feels ... nice.
Those great earcups also cleverly bake all the headset's controls, including volume and sound mix dials into the rim of the earcups, alongside pairing buttons and EQ toggles. They boast 15 hours of battery life out of the box, which means you may be charging them up a little more often than some of the other wireless headsets out there. Still, it won't cut out mid-session unless you plan on gaming for more than 15 hours in one sitting without plugging them in to charge.
The only real downside is that you have to grab a critical firmware update from LucidSound's website via PC before using them because of an error with the onboard code. Once you've grabbed that, though, the wireless signal is impeccable, whether you're using it on Xbox or PC via a sold-separately Xbox Wireless dongle.
The LS35X is also one of the best wireless Xbox One headsets for mic quality. This is one area where many manufacturers try to save a bit of cash. Still, LucidSound ensured the mic quality remains a top priority, complete with sidetone mic-monitoring and an LED notification light.
To round out this great product is its soundscape, which is also one of the better ones on the market, particularly for this price range. Many headsets prioritize tactical sound, emphasizing highs so that you can hear people reloading or sneaking around corners. The tradeoff is that it can sometimes sound a bit unnatural. The LS35X offers a more balanced soundscape that won't cost you a tactical edge but remains an excellent option for immersive single-player games or watching movies. This is one headset that simply doesn't disappoint.
Coolant-gel earcups, 15-hour battery life, a balanced soundscape, and premium build quality easily make the LS35X our top pick.
2. Astro A50 (2019) — Best high-end wireless Xbox One headset
Bottom line: The Astro A50 is a legend thanks to its premium experience, ideal for those with a bit more cash to splash. The headset is the only viable option on the market with a magnetic charge dock, making it supremely convenient and persistently charged. It also allows you to mix audio from a SPDIF sound source like a TV or your Xbox One, alongside USB audio from a PC. This is great for streamers and content creators. It's also no slouch in the sound department, with a lightweight, stylish design that will stand the test of time.
Speakers: 40mm neodymium | Frequency response: 20-20,000Hz | Compatibility: SPDIF optical, USB (Xbox and PC) | Features: Magnetic charge dock, on-ear controls, 20-hour battery life
The Astro A50 is the most expensive headset on our list, and for a good reason. This is the only Xbox One wireless headset still on the market with a magnetic charge dock, giving it some serious convenience and panache to go with it. When you're done gaming, simply drop the headset in the cradle for the evening, and wake up tomorrow to a full charge, complete with notification LEDs to let you know how much juice it has.
The Astro A50 isn't great just for this reason, though. It's also the only wireless Xbox One headset on the market that lets you mix audio from a SPDIF optical cable source (your Xbox console or TV, for example) and USB (a connected PC or laptop, or Xbox). This is great for content creators, as it lets you use your Xbox gaming sound while using your headset with a USB-connected PC for voice chat or streaming. The Astro software and on-ear controls also make configuration simple and easy, regardless of how complicated you want your setup to be.
The A50 also sports excellent sound, with Dolby audio included, although you can disable it if you're not a fan. The Dolby audio can help with tactical awareness and precise surround positioning, but it isn't the most immersive. Thankfully, the A50 can be customized at will, with toggle-able EQ presets and profiles, designed with gaming, music, and movies in mind by default. The Astro A50 sound profile isn't as impressive as some of the beefier headsets out there, but it won't disappoint anyone but the most discerning audio fan out there.
The A50 also looks great, and you can grab additional leatherette accessories if you don't fancy the fabric earcups it comes with, although it's light and comfortable across long play sessions. The battery life will also grant long play sessions, lasting up to around 20 hours. Many regard this as the best wireless Xbox One headset of all time, and it's for a good reason.
3. Xbox Wireless Headset — Best value option with Bluetooth
Bottom line: The official Xbox Wireless Headset is a newcomer on the scene, and it has already made quite an impressive entrance. Coming in at a relatively low price, this headset boasts some impressive features and quality that are often missing even on more expensive options. Although the overall soundscape isn't the most balanced or immaculate out there, the value proposition here is truly eye-opening. This is a great entry-level option for anyone looking to elevate their audio.
Speakers: 40mm neodymium | Frequency response: 20-20,000Hz | Compatibility: Xbox Wireless devices (Xbox One, Xbox Series S, X, and Xbox Wireless Dongle), Bluetooth devices | Features: 15-hour battery life, intuitive dial controls, auto-mute mic, mic monitoring
The Xbox Wireless Headset is a newcomer to the Xbox headset space but has already earned itself a place among the best Xbox wireless headsets of recent memory.
The Xbox Wireless Headset is a closed-back option that includes Bluetooth mixing capabilities. That means you can hook this headset up to your Xbox to feed in-game sound, as well as a nearby laptop, smartphone, or tablet, for music or apps like Discord. This makes the headset ideal for those who are in Microsoft's ecosystem, shifting between devices to play games via the cloud with Xbox Game Pass, for example.
The headline act on this headset is the price. At this price, there really aren't any other options on the market that pack all of these features into a single product. Bluetooth-capable Xbox headsets typically start at a higher price point, giving the Xbox Wireless Headset a high-value proposition. The Xbox Wireless Headset also sports mic monitoring (also called sidetone) so you can hear yourself speak and regulate your own volume levels.
It also has an intuitive auto-mute feature to cut out background noise when it detects that you're not talking, making it a decent option for meetings too. The overall mic quality isn't the best, however, and the mic position is quite far back, restricting the volume of the sidetone even when it's set to maximum.
An additional layer of value offered by the Xbox Wireless Headset is that it has Dolby Atmos support baked in, meaning that you don't need to fork out for a license. The Dolby Atmos app detects the headset on your Xbox and enables Atmos automatically. The Xbox Wireless Headset also gives you a large degree of control over EQ presets, although I found the headset to be rather bass-heavy in my full review. Still, that's a personal preference.
This is a truly great wireless headset and is bringing some serious value in a competitive market.
Xbox Wireless Headset
The Xbox Wireless Headset price point makes it a truly great value option for anyone looking to elevate their headset audio. The soundscape won't blow your mind, but this feature-packed product represents truly remarkable value.
4. SteelSeries Arctis 9X — Best Bluetooth wireless Xbox One headset
Bottom Line: The SteelSeries Arctis 9X doesn't quite beat the Astro A50 or LS35X for pure sound quality, but it does have one killer feature: Bluetooth support. This headset lets you mix a signal from your Xbox One and a Bluetooth device simultaneously, allowing you to chat on a PC or phone while gaming away. This is a good option for those who want multi-platform versatility.
Speakers: 40mm neodymium | Frequency response: 20-20,000Hz | Compatibility: Xbox One, Xbox Series X, Bluetooth devices | Features: Xbox Wireless and Bluetooth mixing, on-ear controls, 20-hour battery life
The SteelSeries 9X is an alternative to the LS35X that comes complete with Bluetooth support, giving it a potential leg-up in terms of versatility against competing headsets. With this functionality, you can combine sound from your Xbox game with audio from a PC or connected mobile phone for chat. You can also simply use them while out and about with your mobile or tablet, giving them an "all-in-one" feature set that you may find ideal in your search for the best wireless Xbox One headset for you.
The 9X has a great sound profile that is well balanced, perhaps leaning a bit more towards highs and tactical play, making it a good headset for pairing with Windows Sonic or Dolby Atmos. The microphone is retractable, which is a nice touch, and sounds decent enough for chat and general comms. You can configure the headset further using a PC and SteelSeries' excellent software. You can even use it outright on PC if you throw in a Microsoft Xbox Wireless USB dongle.
For those of us with larger heads, the SteelSeries Arctis 9X can feel a little tight around the head over long periods, but for most, it will be among some of the most comfortable headsets you've ever worn, owing to its lightweight and cushioning. If you don't plan on using the Bluetooth functionality too much, the LS35X does come in a bit cheaper, but there are no headsets on the current market that combine the best of both worlds so well.
SteelSeries 9X
If you want a headset that can do it all without breaking the bank, look no further than the SteelSeries Arctis 9X.
5. Corsair HS75 XB — Best wireless Xbox One headset for audio quality
Bottom Line: In this price range, there are headsets you may be hoping for more features, but if all you care about is amazing audio, the Corsair HS75 XB is tough to beat. The HS75 XB is a newcomer on the scene, and boasts truly great audio that is elevated further with baked-in Dolby Atmos support. This headset is recognized by the Dolby Atmos app, giving you access to a range of additional features right from your Xbox One console, including EQ tweaks and more.
Speakers: 50mm neodymium | Frequency response: 20-20,000Hz | Compatibility: Xbox One, Xbox Series X, Xbox Series S | Features: Xbox Wireless, on-ear controls, 15-20-hour battery life
The Corsair HS75 XB is pretty new to the scene and has already made the cut on our best Xbox One wireless headset list for one reason, and one reason alone: big audio. The Corsair HS75 XB has one of the best soundscapes of any headset I've used and comes bundled with Dolby Atmos for good measure.
The separation on the HS75 XB is incredibly impressive, isolating different frequencies well, which can help provide a tactical edge while also supporting Dolby Atmos' precision surround algorithm. I was immediately impressed by how immersive this headset felt while playing Destiny 2 and Call of Duty, with my footsteps distinctly "below" me and other audio cues sweeping around me in a realistic fashion.
Where the HS75 XB falls down a bit is with its feature set. The fact it lacks any form of configuration software may come as a big annoyance for those who aren't a fan of its bass-oriented sound profile. Indeed, this headset is a truly bass-heavy boy, and if you're not a fan of that, you can't tweak it because there's no software to do so. However, I would argue that the overall sound quality is so good that it almost doesn't need it.
The Corsair HS75 XB is also big on comfort and design. With thick airy leatherette cushions that keep the headset feeling great even across long sessions. The materials used are also of a high grade, and the construction feels dense and sturdy while also prioritizing weight distribution. Simply put, this is a great headset that won't disappoint unless you were hoping for a little more versatility, given its price point.
For what it lacks in versatility features like some of its similarly priced brethren, the Corsair HS75 XB makes the cut for its big audio.
6. Audeze Penrose X — Best premium audio quality
Bottom line: The Audeze Penrose X stuns with crystalline, detailed sound reproduction owing to its wild 100mm planar drivers. When it comes to pure audio, the Penrose X is truly tough to beat. However, for its price, it's tough to recommend as an overall package. If having the edge when it comes to tactical sound is all you care about, this might be the best for you.
Speakers: 100mm planar drivers | Frequency response: 15-50,000Hz | Compatibility: Bluetooth, USB wireless (Xbox and PC) | Features: 15-hour battery life, planar audio drivers, on-ear controls, Bluetooth
The Audeze Penrose X is a bit of a frustrating headset to recommend, owing to its crazy price point. Those planar drivers aren't cheap, and when you're throwing in Bluetooth as well, it's a surefire way to inflate your product's price very rapidly. The Audeze Penrose X boasts some of the biggest and most immaculate audio reproduction I've experienced, with crisp details finely separated from sweeping bass notes and atmospheric mids. The audio reproduction is truly up there with the best of them, but I'm not sure it's worth paying so much extra, given some of the product's flaws.
Audeze claims that their microphone is "studio-grade" but it hardly sounds better than much cheaper microphones on this list, and the headset's design leaves a lot to be desired. With loud green "gamer" toy-like plastic accents, this is one Bluetooth headset that isn't exactly subtle for use outdoors, despite its great weight distribution and inviting comfort. Additionally, there are cheaper or equivalently priced headsets on this best Xbox One wireless headset list that offer more, like the Astro A50 charge dock for example, or the LS50X, which sports Bluetooth, a better design, and at least comparable audio.
Regardless, if money is no object to you and all you care about is the absolute best sound no matter what, this might be the best Xbox One wireless headset for you! If you can find one that is, Audeze doesn't seem to be manufacturing enough to meet demand as of writing.
The Audeze Penrose X might look like a toy, but it boasts truly serious audio, delivering some of the most detailed audio I've ever experienced in a gaming headset.
What to look for when buying the best wireless Xbox One headset for you
When trying to find the best wireless Xbox One headset for you, you're ultimately choosing between features, audio, and price range. Wireless headsets can be a little more expensive than their wired cousins, owing to the tech that gets baked in to make them viable, but the convenience makes the tradeoff more than worth it.
Audio quality can be looked at in various ways and does depend on the individual. Skull shape, ear shape, and all other sorts of factors can affect how you perceive sound, making it hard to create a product that truly fits a "one size fits all" mantra. When it comes to picking the best wireless Xbox One headset for your personal needs, typically, headsets either prioritize the high ranges, which accentuate audio like reloading or footsteps, to give yourself a tactical edge. Others are a bit more balanced, which can sound more immersive. Even better are the headsets that let you control the EQ to suit your needs and tastes. It's also worth looking at which headsets have mic monitoring and sidetone features, so you can hear yourself speaking.
Features can vary wildly by headset. The Astro A50, for example, has its magnetic charging dock, while the SteelSeries Arctis 9X has Bluetooth support in addition to its other features. When thinking about what type of product you'd need to find the best wireless Xbox One headset, user scenarios can vary wildly between your basic game sound and audio, to something more complex, like needing a setup that supports SPDIF optical out and source mixing.
Price is always the biggest factor when choosing the best wireless Xbox One headset for your needs. The Astro A50 and SteelSeries 9X are certainly the more expensive options on this list, but you may not be the type of gamer who will utilize their entire range of features. You might not need Bluetooth, or SPDIF optical ports, for example. In that case, the LS35X may be the better product, as something that focuses entirely on Xbox One wireless audio and chat. Alternatively, you may want something cheaper still, if you're buying for a younger relative, for example. The official Xbox Wireless Headset fits that bill perfectly, with a large number of great features at a baseline entry-level price. The full price range varies, but make sure you're considering whether or not you actually need all those extra features before taking the plunge on something more expensive.
Credits — The team that worked on this guide
Jez Corden is a Senior Editor for Windows Central, focusing primarily on all things Xbox and gaming. Jez is known for breaking exclusive news and analysis as relates to the Microsoft ecosystem while being powered by caffeine. Follow on Twitter @JezCorden and listen to his Xbox Two podcast, all about, you guessed it, Xbox!
The Steel Series is once again available on their site and the MS store. Got the email this morning and I just checked.

Ah nice one. It's a good headset, just think the LS35X is better bang for buck, and more comfortable.

The Arctis 9x are good.
Comfort is subjective. I dind the headband is fine. The cups aren't as comfy as say Sennheisers but they are good enough.
The Arctis battery life don't get anywhere near 20 hours. More like 10.
The best bit about the Arctis is listening to YouTube whilst you play or take a phone call whilst you play. Mixing the sound, and able to tweak it with the dial.
The worst part is the range, which is barely 10 feet, and they just disconnect occasionally meaning you have to turn them off and on again.
The Mic quality is excellent (for a headset mic).
If the range was better and slightly more reliable they be perfect.
I couldn't give up the Bluetooth audio part now I've had it.
Also , Astros are no more comfortable imho. The ear ups are odd, but I still like mine - but confined to my PC.
As the Arctis connect directly to the Xbox via wireless it's great not to need a dock or dongle. My 2p anyway.

Thanks for that review. I wish the wireless range didn't start out sucking so bad on XB1. I think these headsets are still using that Gen1 wireless and not the newer one that mixes in Bluetooth for better range. Hopefully they fix this with the new box, but I have a feeling we are screwed.

To give anyone that cares about this headset an update, I tried the Arctis 9x and I have nearly constant popping of sound for around the first 30 minutes then it seems to clear up. The comfort is great, I just wish the wireless range was better. I do have my Xbox behind my TV though.

Jez, does the Plantronics RIG 800LX not compare favorably to any of these other headsets? I originally bought it, on your recommendation, and I love it, but it's missing in action, in all your subsequent reviews. Do the others come with Dolby Atmos, free, as well (not that I need another license)? Still getting the near 24-Hour battery life on them, after almost 2 years, btw.

Astro a50 has Dolby Atmos.
You'll also need an optical cable to connect the dock to you Xbox as well. (One does come with the headset) . The audio is not isolated unless you get the leather earcup.
To me. They feel a little loose as well. They sit fine. Just wish they were a little tighter.

Yeah. I don't think the Astro's are that great for comfort. They aren't terrible, just feel.... "janky"
The Mic is excellent.
Battery life degrades over time also.
Batteries can only be replaced by Astro I believe.

I don't recommend the RIG 800LX anymore cus it's almost always out of stock sadly, and I don't think they're manufacturing more. Also, it doesn't have a mic monitoring option, unlike all of these!

What about the ASTRO Gaming A50 Wireless + Base Station for Xbox One & PC - Black/Gold (2019 version).?
That one is more modern than the Green which I agree is pretty outdated. I actually done getting the Turtle Beach headsets for awhile. The build quality really has gone downhill. I'm my 3rd 800x because the ear cup rocker keeps cracking.

Jez, How about the new ones with the Haptic feedback? I think it was by Razer?

You know what I'd like to see, one of those bone conduction headsets to let you hear voice chat and all the great audio of your home theater at the same time. I want to hear my shifts and competitors behind me in Forza while chatting with friends on the track. Also good for shooters and couch co-op so that I can talk to friends next to me and still hear teammates online

Judging by your Best USB-C hub (with no commentary allowed), I'm gonna be skeptical about this list.
Like taking in what Amanpour says as truth when the subject is another country and then watching a show about a familiar subject.

Slightly offtopic, but is there away to link either beats headphones or Surface headphones to Xbox one X?

Limited Edition Titanfall Xbox One. 1 of 300 made for the development team at Respawn! One is for sale on eBay right now! Also you can check out a whole lot more at:
consolevariations website

Since the mic went wonky on my RIG 800LX cans, I've tried the Lucidsounds LS31x, and now Hyperx CloudX Flights. I loved the sound and features of the LS31X's, but ALL L Cid Sounds Headsets have a known defect. They use a super brittle plastic at the hinge pivot, that cracks, and breaks, across their entire product line. I refuse to buy another set, until they implement better quality materials at that hinge. The CloudX Flights, are really good. There's an issue with mine, where I have to unplug the wireless dongle at the Xbox, after turning them on, or else I will get game/media audio, and hear people in chat, but they will not be able to hear me, until I cycle the dongle manually. The Sidetone is strong, however, and adjustable, as is the chat balance. Volume is really good, and bass is nice and thumpy. The mic is crystal clear, according to all listeners. And the battery lasts up to 30 hours, and I've pushed that metric, and can vouch for over 24 of those hours without issue.

Received my Corsair HS75 XB headset last Sunday. The sound is awesome, and being my first Dolby Atmos set its a game changer. Cheers @Jez for responding to my DM's .

I love my Ls35x, but I'm on my third headset.
There's a design fault that causes the side brackets to crack after a few months. Starts off as a barely noticeable hairline crack but eventally they'll break apart. I'm currently waiting for their customer support to get back to me about my most recent pair. Check the reviews on Amazon before buying.

Is the xbox wireless headset a good option for making calls all day? . the battery life is really good

Curious not to see the LS50X here. So, Bluetooth aside, would you recommend the 35X over the 50x?

If you have a busy wireless environment go with the LS50X I had the LS35X but they kept disconnecting. Narrowed it down to the wireless. With the LS50X I haven't had that problem plus the Bluetooth mixing is such a good upgrade you can listen to audio from your Xbox and a phone or pc at the same time. Great for if you are using discord and playing Xbox.

You forgot to mention that the Xbox wireless headset comes with Dolby atoms, which is incredibly amazing for audio quality when listening to music in Dolby atoms sound format, I would recommend this headset!

Im looking for a wireless headset that works on both xbox and pc and on the first headset it says "Once you've grabbed that, though, the wireless signal is impeccable, whether you're using it on Xbox or PC via a sold-separately Xbox Wireless dongle" so that means it works on both right? And if it does where can I get one of the dongles? thansks
Windows Central Newsletter
Get the best of Windows Central in in your inbox, every day!
Thank you for signing up to Windows Central. You will receive a verification email shortly.
There was a problem. Please refresh the page and try again.