Disney's Big Hero 6 Bot Fight now available on Windows Phone and Windows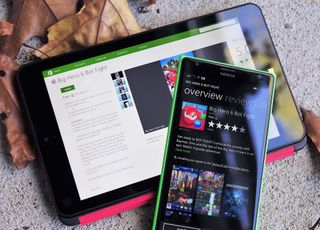 Big Hero 6 is an upcoming computer-animated film from Walt Disney Animation Studios. And now it's a game inside the Windows Phone Store and Windows Store. Big Hero 6 Bot Fight, a new puzzle game, is now available for your Windows tablet, phone, and PC.
Here's what you can look forward to with Big Hero 6 Bot Fith:
EXPERIENCE THRILLING STRATEGIC COMBAT & MATCH-3 GAMEPLAY
Match 3 or more Power Cells to power up your team. Power Cells and Bots of the same color activate an attack. Test your skills by creating the biggest combos to blast through your enemies! Destroy all of the enemy waves and reprogram the V.I.L.E. infected Bots to defeat Yama!
LEVEL UP, EVOLVE AND BUILD THE MOST EPIC TEAM
Over hundreds of Bots to collect! Level Up your team into advanced, top of the line battle Bots. Evolve your Bots by gathering rare parts. Try different combinations of Bots and bring the most powerful team into battle to save the day!
TEAM UP WITH FRIENDS
Bring along other players to complete missions and earn rewards! The world of Big Hero 6 is always growing with weekly events, expanding updates and new challenges. Come explore breathtaking San Fransokyo today!
The game is free, but features in-app purchases. The game does require at least 1 GB of RAM to play.
Big Hero 6 hits theaters this week in the U.S. Anyone planning on seeing it? Thanks, Sumit P., for the tip!
Get the Windows Central Newsletter
All the latest news, reviews, and guides for Windows and Xbox diehards.
Kind of can't wait to see this movie.

totally forgot, with family in town, that I had screening tickets last weekend :( oh well, will catch it this coming or the weekend after!!

Me and my little girl are stoked about the movie as well.

Same, it looks cute and i am taking my little brother(So i dont feel so lame wanting to secretly see it :P)

I can't believe they ruin such a new (possibly) big franchise with a "match-3"-game...

Same here. Miss 2 loves the trailers as well. Kind of sad that Disney keeps rehashing Bejewelled-style mobile games for their animated movies though. Some more variety like they show for Pixar, Star Wars and live action Marvel would be nice.

Not at all like bejeweled or candy crush it is very different and after playing it I have to say this is awesome!

Thanks, I'll give it a go then. From the video and screenshots it looked very similar to their previous Frozen game and the one before it which just had a different skin.

Nice... Back to Disney and 3D movies.

Thank you Disney for full support

The game doesn't support 512 Mb devices, so.......

Yeah, 'cause it was that easy. NOT.

Oh come on... Sumit P. Again!! For once I'd love If u said my full name Sam ;)

we do that to protect people's privacy; some people do not want their name blasted on the internet. instead of asking each person each time, we default with first name, last initial.

Oh!! Well no worries then sir :)

dev time for an average disney game= 2minutes.

So excited for the movie!

It's been a long time since I saw this 512Mb devices not supported banner. Hope this one also disappears soon.

Is it just me or does Big Hero 6's head look a lot like Xiao Na?

Disney supports windows ecosystem very well

Disney knows thst Microsoft is imp for the future thsts y they makes apps for windows and windows phones.

I'm pretty sure Microsoft made an agreement with Disney to port most of their games.

Disney CEO must use a windows phone. Haha

Oh yes..another match three game..yawn.. Pass

Sick of these Disney "candy crush" type games

It doesn't support 512 Mb ram, hmm didn't need it anyways.

The game reminds me of Pokemon :)) But man... It's slow and laggy on my 1520... I can't even imagine how would it be on lower devices :|

DOwnloaded and tried the game. Maybe it's just me, but it is not really very engaging as the game play seems very fragmented.

Disney and Marvel will rule entertainment forever.

When I watch Big Hero 6, I feel like I am just a child and it makes me relaxed. Watching it is really amazing. Aurora blu-ray player can help you enjoy it once more at home.

Please Disney we need 512ram support in the upcoming update.And btw amazing update to frozen.I lost maleficent saves after reset.Frozen level 240 just 45 more to unlock summer levels.

vanished from store!!!
hopefully comes back with 512ram support.need it on lumia 620.