Latest Microsoft Launcher beta update for Android brings new features and changes
Microsoft Launcher beta version 4.3 for Android brings some highly requested new features and changes for testing!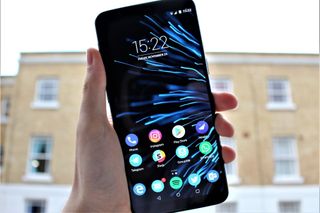 Microsoft is rolling out a brand new update to its official Android launcher for those in the beta program that introduces a whole bunch of new changes and features. Today's release bumps the version number to 4.3, and includes the following new changes:
App grid options: Support for 12X12 grid layout and half grid granularity.
New user experience: Migration from other launchers and backup / restore on welcome page.
Drag/drop apps do not enter edit mode.
Some UI adjustments: App title font display and folder icon/shape edit, dock support for more than 5 apps, search bar default to bottom. theme support for settings page, and settings page restructure.
General crash and bug fixes.
This is a pretty big update for the Microsoft Launcher, adding some highly requested and much needed features. Being able to pin more than five apps to the dock is a great addition, as well as being able to adjust how many icons are in a row or column on the home screen.
You can grab this update from the Play Store (opens in new tab) now if you're enrolled in the Microsoft Launcher beta! If you aren't a beta tester but are interested in becoming one, make sure you sign up. (opens in new tab)
See at Play Store (opens in new tab)
Zac Bowden is a Senior Editor at Windows Central. Bringing you exclusive coverage into the world of Windows 10 on PCs, tablets, phones, and more. Also an avid collector of rare Microsoft prototype devices! Keep in touch on Twitter: @zacbowden.
Nice . It's getting better and better . I hope they plan to integrate the photos app in windows 10 with the launcher , that would be awesome .

More than anything they need to improve the performance and memory usage of the launcher. It is very slow when playing games

What phone are you using I did not notice any issue when playing games on my xz premium but I did have the Launcher crash a few times a day and the pull up button would also get stuck in pull up mode. Decided to go back to the stock sony one for now but will give this a try again at some point as sounds like it's heading in the right direction. It also makes me hope we see a Microsoft android phone down the line to.

Having to re-do all homescreen widgets after every restart is a bit annoying but other than that it's pretty solid. MS updates the app every other day...wish they had put that much effort into WinMo.
On a side note, they finally got Office Lens for Android working properly.

I haven't had to update my widgets after restarting.

I have to update the Google+ widget every time the launcher updates on my device, without exception.

That's very odd because I've never had any issues like you're describing.

I had to redo my widhets now. Was really annoyed until I figured out what had happened. I thought I had done something to mess with the resolution at first. One problem tho... My Telenor Data widget shows up as slightly cropped on the left/right edges in the "feed", but if I pin it to any other page, it's fine. Note 8

Yeah I haven't had to reset ether.

I have the same problem. LG V30

I want a launcher with fluent design all over it.

Agree and I asked through the launcher support module

Now, that would be awesome!

Now bring it to Android tablets.

I'm using it on a couple Android tablets. The initial setup is stuck in portrait mode, but once you get past that, it can rotate into landscape mode. The dock and icon spacing isn't optimized for landscape mode, but it sounds this update will help with that.

I was running it on memu for awhile on my dell 2 in 1. I moved to nova launcher for speed. Not that MS launcher is not fast on phones..but via memu, it was not a quick as nova on FAST settings. Nova made my note useable again.

This is available for tablets. It is cortana I want on the tablet.

Really love how this launcher has progressed, but they really need to support scrolling wallpapers. I use a lot of bigger wallpapers on my phone, and having them cropped to fit a single screen doesn't cut it. For that reason I'm only using it on tablets for now.

Great update that brought a lot of missing features people were asking for. Microsoft are giving this launcher a lot of love with regular updates and new features and it's really refreshing to see them listening to requests. Haven't felt like that since the WP 8.1 update

It is, but it's still not W10M; just imagine if they'd put this kind of effort into it.

Glad about the migration from other launchers. It's kind of annoying to try a launcher and have to reset up everything the way I originally had it before. Maybe I'll give this a chance again.

not much happening these days or massive shift of focus? seems like majority of articles here at windowscentral are now ad-like or android-related...

Yeah and that's not a bad thing. They write about Microsoft products that's on every OS. They stated this already. If they only wrote about Windows 10 mobile that would be a short article list. However they also give great Windows 10 coverage with each new announcement it leak there is. I'm not sure what else you expect.

Personally, I think a lot of these complaints would go away if they just added an Android & iOS section to the website/app for such users to go for these articles. Then they could find them better and Windows users could have an unadulterated Windows experience. I kinda wonder why this hasn't happened already...

It says Android in the title, so people know going in what it's about. Giving it its own section isn't going to stop complaints. Too many people love to complain.

Absolutely right! I'd they'd stop whining as s use the tools built into the app to request changes or make suggestions the comment section here would be okay.

@AndyCalling I made that same observation after the rash of Android articles. Just create other tabs for Android and iOS focused news. Or just provide a link to Android Central, etc.

I totally agree with MaxLo. I don't care about what Microsoft is doing on other platforms. I don't visit this site for those things. In fact, I'm quickly running OUT of reasons to visit this site.. Change the name to "Microsoft Central".

Sure, because every single site I see you on, while commenting on anything or about a new feature of Microsoft's, it's always NEGATIVE! I think you're just the type of person that is never going to be happy.. so if your reasons run out. Feel free to exit stage right.

I wasn't judging with my comment, just expressing a general view. but since we're at it, it's been a while that I read a full article here. really, Surface phone/andromeda here, Jason's all-MS-does-is-happening-for-a-good-reason there, then the lots, lots of ad-articles... I still like Windows 10 and my Lumia950, it's just that I think the quality of articles is declining (also over at Thurrott). Maybe it's just that there aren't enough positive MS news to write about these days...

It's just the focus of articles (when it's about mobile) is different since we don't have windows mobile anymore. I think their articles about windows 10 and other Microsoft stuff are still good. And as I said in another comment they have stated from the beginning that they will be discussing general Microsoft news ever since they changed the name from windows phone central to windows central.

Not when it was Windows 8 and WP8. Once they blew off all the great aspects of those platforms they started to lose my support. Now they focus on mostly garbage, as far as I'm concerned. And Windows Central, as I said, seems much less "Windows" and much more "Microsoft", since MS is hellbound to wh@re themselves out to iPhone and Android.

It has been stated ever since they changed their name from windows phone central to windows central that they will talk about Microsoft news in general. This is nothing new other than the fact that we don't have W10M so most mobile focused news is about Microsoft software that is on other mobile devices.

Here's a thought: When it says Android in the title, don't click on it. If you aren't interested, nobody is forcing you to read these articles.

Tarkus13. Too funny hey? it's like telling a child, don't touch that it's hot....then they run over and put their hand on it....execpt that child is a supposedly grown human being. Makes NO SENSE. If you don't want to read about android or ios, scubadog, don't clck onthefucking article. What it really is.....is......scuba and others here, want to move to a supported platform for mobile, but their fanboy pride won't let them. Its a huge internal struggle. Their inner fanboy is screaming no no no....Android and IOS are the devil....evil evil evil....but common sense and LOGIC is in the back corner of the Small brain going...it's going to be ok, you will like doing everything on your phone, it will be ok.....but.....Fanboyism is hard to overcome....almost like being addicted to drugs....The fanboy is addicted to Brand X. Everything else is garbage to said fanboys...but normal logically thinkinng people know the difference.

Don't let the door hit you on the way out scuba dog. bye now!

Sad to see this much effort thrown behind this when so little effort was behind their own in-house OS.

One reason why UWP will fail.

Barely ....UWP is a flop on desktop too. There is no need, or point to UWP on desktop....

Ms was fighting a losing battle to be honest mobile wise, Apple and Android have got the market and nothing is going to break that unless it is something that is really good. Look at blackberry and with their smart phone, after dropping the physical keyboard and using their own OS, they failed. there have been a few different OS on smart phones, Ubuntu, firefox are two. The mobile market is Android and ISO and if MS wants to stay in that market they have to produce apps fo these operating systems.

Because their In House OS was not making money. Simple. I would have shitcanned it too.

This has nothing to do with Windows.

Well it does when it's made by Microsoft and the launcher has integration with Windows like 'Continue on PC' etc

Continue with PC: What a gimmick. I would use this never.

Maybe you wouldn't but many many people do.

I used it very often. But without the MS Launcher. Works fine on Edge and many other MS Apps.

Not as gimmicky as whats that thing called? hmmmmm. can't remember now....oh...right...continuum. This is NOT gimmicky at all..you are doing somehting on your phone, and want to continue on your pc. DONE. easy pasy....

Oh, that's just childish. I could play the "six degrees from MS Windows", too. Launcher is NOT a Windows app. It's an Android app. Period.

And Google Maps isn't an iOS app but it's on iPhone. Let it go dude. Windows mobile is dead or at least on death row with no chance of an 11th hour intervention.

There's no question windows phone is dead but there is a question about what they replacing it with. Have a search for a location in the Bing app on Android and what pops up is Google maps. Why write the app when it does absolutely nothing? I can Bing search from Edge and get the same results.

I have the launcher installed on my Android device. When I execute a search using Google Assistant, the results come from Bing, which is set as my default search engine on all the browsers I use except Opera.

Dov, Nah, they already squeesed the plunger on the syringe. OVER!

Hey what's the wallpaper you are rocking on the screen?

I would really like to know it too... Does someone have a clue?

I started a thread on reddit to search for this wallpaper and came up with some nice results, in case someone else is interested. https://www.reddit.com/r/androidthemes/comments/7gbcbm/help_does_anybody...

This is why I'm sticking with my Lumia 950,

Major battery drain on the Priv. Gonzo!

The calendar on MS Launcher doesn't sync with Outlook. Fix that, or create a separate Outlook calendar app.

It does, but you have to add the account to the Gmail app (or the Samsung email app, if your on one of their phones -- as an Exchange account -- in addition to Outlook. See: https://support.office.com/en-us/article/Set-up-email-in-Android-email-app-71147974-7aca-491b-978a-ab15e360434c

Thanks, but Wow, what a workaround. I wish MS would just reskin Sunrise the Outlook calendar app.

I respectfully contend that this workaround is unnecessary. I have the MS Outlook app installed on my Pixel 2 XL and the launcher synchs with it just fine.

Mine seems to work. Just on the launcher itself, not in any other calendar.

it happend to me too but i uninstalled the outlook calendar and MS launcher for a while and reinstalled it seemed to fix the problem for me as of now ;)

Just moved from W10M to Android tried Microsoft's launcher, still missed my W10M experience until I tried Squarehome 2 launcher. A must have if moving from W10M.

I tried loving square home 2 but it's a pain to edit tiles

I jump between Microsoft Launcher and SquareHome 2 a lot. Squarehome 2 is like Windows mobile but better in many ways. It's how Windows on phones should have been

well, there are no real live tiles. Still, it's the best option you have when you not just want some icons, but all informations you need by just looking at your screen. The Blackberry Hub is also good for that, but has ads or you have to pay for it regulary.

I understand office apps but what is Microsoft's benefit from these ease for android apps? Didn't they abandon their own features in back just because they don't earn.

They're building their brand and ecosystem. Not every app has to make money directly. It's all part of a larger strategy.

I kinda hope this launcher can behave like the UI used in Windows 10 Mobile, if I have to switch to Android phones, I can still count on it!

Not a bit. Go for Squarehome or launcher10 instead.

Squarehome is very interesting, I replaced MSlaincher with it. I'm not intending to go back.

No thanks. Staying on my 950XL until Andromeda arrives and then I'll use the Windows Phone app on that.

Any fixes for the following super annoying problems? Scrolling up to the top of the app list closes it; apps on the first page of the horizontal layout are larger than the icons on later pages; folders only being 3x3 for apps icon despite enough space to fit 4x3 or 5x3.

I just noticed the scrolling up to the top of the app list behavior. Something tells me it's supposed to be a "feature".

Yeah, photos app, a decent calendar, email synching, proper contacts synching and modification, Cortana integration. Oh ****, that's pretty much everything W10M already does.

Can you remove/replace your battery? Or easily open the phone to make repairs yourself? If so, great. Even then, it's not as secure as W10M.

Daniel and the rest of the WC staff: Please pay no attention to the "anything not about Windows is bad" crowd. Like many of your other readers, I was forced off of a Windows Mobile device and appreciate your articles like this one that help me make the experience on Android more Microsoft specific. Those of your readers who weren't forced off of their beloved Windows phone but just gave up with Microsoft's surrender probably also appreciate learning of ways to use their Android or iOS devices with favored Microsoft services. I've never been to an Android website or an iOS one either. I'd never learn about Launcher updates or the release of Edge if Windows Central didn't cover it. So please continue to do so. And just in case the people who want nothing but Windows articles have forgotten this, I'll gently remind them that nothing makes you click on an article you don't want to read. Just scroll on by. It's easy.

its of no use..until Microsoft need to launch one android phone...currently Microsoft is in biggest confusion is, whether to launch 'one' phone or not... The answer of this question lies in their research ..... is simple "what new they can bring in phone". if can bring virtual reality in phone then phone division is asom...best in its class... otherwise whole research and coding in phone is just a waste....in other word without a vision doing research in phone is waste of time and money...They "need a vision" ....

There was vision, the key word - was and now it's short term profits. If there was any long term vision they wouldn't be disparaging their own UWP platform.

I like Microsoft Launcher on Android though I hope that they'll consider adding convergence/continuum features to it for Windows 10 desktop like they had done for Windows 10 Mobile.

Best launcher I've tried as far as features I need/want and speed/performance . Still miss my 950XL and W10M UI. Hope I can get the 950XL repaired soon. Will go back to carrying two phones again.

I use it on my new LG V30 and it works great. I tried Square Home for a while because I really missed the Windows 10 UI but I just figured since I moved to Android i might as well experience it properly instead of overlaying Windows on top of it. The launcher doesn't do anything unique or special in my opinion but it is clean, performs well, and integrates nicely with the Bing wallpaper so I get a new image every day for my background. I'm satisfied even though I still miss the real Windows mobile UI.

I would really like it if they made the dashboard thing able to have two tiles side by side, instead of simple stacking.

I put off going to Android (Never iOS) as long as I could. Battery on my Lumia is finally dying. Phones (LG6 & LG X) arrive today! Love new toys, but its not Win 😒. I'd like to hear more user comments, issues with Win Launcher & Square Home 2. What issues, ease of use, your best liked features... Plus any suggestions for switching. Thanks WC!!

What about live tiles? I recently moved to android...reluctantly that is. Needed certain apps. I have the Sony Experia Xa1 Ultra. Fast as heck. Microsoft would be awesome on this phone BUT... 😞 no live tiles.

For some odd reason the play store icon has disappeared from my launcher home screen. I need to use a link through browser but it has no update function. Tells me it will download app requests eventually?

So... how exactly does MS benefit from building free apps for Android and iOS?

By integrating nicely with their cloud services. Cortana needs to be integrated into Arrow (MS Laucher) to do Bixby-like things whenever possible.

They need to get Cortana up tp par like WIndows Mobile 10. It is the ONLY hands free option that works flawlessly. Uses the Call Stream on Bluetooth so you can hear messages no matter what source you are listening too in your vehicle. Siri almost does as good but not there yet. So far thre is nonthing on Android that works like Cortana did.

Exposure. If people like these products, the potential for them to use and consume other Microsoft services goes up. With millions of users, thats a lot of potential exposure. More users of their products grows their ecosystem and brand awareness. Circle of life kind of thing.

It's a way to get people to use Microsoft's backend services instead of Google's, e.g. Bing and OneDrive. The more Microsoft can get exposure to Google users, the more likely those users are to use other Microsoft products rather than Google's.

It is working great. But, after installing MS Launcher and let it setup few things, I would install Launcher 10 because it shows the icons like Windows Mobile right out of the box. Launcher 10 is easier to handle than Square Home 2.

Why would I use this if I have an Android phone? What's wrong with Android apps?

Huh? It is an Android app? You'll still be using Android apps? It's just a launcher

Please tell me the ridiculous white background on the manual icon selection screen is fixed? Had to use Evie for a month because manually selecting 'flight' white icons is impossible on a white background.
(Can't stand the multicoloured garish appleesque childish look of blobs of colour everywhere - darn I miss transparent tiles!!)

It's gone. Unless of course you've been using a plan white wallpaper?

Does anyone else have issues with badge notification icons from working using the ms launcher? I only get Facebook and WhatsApp badges but I use textra for sms and that doesn't work, even outlook doesnt work. Is this the launcher not supporting certain apps or the apps need to support the launcher?

I hope they make a photos app for ios, another app i can move from apple to MS.

maybe their notification badges could work sometime Still not close to Nova. or its just me
Windows Central Newsletter
Get the best of Windows Central in in your inbox, every day!
Thank you for signing up to Windows Central. You will receive a verification email shortly.
There was a problem. Please refresh the page and try again.