Bing Maps Preview gets some highly-requested feature tweaks on the web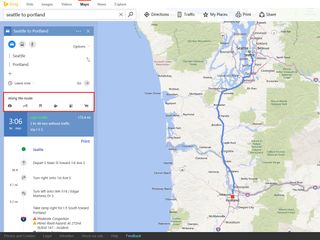 After listening to user feedback since its launch in July, the Bing team has announced some improvements it has implemented in the Bing Maps Preview on the web. Changes include the ability to easily hide cards, turn map labels on and off in birds-eye mode, and more. Here's the full breakdown:
Hide/show all cards: We learned that there are times when it would be useful to just have an unencumbered view of the map. You can now easily achieve this by hiding the cards.
Turn map labels on/off in aerial and birds-eye modes: Based on your feedback, we've made it easier to select the map style or mode that you want to use. As part of this change, we added a way to enable and disable labels in aerial and birds-eye modes.
Display the distance and time per segment in directions: Bing Maps Preview now shows the distance and time per segment in directions, for routes with more than two waypoints. Additionally, you can also collapse/expand each of these segments depending on which ones you want to see.
Ordnance Survey Maps (for the UK): Ordnance Survey maps was the most requested feature so far, no doubt for many of you who love being in the great outdoors and are looking for a familiar, information-rich experience that you can't find on other mapping sites. We're pleased to announce that Ordnance Survey maps are now available to users in the UK!
Overall, the Bing Maps team says it has received over 46,000 pieces of feedback, and there's much more to come. If you'd like to check out the new tweaks, you can head on over to the Bing Maps Preview now. Though keep in mind that the preview is only available in the United States, United Kingdom, Canada, Australia, India, Indonesia, Malaysia and South Africa right now.
Source: Bing Blogs
Dan Thorp-Lancaster is the former Editor-in-Chief of Windows Central. He began working with Windows Central, Android Central, and iMore as a news writer in 2014 and is obsessed with tech of all sorts. You can follow Dan on Twitter @DthorpL and Instagram @heyitsdtl.
Can you print directions now?

Pretty sure you could before, but yes I just looked and at the bottom of your Directions results there is an option to print and it pops up in a special print formatted view.

Can I find Obama's tree house now?

No street view there.. So cannot see his tree,house

Did they remove visible clouds n satellite image?

Those are Azure clouds cannot be removed anyhow

It takes days, if ever, for favorites to sync with Windows Mail. They need to add Collections support to Windows Maps too.

Better, but I'm still using here.com

I only use Bing maps. Are the best

Hmm, this is getting to good lately and I'm a HERE user. Any way to export favorites to Microsoft Maps?

Bing maps use here maps data I believe.

Well, for once, we won't get the "Wen in India" comment.

Yeah but does it seem faster?

Worst aspect is that travel times are WAY off

I haven't found that, but I have found that it doesn't always give you the fastest route .

They should really do this more often for Bing overhaul it piece by piece faster and add more search options like shopping with amazon and others etc

Bike maps! It's about the only reason I ever use Google maps.

I totally agree with you on that. MS needs to bring bike navigation to their mapping service asap.

Where's the "Businesses at this address" feature that is in the original Bing Map, when you search for a specifc address?

When will they add bicycle routes? I see, car, public transportation, but no bicycle option.

That looks so much like Google Maps. But great work anyway.

OS maps is a nice addition.

US, UK, Canada, Australia, India Indonesia, Malaysia, and South Africa
#ThingsILearnedFromReadingTheWholeArticle

I really hope they expand the availability soon. It's frustrating reading about the features and not being able to test them out on my own cause I live in the Nederlands.

South Africa... We're in it

Finding Indonesia in the list of limited available preview, somehow made me proud. At last Indonesia has it special place in Microsoft

46 000 feedback and two months work and they fixed 4 small things. And people are happy. I don't feel like wasting any more of my time pointing out what is not working the way it should in Bing maps. I spent enough time sending feedbacks and the only result I see is that if I want directions with a bit less frustration I need to go to so much hated google.
Unbelievable how MS managed to make users easily satisfied. Their recipe: tell everyone that you're listening, then ignore everybody's feedback, release crappy products and after a while no one is expecting anything more than a mediocre job or in fact no one is expecting anything so whatever you do it's going to blow their minds anyway.
After years of being a blind follower, spending money on the most expensive of their products I'm finally beginning to realize that I was being screwed all that time.

Bing maps is crap in Japan if you're using a mobile device.

Not availbile in Germany, very unfortuante!

Ireland is neglected again - no Ordinance Survey Maps for us. Booooo...
Windows Central Newsletter
Thank you for signing up to Windows Central. You will receive a verification email shortly.
There was a problem. Please refresh the page and try again.