Bing Pulse real-time polling tools are now Microsoft Pulse real-time polling tools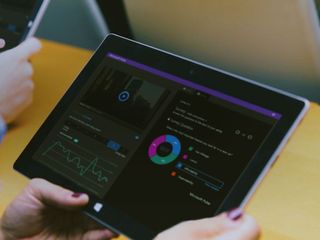 Bing Pulse, the real-time polling tools that Microsoft first announced over a year ago, is ditching the Bing brand name and will now be called Microsoft Pulse. The company also announced a number of new features that have been added to the tools.
Since it first launched, Bing Tools have been used by media outlets like CNN, Fox News and others to collect real-time viewer polling and feedback on a wide variety of news events and topics. Under its new Microsoft Pulse branding, the company stated that the tools have been integrated with other Microsoft products and services, including OneNote, Skype for Business and more.
Here are some of the new features that have been added to Microsoft Pulse:
Pulse for Broadcast
Easier integration into broadcast graphics through Pulse's data API
Push video content to all viewers' second screens during a live program or commercial breaks, synchronized (or not) with TV advertising
Enhanced producer dashboard that gives producers ability to gain audience insights in real-time and push them out through a click-through annotations / shapshot API feature
Pulse for Events & Conferences
Flexible API and auto-generated iframes allow easy integration of Pulse into personal event website
Use Pusle with up to 10,000 users through Skype for Meeting Broadcast
Deeper insight analysis with 1-click data download into Microsoft's business intelligence solutions, like Excel & PowerBI
Pulse for Market Research
Fully scalable for researchers to run focus groups of any size, from anywhere in the country
With video-push allows researches to conduct remote audience studies and video content rating such as ad or message testing and track responses from various demographics
Lowers the cost of market research by eliminating conventional hardware costs and capital requirements
Pulse in the Classroom
Allows teachers to know whether students are comprehending lessons in real-time
Anonymous voting so students are more inclined to participate
Teachers and students can copy a Pulse graph into a OneNote document with one click for sharing and notetaking
Video integration and distance learning is now interactive and fun, so teachers can gauge student comprehension whether the student is in the classroom or learning from the other side of the globe
Even with the new name, Microsoft Pulse will still be free to use for anyone to access.
Source: Microsoft (opens in new tab)
Meanwhile...outlook app for iPhone 6s just got 3D support.

Um...... so?
3d touch is so gimmicky

Who cares. About Pulse, looks like MS is slowly gravitating away from the Bing brand name. I wouldn't be surprised if at some point it was just Cortana.

I don't see that happening anytime soon. It takes a long time to build a brand name and Cortana should remain where it is. But that's me.

i have made a sample poll , https://i.engage.ms/mehatha/test1

Am I the only one who thinks Microsoft is killing the Bing brand little by little? First MSN apps and Translator now this ... By 2017 it'll be Microsoft Search

Might be for the best, Bing has a negative perception in most non users eyes....and people like the Microsoft brand more than windows or bing

I would agree if you happen to live outside the US. I won't use google for any kind of search and find Bing so much better. But I've seen it on computers in the UK. Its like its frozen in time.


It'll be Cortana probably. Makes sense though, Bing name never caught on.

I think that would make sense, so the general public could relate Bing to the actual search service.

Where's its 'straw' like app?

Someone answer this, why can't Bing offer a simple custom date range of search results. I saw in active once and I thought I could finally stop using Google but the next day the function was gone. Is it really that difficult to implement and maintain??!!
Windows Central Newsletter
Thank you for signing up to Windows Central. You will receive a verification email shortly.
There was a problem. Please refresh the page and try again.