Bing Reviews having issues? [Updated]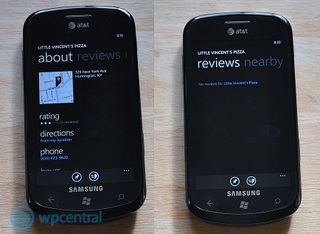 Between a Marketplace outage and Xbox Live services problems, it's been a rough few days for WP7 users. Unfortunately, here's one more to add to the mix. Reports have been circulating that business reviews are currently not working in Bing search results. We ran some tests of our own and found those reports to be accurate. It is not clear whether the issue is limited to certain devices, OS versions, carriers or geographical locales, like the Marketplace outage.
We will keep you posted as we get more information on the matter.
What are you experiencing? Shout out in comments.
Update: Looks like Microsoft/Bing finally fixed the issue as Reviews are now showing up as they should. Let us know if they're still not working for you.
via: MobileTechWorld
Actually nothing works with Bing. This app is just s..tPathetic. Don't MS have enough money to make Bing at least a decent app?

ive noticed this for at least a week. probably a couple weeks. its a shame too. probably a coding error. maybe it made it past NoDo?

I have never seen this. Is this another item not implemented in Canada?

Am I the only one who has had this problem every single time I have tried to use this feature? I assumed it was just broken full stop, since I have not once been able to get it to work.

The Bing app ( is it an App per se? ) just sucks. I keep salivating at the Ipad Bing app =(.

Hey, it could be worse: you could be a Sony loyalist. Silver linings and all.
Windows Central Newsletter
Thank you for signing up to Windows Central. You will receive a verification email shortly.
There was a problem. Please refresh the page and try again.