Bing Search, Camera and other apps to receive big updates for Windows 8.1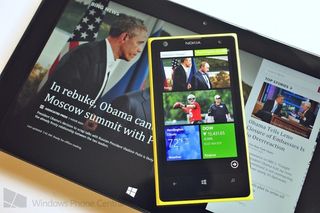 Windows 8.1 reached RTM status earlier in August and a few weeks later developers had the chance to download and start testing their applications with it. But Windows 8.1 isn't done. Microsoft initially wanted to not even let developers download the bits until October 18th (public release).
So what else are they working on before the public get to play with Windows 8.1?
Over at The Verge, they had the chance to sit down with Microsoft at the Surface 2 event in NYC. Microsoft is making changes to the built-in Bing search, Bing apps, and Camera app. Here's what's changing and being added.
Bing search will include more categories for hotels and restaurants
Bing Food and Drink will include instructional videos and 100,000s of new recipes
Bing Finance will connect directly to a portfolio and allow users to make trades within the app
Bing Travel gaining user generated photos from Trover and Michellin
Bing Sports will support even more real-time events and add over 20 more international leagues
Camera app gains "Photo Loop", which allows the camera to take many shots and the user to select the best photo within a given set. It will require new hardware, so your current Windows machine won't work with it, but your Surface 2 will.
All updates go live when Windows 8.1 comes out for consumers on October 18th. The days before general availability will see Microsoft update its services to support these new features.
Which of the above changes are you most looking forward to? I really dig the Windows 8 version of SigFig to track my portfolio, but it would be nice to see the updates to Bing Finance. Trades within the app? Count me in.
Source: The Verge
Love the finance app upgrades.

Wonder if it will even compete with SigFig... Love that app

Yo I gotta get a Surface Pro 2

i read it as windows phone 8.1
Now i'm disappointed.

I guess it will trickle down later tho

Fine with me. I think I'll hang onto my Lumia 920 until the 8.1 devices drop. Doesn't seem this phone is getting updates anyway.

Wait you're still on GDR1 ? I thought I was the only one
(I have a carrier free phone)

Food and drink oddly enough, its got a decent recipe side to it for inputing your own, something a lot of apps on the store were mediocre at, or dont do at all.

And you can flip pages by waving your hand across the camera

Wow awesome!!! Keep it up!!!

Dunno if WPCentral or Windows Central -_-

At least it's Microsoft-centric. Give or take a few iDroids.

I wish they would officially change to windows central. They have the prowess to report on it all. But then I guess it wouldn't make sense them being a part of mobile nations eh

I suggested the name change a long time ago, when they first announced that WP and Windows would be on the same core. The answer I got then, and I think it applies now, is that the site will always focus on Windows Phone only, but will always cross over if the editors think it is relevant to the Windows Phone world. Of course, that could be a lot of things, but I can only imagine what all goes into a name brand change.

Use Windows Phone? You can get by with a Mac or Linux, but you'll get a better Windows Phone experience with Windows 8. So we cover that. Also, changes made to the Bing apps and services on Windows might trickle down to Windows Phone, right? You can also not read the story if you're not interested.

Sam, not trolling just curious, I use my WP8 with a Mac (I know blasphemy) what advantages does windows 8 bring with regards to WP usage?

Here is a small example. I can take a photo from my phone, and log into my win8 tablet, and bam... Its there too! I can make documents on my office apps to my SkyDrive account, and access them from my phone. I'm sure its possible from mac to WP, but its pretty seamless on Win8 to WP8, plus its just a more unified experience.

Needs more apps. I cannot remember when was the last time I found something interesting in the store. Unlike WP8.

I thought I was judging Windows 8 too harshly while I thought that to myself. Unfortunately, it is obvious that even the WP Store is miles ahead of Windows 8's... :(

They first need to work with Intel and fix the issues concerning the HD4000 gpu. I can't run Netflix, I can't play Pandora, I can't play Xbox music and I can't play my low graphically intensive games like l4d, tf2, mlb2k, rtw, etc...it was oddly fine in the preview edition but stopped working once I downloaded the rtm one...

You need to update your video drivers, not sure if Intel have done this yet, they are slow, but I had to with my AMD drivers on RTM as my games were crashing. Its all good now though!

all of them seems inereasting enough to wait for the update

We have Photo Loop right now, look at Turbo Camera :)

I generally loved the 8.1 preview, but wasn't a fan of the new way Bing search worked. The way 8.0 did it was perfect. It was contextual by default

A thousand times this! They did this to WP7.5 too. Introduced a perfect thing and then butchered it.

The plan seems to be to open up the new search to app developers and then I'm assuming they would show the most relevant results for the app you are in first. I just wish they did this off the bat.

Hello Bing Sports... give me tennis please..

Gimme some MLU (Major League Ultimate) and AUDL (American Ultimate Disc League) :-)

I'm positive that Photo Loop will work on desktops, right? I have a Logi c510.

Am rocking the RTM myself, love the way SkyDrive is integrated into windows explorer, sorry file explorer lol!!

Would be nice if Sports recognized NASCAR as a sport

Competitive tug of war only. That amateur stuff is awful

Bing Sports scores section is really lacking. I'd like to be able to pick a sport, then pick a conference for college sports. Plus on WP8, when you click a score it opens up Fox Sports in IE, it should be within the app. I'd love for Yahoo Sports to come to W8 and WP8, because it really is fantastic on iOS.

I want a yahoo fantasy app for the love of God!

If you have Windows Phone, try StatGnome Football. It is Yahoo Fantasy Football.

Have it, its lack luster... But I was actually talking about Windows 8, not Windows Phone 8.

I too had the same misconception that it is WP 8.1..=(

Bing data is garbage outside US.

Music!
Finish the Music app. The remaining is gravy. But please, finish the damed Music app.


Sports badly needed an update. They hardly update their news section. It's the main reason I don't use it as often.

That's what she said! ...oh wait, that doesn't work here.

I like Windows 8.1. a lot more than I liked Windows 8 and I loved Windows 8. :) I got 8.1 from my Dreamspark Premium account and it is fantastic. I like the purple shimmer on the new start button and I am glad that MS didn't give in and bring back the clunky, slow, old start menu.

did u get Windows 8.1 RTM thru Dreamspark Premium?? I think that must be a preview, right?

no, its RTM.. its more for developers because microsoft its still polishing the final version. but its the same version that was leaked by Wzor and then on msdn and the dreamspark premium.

That means it is different than the final version that would be released to the general public on Oct.18th?

Yes and no. RTM is not a signal for MS to stop developing completely, but it is the handover from the product development team to the sustained engineering team. WinSE are responsible for developing hotfixes to correct erroneous behaviour, which become the update rollups that come out approximately monthly. The API set is now frozen and the basic OS functionality too, but the standard apps can, and will, now be updated on their own schedule from the Store.

The reason for MS delaying delivery to end customers was basically that in previous releases, OEMs have had the chance to actually try it out on their hardware and feed back to get hotfixes for any functionality that doesn't work. The timescale for Windows 8.1 has been compressed and therefore there wasn't time to get this OEM feedback in - that's why they wanted to wait the extra few weeks.

Before Windows 8, those hotfixes would essentially remain private to the reporting OEM - MS would release them to anyone else experiencing the same problem, and incorporate them into the next service pack, but they wouldn't be generally released to the public. Since Windows 8, they have only been released as update rollups.

So, expect update rollups to appear for Windows 8.1 on the 4th Tuesday of the month, which is their normal schedule. For example, this Tuesday just gone, 24 September, had updated language packs and an update to support RAW picture formats for many more cameras. The official release date for Windows 8.1 is 22 October - also a 4th Tuesday - so expect updates to be available on the day of release.

Thanks for the detailed explanation. :-)
Cheers.

Love my surface. Can't wait for these updates!

Me too. I'm using it right now with 8.1 preview but I would rather have the final version with all of the extras.

What about the Photos and Messenger apps? They went from more to less features in 8.1. I know Skype replaces the Messenger app, but the backend services are not integrated yes (i.e. Can't chat with Facebook contacts like i could in Messenger).

I'm kinda hoping Bing Sports will support CFL footbal.

I need to keep track of my off shore accounts, wiring money's over seas can be difficult especially when your dealing with heads of state folk. It would be nice to keep track of this on Bing. Why just last week my money's went to Switzerland instead of France. I lost four dollars. I'll get reimbursed off of Obama when I see him for our lunch gathering tomorrow. I just had to chuckle, after all it's just money.

I want cricket in Bing Sports :)
Windows Central Newsletter
Get the best of Windows Central in in your inbox, every day!
Thank you for signing up to Windows Central. You will receive a verification email shortly.
There was a problem. Please refresh the page and try again.