Bing suite of apps updated for Windows Phone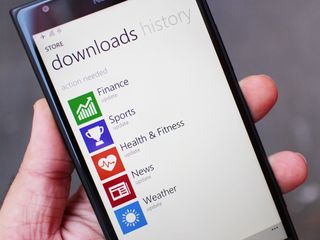 Yo. Don't want to read about apps like Yo? Then you're in luck! Some of your favorite Windows Phone apps just picked up some updates. Finance, Sports, Health & Fitness, Food & Drink, News and Weather (all from Bing) just picked up some new updates on Windows Phone. It looks like Bing Travel missed being updated this round. All of these apps are community favorites, so we're excited to see what's new.
We're going to give each app a quality look and see if there's anything new (no changelogs for any of these apps). So far, nothing jumps out as brand new. Let us know if you see anything different in these apps and we'll update this post accordingly. Though you will notice a new Terms of Service when you launch the app.
Changes: Some of you are reporting that you can finally share articles via social networks in the updated Bing News app. We can't get them to appear on our apps, let us know if you see them there.
For now, you'll probably want to download the updates. Links below will direct you to the Windows Phone Store to grab them. Enjoy and keep us posted on what you find!
Thanks for the tips everyone!
Windows Central Newsletter
Get the best of Windows Central in your inbox, every day!
Just waste of data.nothing more.

Perfect description of your post.

I hope they didn't screw this up like they did with the calendar. I love the Bing apps, great performance and amazing user experience. I just want the sports app to get a better UI but still a great app.

How did they screw up the calendar?

OK, saw it farther down in comments and yeah, calendar update sucks.

Yo I see what you did there Sam ;)

Microsoft is really stepping up with their updates! It's not even a Tuesday....

Where are you? On my phone it shows that you posted at 01:20 on Tuesday 1st July lol

The way you gave the under the dome promo reminded me of his delivery on Sundays, on the NFL...on...CBS :)

Thank you! Although I live in New Zealand so I'll have to watch it online :3

I can't update health and fitness...

Must be getting them ready for wide release of 8.1!

Hopefully food and drinks syncs with my surface now....

Does not sync collections. It actually trolls you by telling you in the empty collections page that it doesn't sync with your computer.

Madness that they don't sync. Win8.1 Calender doesn't even sync with hotmail.com

The calendar has always synced with my outlook mail. Never had any problems with it, works well.

Well hotmail.com or live.com are both where outlook.com redirects to. Calender says unable to sync. Ironically works with google with no issues and google calendar works with win8.1 Calender

On both News and Weather, you'll see a popup saying that the ToS has changed. (I don't know about others)

What means ToS ? edit: get it ;)

Same here. Well it is mostly only the news app that I use but I have already had the popup for the terms of service

I just hope the Weather app will display the accurate temperature. Always off by 7 to 10 degrees.

Yeah same here. Have not used Bing Weather in months because of this and the lack of a good update. Too bad it's a great looking app!

I wish it didn't start the radar map animation like six hours prior and make you sit there while it SLOWLY steps through minute-by-minute up to the present time. Anyone know how to fix that?

Can we add news articles to the reading list now? How is it that Microsoft's own news app won't sync to it's own reading list app. Ahh, so irrational!

No. Still uses the old share feature. The updates seem to be small, Health & Fitness is still extremely slow to add food to your tracker.

You can add articles to Reading List. Just tap Share - Social Networks and Reading List is there as an option.

I hope they added the ability to change font size.

Removed all my teams in sports even though its still connected to my Microsoft account. Typical.

Same here, then when I opened the sports app on my Windows 8.1 laptop, it had already deleted there too.

Unfortunately I updated calendar and now it's crashing :'(

Weather is now broken on my phone. Just like the calendar.
EDIT Reinstall of Weather fixed it.

I am not seeing any updates in uk store.

Same here, no updates in Portugal store...

Very odd. Maybe select markets. Updates showing as 10/04/2014.. Anyone care to list versions number after update please

Strange indeed, perhaps a delay on updating local store server. Calendar update appeared without a problem...

No updates for calendar. Is that the inbuilt on or wp8.1 version

The 8.1 version. Remaining Bing apps update finally landed on store. All successfully updated a minute ago, weather is now 3.0.3.340 version, dated to 30-06.14 (I checked this because I was hopping for transparent live tile, but no luck)...

Interesting still nothing. Maybe cause im on wp8

No, because 8.1 is dropping in the U.S. tomorrow.

Looks like the images display better in Bing News on the 1520, no more white space on the bottom.

I don't know if it was there before and I didn't notice but now I am noticing under each headline a
small image and the name of the news agency that the story had come from

Good catch, the news agency was there IIRC but I don't remember the icon.

Microsoft sure don't like Changelogs these days :/

Can Weather now be used on the lockscreen? I mean detailed status?

Updates are for wp8.1 looks like

Yep, think you're right. Still running 8.0 here and I don't see any updates.

Calendar from microsoft got an update too today, but no changelog

Do not update, it crashes whenever a new appointment is added.

My calendar crashes every time I try to add an event. Extremely frustrating. Hope this is short lived.

Anyone know if food and drink sync with windows 8.1

The collections still don't. That is practically the main reason to use it.

Yeah that's what I had problems with.

Or you try to make changes.

Thanks for update. Kind of pointless, skype still don't sync correctly either lol

The only thing I've noticed (among News and Weather) is that News now shows small logos for the publishers in the headlines. (At least I'm pretty sure that's new.)

Only change I noticed too

Why is so difficult to make possible to share any news from the News app Microsoft??? Why??? I want to share to my social networks, not via email!!!!! :'(

Just as bad as the music app team.....

You can share to Facebook...

This story dropped while I was in the shower. My apps were auto-updated before my junk was dry. Thanks WP!

How hard would it be to add transparent tiles? Come on, MS.

Same here, xbox music and video already have that, why all others don't?

MS spent all their budget on transparent tiles instead of making music work right.

Anyone in UK had updates.

Still no strength tracking in Health & Fitness. People do more than just running to stay fit MS. Your RT app has it... seems logical to add this missing link to the WP8 app.

Did the Bing news app have a transparent tile before the update??

Weather App has a problem on my 1520. As soon as I select maps, it attempts to refresh, then goes straight to a solid grey screen and becomes unresponsive. Have to quit app. Solidly reproducible every time.

Glad I've not seen updates then ;)

It would be cool for these apps to mirror themselves to their desktop counterparts

Yep. MS killing their own brand. The way forward.

For some reason, I cannot update Health and Fitness. Uninstalled-installed the app, same thing. WTF.

Yeah, the Bing app updates and the calendar update all have issues it seems.

Reading list support please. Also, the Health and Fitness (not sure about the others) crashes after being in suspended in the background for a long time. Need to navigate to the exercise of my choice all the way back again. Also, all apps need to slowly start migrating to the WinRT appx model. They seem to have better performance than Silverlight based ones (do correct me if wrong) and one needn't download the whole app just for a small bug fix.

Reset all my favorite teams...this sucks.

I can only share via Social Networks in the News app when its not the main article. Seems weird.

Obviously prep for upcoming 8.1 release. But we are due today or tomorrow for another update on Music. Better be hefty because their list of overdue features and performance updates is massive.

Does the weather app accurately change your location on the live tile now? I used it until it stopped updating my location. Super annoying.

My calendar now crashes when I try to update or add appointments manually. Cortana can still add appointments but can't change them. Come on Microsoft, you're suppose to be improving these apps, not destroying them.

Typical Microsoft..... The Windows phone team can always find a new low...

they should just fire the entire team, theyre absolutely useless. so many obvious features missing or broken.

Sports now crashes when I try to add favorite teams. Looks like all these apps will need another update like real soon!

Yeah, that's been noted about 3 zillion times.

Wish they would add notifications to Sports. It's the only thing missing...

Hmmm...could we pin our stock watch list in finance app before this update??

Yes we could. Glad you found it though.

The update broke my calendar app. Nokia Lumia Icon.

It would be awesome if we could see our actual rate of return and dividend payments on the finance app...i think the sigfig app did that..

Food and Drink seriously needs to sync with the Windows 8 app...

Definitely. This app is pretty useless to me until this feature is introduced.

I also just noticed that the names are no longer cut off for the individual stocks that u pin..

Bing Weather has become terribly unstable after this update. Easily the worst app update I have ever received. Calendar update closes for me when I try and add new event. T mobile Nokia Lumia 925.

No transparent live tiles :(

Oh and I lost my favorite teams in Bing Sports.

Same here, did you find any solution

Guessing these are just for 8.1 since I'm not seeing any updates??

I've asked above, nobody has commented, and article doesn't say either.

Correct. These updates are for 8.1.

Guys..Ms is great..Now supporting Transparent tiles:)

So shameful that the Microsoft itself doesn't use the CHANGELOG feature..

Bing weather is now broken for me, never had an issue with this app until now

Sorryy..that was just a glitch while installing..no transparent tiles

What ever happened to the good old rule of thumb "do not update unless its broken"? MS is not helping much by not releasing the changelog.
Also, I'm waiting for that "bi-weekly" music app update...

80073cf9...that's all I've seen for weeks when I tried to reinstall the Health and Fitness app. I can uninstall and reinstall just fine on my surface, but, no luck on my 810.

Still no transparent tile . What a loss

Not everyone wants transparent tiles. Make it an option.

Health & Fitness fails to install on my 820 with 8.1 developer preview. Even after restarting the phone (error 80073cf9).

It is just to update the terms of use that Microsoft has changed recently with all it's apps

Calendar in WP 8.1 got also updated

Weather app is broken after the update :/

The calendar does not work anymore after the update. It crashes when I want to add a new date. Hope it gets fixed soon because I need it for work!

Why do I think this updates are connected whit Cortana :)

@Sam: I can already share articles via social network with version 3.0.2.280 of the news app

Weather has much better performance now!

Why don't ever Microsoft write a changelog for their Apps?

Just got my updated Calendar app. and now when I go to edit or add a event, it just goes back to week view. It wont let me add or edit a event. Anyone else have the same issue?

Updates are there, downloaded automatically, no transparent tiles. Changelog anyone? Best regards from old europe.

This is strange, are this updates towards WP8.1 or WP8.x? Cuz i check all mentioned apps in the OP, both on WP Store from my computer and from the phone. i don't see them getting updated a day or two ago. Here is what i got: Bing Finance
Last updated: 4/10/2014
Version: 3.0.2.280
Bing Food & Drink
Last updated: 4/10/2014
Version: 3.0.2.280
Bing News
Last updated: 4/10/2014
Version: 3.0.2.280
Bing Sports
Last updated: 6/7/2014
Version: 3.0.2.284
Bing Weather
Last updated: 4/10/2014
Version: 3.0.2.280
Bing Health & Fitness
Last updated: 4/10/2014
Version: 3.0.2.280 I am from Republic of Macedonia, but i don't think that matters something here. Or does it?

I am in the UK and only see the same as you, no updates.

Updates are there, downloaded automatically, no transparent tiles. Changelog anyone? Best regards from old europe.

Food & Drink has become a universal app! I can't share articles on social networks via Bing News (Windows Phone 8.1) :(

Why do they leave out change logs? So annoying.

What i noticed in the News app:
- Ability to share articles with social network.
- Ability to change the font size and style.
Good things.

My bing news live tile not working

Both Sports and News live tiles have died for me after the update. Both are enabled.

And somewhere in here they've crippled the WP8 Search button -- it used to let you "slide" left and right to local stuff, news, etc. Now nothing but the main search screen. :/

Disappointed that the Food & Drink app still doesn't sync collections across devices, although at least it now tells you as much in a message on the Add Collections page rather than leaving people to waste as much time as I have trying to figure out why it's not working. Until this feature is added I don't really have much use for it. Also, the live tile for Bing Weather seems to have stopped working.

"Calendar doesn't work" can't edit events, or add new ones. Also seems to have lock up my Chronos calendar can't add new events. Great job MS on the update

All the Bing apps now seen zippier with this update, especially Weather! Calendar needs a fix asap though with adding a new appointment causing it to crash. All up a great job Microsoft!

Health & fitness gps tracker doesn't work anymore.. Great...

Wtf man!! I'm tired of updating these apps again n again

This is called "Degrading of apps" not an update lol

My wife's 630 got the updates but I didn't on my 820. We're in the Uk.

Are you on 8.0 and she on 8.1

I don't see the updates either, 925 in UK ☹

I still use MSN Autos, any idea why haven't gotten Binged up?

At long last, Weather has m/s for wind speed.

Updated Sport, News and Weather, only to find they now wont load and are unusable...Nice one...Nokia Lumia 1320...

Hey what's wrong with yo?

Using L720 WP central apps , but the download apps show"title not retrieve" .

Thanks for breaking the Calendar MS!

What a great update to the Weather app. Now the live tile shows the same beautiful weather all day, and the lock screen doesn't show any weather at all. Edit: Moved it to internal storage and the live tile and lock screen seems to be working again. Coincidence?

The weather live tile on my start screen now reacts very inconsistently when tapping it. Sometimes the app starts normally, sometimes there's a considerable delay (up to 5 seconds). Anyone else experiencing the same thing?

I was initially as well but after disconnecting my Microsoft account from each app they were a lot more smoother to open and to use.

The original installment of Food & Drink clearly stated that you could sync between apps. It hasn't ever done so and I have ranted on and on about this. Well, it appears that along with this update MSFT has changed their description to now state "While collections are not synced across devices" Well at least that is cleared up and I won't waste anymore of my time with it. Overall still a good app though.

Hmm, Bing Weather is stuck in a refresh loop after the latest update. Soft reset did not help. L920.

No updates found on any of these! Are USA only updates?

We don't know. Thought the author of the story would know

Now if Bing Health could export GPX of the tracked route