Bing turns five today, Microsoft celebrates with a look back at its best homepages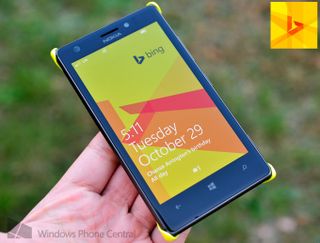 Microsoft's Bing search service turns five years old today, and the company is celebrating the event on the website with a look back at some of its more memorable homepage images, along with extras for Bing Rewards members in the U.S.
In a post on the official Bing blog, Microsoft goes over the history of the search site and some of the changes it has made to Bing in the past five years. That includes partnerships with Facebook and Twitter to incorporate messages from their users in Bing search results, creating a touch friendly interface for tablets like the iPad and offering users quick access to specific information within the site via the Snapshot feature.
However, perhaps the most memorable thing about Bing.com remains its beautiful homepage images that change every day, and on occasion sport some video and interactive elements. In celebration of its 5th anniversary, Microsoft has created a special way to search through all of the site's homepage photos. It includes being able to narrow the search by tags, categories, the regions of the world where the images were taken and more. Microsoft has also launched a contest on the Bing Facebook page where people in the U.S. can submit their own photos for a chance to see gain worldwide fame as one of the daily Bing homepage images.
Also, if you live in the U.S. and are signed up for Bing Rewards, you are getting a special treat today. For today only, those members can get up to 150 points just for searching on the PC version of the site (sorry, mobile users get their normal 10 points per day). In addition, Bing Rewards members who search anytime between now and June 9 will be automatically entered into a drawing for many different prizes, including a Bing Rewards Pack that includes an Xbox One, a 64GB Surface Pro 3, a Nokia Lumia Icon and lots more.
PS If you want the Bing wallpaper in the lede photo, you can follow this link for the whole story and image!
Source: Bing
And after 5 years it's still crap in my country :-)

After 5 years it's still crap everywhere that isn't the US =P

:D Exactly. It's garbage even when I search in english.

Yup, even us Canadians get a crappier version. That being said, I am still a binger :)

I just want a proper mobile page for search results. Results get redirected to desktop version of Bing in my country.

Lol!
You just said my words

they can't risk getting too pupular. :)

Haha xD
That made me laugh! :P

All these years and I still don't know why its called Bing...

I don't know the real reason, but IMO, it was infinite loop like GNU (GNU's Not Unix). And for this one, it's BING (BING Is Not Google) :3

Congratulations, this is the millionth comment on Windows Phone Central.

Hmmm, sounds cool! Don't know if this is for real or just a coincidence, but it fits anyhow!

http://en.wikipedia.org/wiki/Bing#Name_origin

Per Wikipedia: The word "bing" is an onomatopoeia, a word that imitates the sound it represents. Through focus groups Microsoft decided that the name Bing was memorable, short, easy to spell, and that it would function well as a URL around the world. The word would remind people of the sound made during "the moment of discovery and decision making."

We'll use the machine that goes BING

Things that make you go Bing.....

Because It's Not Google... BING!

I always thought the name is a play on Bingo, they just dropped the O of course...

The ages that funny things very much often to appears.

Why only US ? thats a shame... Because of this "region-limit" is google far ahead... I want BING reward too !!!

Darn it, now more people will know about this giveaway #!/x_x

For the "answers" I sometimes get I've figured that much.

I'm really liking Cortana, but I do miss the Bing daily images shown when the search key is pressed.

Me too, so the bing daily image is set as my lockscreen on my pc, surface, and phone. I love them all switching daily yet still being in sync.

Sort of crazy to think Bing has been around so long.

I can't believe it has been 5 years already. The collection of all of the previous wallpapers is wonderful, what I have been wanting for a while. Also, this made me remember the online launch event of bing five years ago. I was "there" for the whole thing. It was so bad and awkward. I still remember the host waiting while people "binged" key search terms, it was horrific. I felt so bad for him. Bing has come a long way since then.

Not to hijack a post...but for anyone running 8.1... There is a new windows 8.1 update if you have preview for developers.... Sorry to Interrupt

An Article was already posted about that. :)

Thank you...dont know how I missed that...but thank you so much!!

Happy Birthday, Chanse Arrington! (I hope it's a fresh picture) P.S. And Bing as well ;)

So Bing can add another Bing to it. On to the next 5 years.

150 credits? How? It says 75 for me..

150 for gold rewards members.

I'm gold... Only 75 credits.

Some gold Bing Rewards users have a 30 credit per day normally, if you are one (I am), then 5x your limit is 150. There's no way to qualify or achieve this 30 credit a day limit, it's completely random. The Bing Reward Support explained to a friend that "a Gold member can earn as much as 30 credits per day however, this varies from acount to account." and that they "would like to assure you that you are receiving the same offers that the majority (~90%) of Rewards members receive. From time to time, the Rewards program may make new offers available to "test" different offers to different members. However, the testing is done completely randomly."

The PC search credits say 75 for me. Awesome! Today only offer.

Bing is pure shit outside of US. So #PRAISE #THE #LORD #GOOGLE

I'm not living in US but I already collected 500+ reward points, I just set region to US in bing settings. The question is, will I be able to redeem it...? :d

Lol I have 700 points, but can't redeem it xD Y u dis MS ;-;

150 credits? how? I have 75 + 10 mobile + the 3 bonus one they give every day.

And after all this time Bing rewards are still US only... Seems odd that they create a reward scheme to encourage loyalty and then alienate a huge element of them by restricting the availability. Thankfully they learned their lesson and never did it again! Oh, hang on, Cortana.....

And still waiting for US features outside US, for a few days in UK we had Wiki side intergration then it dissapeared again, being a loyal user to Microsoft ecosystem is hurting thought they are improving fast it appears

150 pts? Looks like I'll have a busy day today.

Thanks for links John! I appreciate it

It's time for Bing apps on wp to get updated now.

MS has to step up their efforts in globalizing its services.

'No comments for this article yet????

To help celebrating Bing's 5th birthday, Bing will become the default of Spotlight search for both IOS8 and OSX Yosemite. Bing is already the engine for Siri.

I use Bing on all of my devices, phone, laptop, desktop, tablet and work computers as well. Redeemed my $5 Windows Store giftcard yesterday. I use internet searches anyway so it is amazing to be rewarded for what I used to do via Google and never got anything but an answer. Go Bing!

Why don't they put animated wallpapers anymore for homepage image?

They do, they just don't have them every day.

It seems the 150 refers only to maintain 'gold status' per month... Just so y'all know an 'easy' way to get your searches is to pick a topic you like to search (or whatever) than just hit the random 'Related Searches' that appear on the search page on the right side. Related Searches sometimes appear, sometimes they don't. Most of the time they appear at the top of the page on the right, other times (usually with movies) it appears a little down the page on the right...

150 Points!? Mine only offers 75 + 10 mobile

Also - to achieve that 75 points - you need to do 150 searches on your computer today....

I've been a Bing users since the beginning. I've also been a rewards member for at least three years now. I love Bing and have since deleted all my previous Google accounts. I'll never be a Google user again. Happy birthday Bing.

Am I the only person who is absolutely in love with the Photos of the Year on the Bing Homepage? They are ridiculously gorgeous.

Now this bing photo will be my lovk screen photo till bings 6th birthday.... Love you Bing

Love the Bing image that WPC have had made, the yellow image, I've got it as my screen lock.

Bing is the best search engine ever! it is not just a search engine it is decision engine. IOS 7 use bing as a default search engine and also new siri in IOS 8 will use it (like Cortana) and also Mac OS X 10.10 defaut search engineis BING! use bing as your home page and download bing desktop to find the true smart search engine. instead of 3 billion search in 0.02 sec will search 1 million true search in 0.01 sec... Bing is perfect!

Bing is perfect ?? Please try setting Bing to any area out of US: - no clickable boxes on bing background (and no animated background like sometimes on the US page) - no "whats hot" bar, - no Bing rewards, - No preview box while searching - no right panel in search results (summary, related, etc..) - no natural language searches and calculations ("What time is it in Los Angeles ?", etc..) - Abysmal local search. Bing cannot even search for supermarket names that appear on Bing maps! Yes, Bing is a search engine that cannot search its own data! Summary: No Bing is not perfect, it is even crappy, crappy, crappy...

Happy Birthday Bing! 150 searches today + 10 on mobile. By Xmas I will have enough Amazon cards to buy newest Windows 8 tablets on the market.

I wrote a PowerShell script that runs Bing searches to collect my daily Bing Rewards credits by automating Internet Explorer. The script is mature and has been tested very thoroughly by myself and several of my friends and colleagues. If you're familiar with PowerShell, please feel free to give it a try. The latest version will always be available for download here: http://1drv.ms/1ntXU6F Please tell your friends and family to use Bing! Thanks, Jason
Windows Central Newsletter
Get the best of Windows Central in in your inbox, every day!
Thank you for signing up to Windows Central. You will receive a verification email shortly.
There was a problem. Please refresh the page and try again.