Bitcasa is another cloud storage option for your Microsoft Surface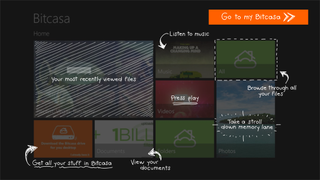 SkyDrive, Dropbox, Google Drive, iCloud. Does the world really need another file hosting service up in the cloud? I say why not, as more competition can only benefit all of us. Bitcasa (www.bitcasa.com) is a relatively new kid on the block and they've just launched a Windows 8 app. What makes Bitcasa unique is their "infinite hard drive". Interested? Read on.
At first glance, Bitcasa might be like all the others, free storage to start and then you end up paying for space when you need to move up a tier or two. With Bitcasa you get 10 GB free and then after that it's $10 per month for unlimited storage. To put that in perspective, with SkyDrive you get an extra 100 GB per year if you pay $50. There is also no limit to the number of files you upload or their size. Everything you upload is encrypted from the start and backed up on their servers at least three times.
According to them, with the Windows 8/RT app you can:
View your photos and photo albums
Watch videos
Listen to music albums
View documents
Share a link to a file
Download from Bitcasa to your local drive
Upload a file to a Bitcasa folder
It's interesting to say they recommended using the desktop application for Windows or Mac to initially get all your content up in the cloud.
This could be another viable option for Surface owners who max out their storage on the device. I'll admit to being very comfortable with SkyDrive and don't see myself really filling up the 125 GBs I have anytime soon, but I would be lying if I didn't say that Bitcasa is an interesting and intriguing option right now. Check out the app in the Windows 8 Store (opens in new tab) if you're into unlimited storage.
We've reached out to see if there are any plans to support Windows Phone and will update when we hear back.
Anyone going to give this a try?
Source: Windows 8 Store (opens in new tab), via: Engaget; thanks, Vallos, for the tip!
I'm going to sign up then upload the Internet!

An internet within an internet? Interception?

No, he was blending "internet" and "inception".

It's also interesting that this launched on Windows 8 before iOS. Thoughts?

I suppose it's easier to break into this territory since MS is not hell bent on forcing skydrive down everyone's throats. Plus I assume Windows 8 is easier to work with, than iOS.

And Microsoft won't take 30% of the revenue for subscriptions initiated through the app...

But Microsoft does take 20%. :D

Well I wouldn't be surprised if they assumed Windows 8 would be a bigger beast than even iOS, it's a natural assumption. Let's see if/when they release a WIndows Phone app.

I'm guessing this company won't sell your uploads ahaha #Instagram

Will no one make rt programs? I have read it is possible, why must everything go through the app store and be so restrictive. As with SkyDrive the same problems arise for me, I want my files locally synced through the cloud. Oh well, this looks to be a good service, like Netflix, get people unlimited something for a low monthly fee.

I'm tempted to try it out, but it wouldn't be until I ran out of the free 25 GB of skydrive, and 50 gb of Box. Which I don't see happening anytime soon. I haven't even used any of the Box yet. But $10 a month for unlimited storage sounds like a pretty good deal to me, if a person needs it.

You guys should try Syncplicity. I have been using them and the user experience is awesome. You can manage content in place, no need to drag and drop or upload. They are also bringing out a WP and windows 8 client next year.

Wait, unlimited file size? About time. My 40gb files have only two hard drive storage containers and I need more redundancy.

They don't have a WP8 app in the works, but asked me to vote for this feature.
http://support.bitcasa.com/entries/22653893-windows-phone-8-app

Hi, I recently downloaded one called Cumulo, and it looks fine so far (it aggregates box, skydrive, google drive, sugarsync and dropbox all in one). Just wondering if you guys know more similar to this one
Windows Central Newsletter
Get the best of Windows Central in in your inbox, every day!
Thank you for signing up to Windows Central. You will receive a verification email shortly.
There was a problem. Please refresh the page and try again.