Blizzard previews Hearthstone's first full expansion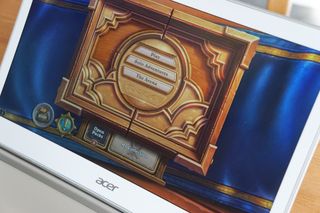 Blizzard has started talking about plans for the next expansion to it's free-to-play digital trading card game Hearthstone: Heroes of Warcraft. The game's first add-on, Curse of Naxxramas, arrived earlier this year with a new single-player campaign, but the upcoming new content would be a full expansion, with over 100 new cards for everyone to play with. While Naxxramus was designed with a single-player focus, Hearthstone's first expansion will have something for new and veteran players, according to Polygon:
No release date for the expansion has been announced, but it's likely that we'll get our first look at the new content next month during Blizzard's annual BlizzCon event, which begins November 7.
Source: Polygon
Windows Central Newsletter
Get the best of Windows Central in your inbox, every day!
Is this coming to windows phone???

Yea, why was this here on WPC?

Good question. Random gaming news with no real news but "expansion coming".

Exactly. I don't mind gaming news but there was zero news here.

Because the focus of the site is changing http://www.wpcentral.com/votesite

I'm waiting for World of Warcraft Mini and Diablo III Mobile Edition lol.

Nahhhh, give me Pokemon XY! Joking, i want all.

Bring it to Windows 8 already!

Uh...it already is? download the battle.net program from Blizzard and download hearthstone from within it.

Runs great on my Venue Pro 8.

I just want them to release a version in the windows store so i can play it on my Surface 2....

Pls release it for Windows Phone.

Release it for Windows ( Phone ). Along with apps for the other games ( Wow, D3, etc...)

This game should be released on all platforms. Its about time that the iOS exclusive becomes available to all :)

Well, they had to show SOMETHING at BlizzCon.

Isn't this game a direct competitor of recent Microsoft Studios' addition, Mojang's Scrolls game?

Scrolls was a pile of crap, can't believe my friend coaxed me into buying that junk.

It isn't out yet, though, right? Just a beta? So, it's not very good? That's disappointing. I think Microsoft's purchase of Mojang was smart just for Minecraft alone, but I was hoping there would be more to Mojang than that and that they'd produce some other cool games.

This would be amazing to have on my Lumia 2520! I'm stuck playing it on my MacBook Pro, which I essentially use for Hearthstone now since getting the 2520.

Yeah im kind of confused why this is here.. I saw the the title and got excited that it might be there on RT or WP! Now i'm sad :(

THey need to release this for Windows RT and Windows 8 touch devices. It's already avaiable for download for Windows 8 devices, but I find it hit or miss with the touch interface. It should be optimized for touchscreen devices.

Not sure it'd be good for WP, but if it came to RT, I might just get a cheap tablet for it

WP/RT version please, Blizzard.

This news would be more relevant to me if it Hearthstone was available in the Windows Store and available for RT. As I don't see anymore RT tablets in the future, even cheap ones, I'm definately selling my Surface 2 while it still retains some value.