BLU debuts in India with the affordable Win HD LTE and Win Jr LTE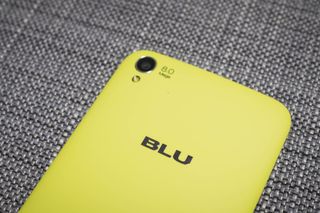 While we know that BLU was planning an official launch of sorts in India, the devices have made its way on Snapdeal.com already. Headquartered in Miami, Florida, BLU has sold over 25 million unlocked mobile devices in over 40 countries.
Both 4G Windows Phone 8.1 devices are targeted at the budget market, and will receive the Windows 10 Mobile upgrade when it arrives. While both phones are powered by similar internals, the major difference is in the display and camera departments. Both Win HD LTE and Win Jr LTE are dual SIM devices.
BLU Win HD LTE
The elder sibling, BLU Win HD LTE is available for ₹7,999 ($125) although the officially listed price is ₹9,499. Check out the store listing here (opens in new tab).
BLU Win HD LTE Specifications
Qualcomm Snapdragon 410 1.2 GHz Quad-Core | Adreno 306 GPU
8GB Internal Storage | Supports Micro SD card up to 32 GB
1GB RAM
5.0-inch 720 x 1280 HD display
8MP rear camera | 2MP front camera
2500 mAh battery
Dimensions: 145 x 72 x 8.2 mm
Weight: 136 grams
BLU Win JR
The younger sibling, BLU Win Jr is available for ₹5,999 ($94) although the officially listed price is ₹6,999. Check out the store listing here (opens in new tab).
BLU Win JR LTE specifications
Qualcomm Snapdragon 410 1.2 GHz Quad-Core | Adreno 306 GPU
8GB Internal Storage | Supports Micro SD card up to 32 GB
1GB RAM
4.5-inch 480 x 854 FWVGA display
5MP rear camera with LED Flash | VGA front camera
2000 mAh battery
Dimensions: 133 x 67.5 x 9.5mm
Weight: 138 grams
The BLU devices offer great value for money and are quite good looking budget phones. Sold at $179 and $89 in the US, the phones have been aggressively priced in India. I've been using the two devices for a while and have been impressed with the build quality and pretty good performance. They look swell, and the Win HD LTE, in particular, looks quite stylish.
Would you be looking forward to buy a BLU Windows Phone device over budget phones from Microsoft? Tell us in the comments!
Windows Central Newsletter
Get the best of Windows Central in in your inbox, every day!
But snapdeal says that the charger will be delivered after a few days! Should I chew my Battery for those days to charge it?

You Get a USB cable ! charge your Phone Using USB ​

have anyone received the charger from snapdeal.

The blu win HD is excellent choice for the price.
I hope the components such as buttons , earpiece, mic, headphone slot etc are of good quality, unlike the karbonn devices HD display with SD 410 works well

Totally agreed. It's a bang for the bucks!

No one would buy it considering Microsoft makes 97% of Windows phones. Would you buy an Android phone from a company other than Google if Google makes 97% of Android phones?

What? How does this make sense?!

If someone wanted to buy an Android phone and it so happened that Google was making 97% of all Android phones, then one would definitely buy Google's phone rather than some other OEM's because Android is from Google. Similarly people who would like to buy a Windows phone will buy Microsoft's phones because they make 97% of all Windows phones and Windows phone OS is from Microsoft.

He is right. It's why HTC fails in US despite it being the only flagship lmao.

I buy Microsoft phones because I'm a Microsoft fan. Even if they had 3% market share(wait...) I would still buy theirs.

His logic sucks but yeah, nobody's gonna buy Blu phones.

With Microsoft limiting the production tiers, this mentality's soon gonna change...

Windows Phone has 3% of Market Share and Yet I got a windows Phone ! ​

Yeah cause the NEXUS was a great success. (Yes I know OEM built them but they are of Google standards) Posted via the Windows Central App for Android

I have the BLU Win HD and I love it. Great phone and great price!

your statement has a fallacy built in. the very fact that MS makes 97% windows phones, also means that there are 3% people who buy other brands. With arrival of widnows 10 and MS making it easier for other OEMs to build good quality windows phones, the share of others is bound to go up. Even MS wants it pretty bad.

First and foremost, Microsoft does not make 97% of WPs. This nonsense has been spread by tech writers who use the crappy AdDuplex stats that make use of their advertising data to calculate usage. Second, when OnePlus started, it had 0% market share. Now, a lot of people are buying their phones. What is Microsoft's share of the total smartphone market? And what is the percentage of phones Microsoft makes when compared to total windows phones in a specific market? People don't go looking for a Windows Phone, they merely need a phone. And if they like it, they will buy it. There are no-namer companies that sell thousands of phones.

Why would one will buy a BLU phone if they can get microsoft phones with same spcs in same price range

No Lumia has sd410 and 4g in that price range.

Only Windowscentral care about 410 vs 400....you sound like M8 windows fans bragging about an 801 processor over 800.

What are you talking about? Processor is one of the things people look for while purchasing phones these days. SD 410's Cortex-A53 easily beats old SD 400's Cortex-A7. In addition to that, there's an updated Adreno-306 GPU giving higher gaming performance with lower battery consumption.

This is way cheaper than any Lumia

L638 is cheaper LTE than both of them

It has got neither front camera nor flash. Video calling is one of the most used things in LTE. Also, it is quite old now. Display is not HD and processor is SD 400

What more you expect from a 5k-6k mobile phone. >? AC , fridge, TV... ??

No doubt a great news...but will it succeed considering the fact that more than 99% of the windows phones in India are from Microsoft/Nokia?? Other manufacturers like micromax are already in the market but I don't think they made a significant dent...

It will be the first among the challengers to Microsoft. It should really bring out flagship specifications at reasonable price points before the chinese brands flood the market with those.

Yeah, have to wait and watch.

Seem a good proposition with positive reviews in the international market and solid pricing. Only thing bothering buyers would be after sales support.

Good Move !Indians have More choice when Buying a windows Phone :) . SD 410 AND 1GB Ram at that Price Is A Great Deal :D

Wow! A surprise. Didn't expect that ;)

Nah...getting a Lumia is better.....the only reason to opt for a BLU device is if it launches a device with 16 internal memory and all other specs being same.

Awesome to see Blu bringing their Windows devices to other places. I still would prefer a Lumia but i love seeing companies like this support my favorite OS :)

i think buying lumia 640 over lumia 540 and blu win hd lte makes sense :)

I was originally contemplating a new Lumia 640 unlocked, but considering the availability when I was ready to buy as I was switching from Verizon, I saw this device AND it had dual sim. I got the Jr at first, but had to go back and upgrade, as the screen was too small for my eyes. I have been pleased with the performance so far! Worst thing is that I am on T-mobile, and service is so bad, so I cannot fully enjoy the device. It is nice having dual sim, as I have a consumer cellular service in slot 2, so I get a bit more coverage using that off AT&T, though not much.

I don't see a win hd with a SD 410 anywhere here in America. I would grab one of those.

I was just in the Microsoft Store and checked out their mobile section. The Blu Win HD is a very sharp looking device. I was almost set on getting a Lumia 640, but when I compared them side-by-side, the Blu's screen looked better for some reason. I think they're supposed to have the same pixel density, so I'm not exactly sure why.

Agreed. Dunno why but the screen image of the Blu phone looks better.

I dont think anyone can make out the difference in pixel densities on a 4.5 or 5" screen, unless the difference is pretty big. The difference you might have felt could only be due to brightness and things like color saturation or contrast levels. All of which can be tweaked by settings pretty easily.

The pixel densities were supposedly the same for both phones, so I was kind of looking for confirmation or if anybody else noticed a difference. There was definitely a certain crispness that I'm not so sure could be minimized by just tweaking the settings. Side-by-side, it was easy for me to evaluate screen differences. I could definitely see the difference between the Lumia 640 and Lumia 640 XL.

The BLU win HD LTE looks pretty good..
I have 3 questions about it..
1. What are the apps which I won't be getting on this device on switching from a Lumia?
2. To People who have owned this device, how is the long term reliability?
3. Will After sales service be upto the mark?

Shoot. No Glance. Deal-breaker for me. Having held the device in my hand, I really liked the look and feel. Bummer.

how is the phone in terms of long term use, like say may be for more than just a year or so??

No glance and No Lumia apps.

Blue oneHD seems like a better one here.....

It's like a Windows Central comment brought to life!

Bought this because of the dial SIM capability and was very impressed by the contents in the retail package. They still give you a USB charger and cable along with headphones, rubberized protective case and a screen protector. Everything in one box. All for $219 Canadian dollars.

Does it supports the phone update downloads in SD card too?

yes it does, it's an unlocked phone so every unlocked phone can sideload the update on their sd cards as mentioned by the ms windows phone webpage just after the denim update release

Don't buy this phone it's junk. Only buy Lumia

The Lumia 640 is about as good as the HD LTE and a lot cheaper...

My reason for buying a BLU over a Lumia has more to do with OTA updates offered by BLU. I still have a Go Phone 635 on a post paid account waiting for the Denim update. My concern is if I get a 640 I will still have to rely on ATT to push through the updates, which to this point has been nonexistent for the go 635.

For a "low end" phone, it can fill the need for basic usage....with dual sim, a big plus in itself. Until the other flagships come out with similar capabilities, why spend more? If not on Verizon, there is only so much other phones get you anyway. I actually got GDR2 right after switching to this phone without waiting for t-mobile or going windows insider....

Great value, nice looking phones.Bought these for my parents and they love them. Came with everything including protective case & screen protector.

I ordered a Blu Win HD LTE on Friday from Microsoft. Will be here tomorrow. I had a Cricket Wireless Lumia 640 to tide me over till Cityman and Talkman come put but it had lots of problems. Sadly Cricket refuses to let me return it after 9 days. :( Anyway my roommate has the original Win HD. Other than the camera, he loves it. Looking forward to rocking the LTE for a while. My WP for the last two years has been the stellar Lumia 925 world version.

Please do tell the gaming performance and is there any heating issue or not...not all the high end games but maybe few that require bit of graphics.

Before deciding on my Lumia 640XL I tried the BLU Win HD LTE. It's a pretty good smartphone, but I wanted NFC and Core Sense. Despite the specs, I tried a 64 GB SD card and it worked fine.

I really dont see much benefit of buying these over the Lumias. The price is only marginal less than Lumia 640 for Win HD. While Junior is better than current offerings at this price i.e. 532 or 630, but it is only marginally cheaper than the market price for 535. I find those as better options. More so given the MS brand, its reliability and most importantly the service, I suspect if Blu will gain much market share in India. For a phone which comes from an unknown brand, only die hard windows fans in India will know about Blu, a marginal price benefit over the lumias will not help much. Having said all this, there are not many windows phone options besides Microsoft. So Blu is entering into a new territory and if it could make in impact, it may well have the early mover advantage over the long run. What will be truly helpful for Blu, or any other new entrant, will be flagship specification at mid-range price. This is what chinese, and even a couple of Indian, brands have done very succesfully in Android domain. As a windows fan, I hope to see companies like Xiaomi making good windows phone at much cheaper prices than microsoft flagships

Why would anyone buy BLU or other OEM's devices when MS dominates WP market completly and offers more...

MS does not offer more. The reason MS dominates WP market is because they HAVE MORE MONEY, make more phones and invest more in WP. BLU is specific to a few markets and has limited resources. MS has only 3% of total smartphone market share, why would people buy MS phones instead of Apple or Samsung?

they would buy only if they are interested in windows platform,moreover ms isn't offering blu win hd lte specs, that said the blu win hd lte sold in great numbers in the U.S. and that too from their(MS) own offline as well as online store. People who wish to abide with just average camera but definitly a fluid user interface would definitely choose the blu over phones such as L830 or L640, unless and untill they have hoards of money!

It is good to see a non-Indian OEM release Windows Phones in India. Previously only Dell, HTC, Samsung and Microsoft/Nokia launched Windows Phones in this country. Even global second tier players like Alcatel, Huawei and Acer shied from bringing their Windows Phones to India. That being said, the phones won't sell well. LTE market in India is a very nascent one and is already getting flooded by players. Jr LTE has only 512MB RAM which will hurt sales. Lava Iris Win1 did well due to it's great specs. As for Win HD LTE, it has a slightly better chance due to 410 processor. However there are far too many Chinese makers to get recognized in India.

Lack of After Sales Support might bury this phone. I am not ready to travel 5 hours to repair my phone. That is the main reason I bought Nokia(Microsoft)

If the price the price at which they're selling it now is the permanent price, the Blu would do really well.

Glad to know that BLU is now selling their handsets in India. I have heard and read about these phones and compared to the overrated and overpriced Lumias, they are far better in performance and offer better specs.
Windows Central Newsletter
Thank you for signing up to Windows Central. You will receive a verification email shortly.
There was a problem. Please refresh the page and try again.