Blue Skies updated to gain additional radar sources, offline support and more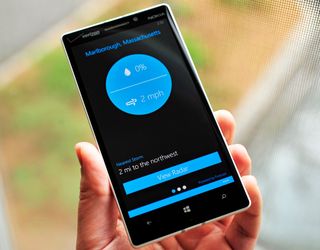 Blue Skies has quickly captured the collective heart of the Windows Phone community. It's a beautiful weather app that is also functional and useful. We've been loving it for the past two months and are quite pleased with the solid and regular updates. Today we're getting another update to Blue Skies that adds caching and offline support, plus so much more.
The last update for Blue Skies hit at the tail-end of May. That was version 1.3 and was notable for introducing radar maps, UK units of measurement, toast notifications for weather warnings and much more. Head into the Windows Phone Store today and you'll find version 1.4 of Blue Skies.
This new update includes the following:
Added caching/offline support
Open Weather Maps is now a radar source option for worldwide radar coverage
Open Weather Maps radar supports zooming and panning
WeatherUnderground radar better supports Europe
Improvements with radar by using Bing maps as the base map
"Today's condition" is now available as a live tile option for back of Medium and Wide live tiles
Completely redesigned live tile style picker
7 new loading animations and loading captions
Live tiles now also suggest to take sunglasses if it's supposed to be sunny for the day
Fixed UK units not displaying everything in miles
Unit setting is now more user friendly
Live tile bug fixes/tweaks
App performance tweaks
Added "Thank you" section to About page
The update is now rolling out to users in the Windows Phone Store. We're excited to play around with the new radar sources and other little new features in this update to Blue Skies.
Like before, Blue Skies is a free app that has in-app purchases to add more features. For example, you'll need to pony up a few bucks to get Live tile options and radar maps.
Windows Central Newsletter
Get the best of Windows Central in your inbox, every day!
Windows phone has the best navigation apps and weather apps

Agreed! My 2c, for me this is hands down my favorite weather app available on WP. It's has a super simple and good looking layout that is easy to get the information you need, as well as the ability to dig down deeper to see forecasts for the day hour by hour and week, great stuff. What makes it the best and the reason i recommend it the most is the developer is also very helpful and responds to email questions quickly. After having used apps with no support this is a very welcome change. Definitely recommend checking it out as well as supporting the dev!

Weather! There are so many to pick from. Which is best?

I have Blue Skies, Bing Weather, and AccuWeather all pinned. I know it's ridiculous, but..... Blue Skies, best live tile and when you open, it consults the Weather Gods. AccuWeather, most accurate. Bing, I just like it.

@juanito This guy doesn't fuck around when it comes to the weather lol

I ride a motorcycle, so yeah.. Gots to

I heard riding in the rain sucks....ouch.

If the rain is cold, yeah, like needles. If warm, soothing like a shower. And fyi, snow hurts less than cold rain.

I have - and mostly use - Amazing weather. But, throughout the oft rainy spring, I have used Blue Skies to help me time my bike riding to miss the raindrops. I have both of those pinned. Additionally, I use Bing weather (not pinned) as she integrates with Cortana.

For me, Vieather. Just simple and gorgeous, with a spectacular transparent live tile

Give it a few minutes. Shows up in the Store as version 1.4 and has the new changelog.

I have had this version for some time actually

It just went live today unless you're on the beta. Source: I talk to the dev.

My favorite weather app, followed closely by Vieather.

Thanks! Glad to hear that:) Vieather is a definitely a great weather app as well!

BlueSkies is the single greatest weather app running on WP8. And it keeps getting better.

Thanks! Glad to hear you're liking the updates!

One thing I would find really useful....the ability to pin multiple locations.
Until that option arrives, Bing Weather is the one for me.
Keep up the good work

I like weather channel app and Bing weather

Love BlueSkies ... Started using it as an alternative to the HTC app since 8.1 broke it, but became my go to Weather App
The small live tile is my favorite

See everything happens for a reason ;)

Odd. Store shows version number 1.4, app shows 1.3.0.1 but it won't update.

It's same here. You'll have to give it a while and try later.

Odd to see the version number listed in the app store different than the actual version. Even reinstalling yields 1.3.0.1

I love Blue Skies and Color Weather so much

Color weather is such a fantastic and underappreciated app.

Blue skies is great. The developer is exactly the kind of developer we need for WP.

Aw shucks, you're going to make me blush. Thanks :)

I love this app, replaced amazing weather for me.

+925 Both A.W. and Weather flow.

Love this app. Favorite weather app by far.

Seriously needs to have Bing wallpapers as part of Lockscreen support.

That would kind of defeat the minimal UI design.

What does the lock screen support have to do with minimalistic design of the app?

I'm actually waiting for Microsoft to release the new lockscreen features for WP 8.1 before I look into it.

Don't tease us like that ;)

I'd like to see the option to add the weather to one of the 5 quick notifications on the lock screen.

Thanks for the suggestion! I'm actually waiting for Microsoft to release their new lockscreen features for WP 8.1 before I look into lockscreen support.

Currently my favorite weather app.

I'd love to see this app released for Windows 8 desktop ...

One day. I have another app in mind first but eventually Blue Skies will make it's way onto the desktop. ;)

I'll stick with bing weather :-D

Been "testing" this since WPCentral first reported on it alongside my primary which is 4castr. This one has consistently gotten better and really does look amazing. 4castr has more info but now that this one has radar and different live tiles, plus multiple locations (which 4castr doesn't have) the gap is definitely closed.

Does any one know when the GDR 1 for WP 8.1 will be released? , and what's. New in it??

WP 8.1 isn't even out yet!

After testing several weather apps I settled on this one because it's fast and not bloated. I always worry about feature creep when I read about updates... hope they don't keep adding and adding stuff.

Don't worry, before I add featuress I make sure it doesn't go against the minimal design of the app or affect performance.

I'm stuck with Bing weather, like... Basically ever since it came out.
It the most functions for 0$/€/£...

I tried every weather app in the store, and Blue Skies is by far the best and most accurate, at least in my location. I love everything about it. In fact, this is the only weather app I could get severe weather notifications working. I'm not sure why but AccuWeather would never alert me, even though it was enabled. With that said, it's working so well and reliably now, that after a week I've had to disable the notification sounds or face the wrath of my husband. Turns out the National Weather Service issues a LOT of alerts, particularly in the middle of the night. Who knew? Dense Fog Watch alert. Special Weather Statement alert. Conditions Favorable for the Possible Development of Funnel Clouds alert. Hydrologic Outlook alert??? Certainly not an issue with Blue Skies, but it does beg the question of whether the NWS prioritizes alerts in any way where they could be filtered. I was extremely grateful the first alert I got was at 1AM one morning last week for a severe storm with 70mph winds (it actually ended up blowing down our fence). But unfortunately a non-stop barrage of less or even non-critical alerts renders it impractical, at least at night, when you could potentially need it most. It would be awesome if one could configure only severe weather/tornado warnings for sound notifications.

Thanks for letting me know about that! That's definitely something I'll have to look into for a future update.

I had too many problems with the live tile who didn't update. Now it may be better but I'll stay with weather flow who have lock screen and never failed me.

@Devs
Guys, how about black theme?

There's a dark theme that you can enable through the settings. I experimented with making a black theme but wasn't really happy with how it looked so I decided against it and stuck with the dark theme that exists in the app today.

Yeah, but black looks so much better. Check out how vieather or even wpc's app looks with it. It looks awesome with a cobalt theme and honestly it kept me from using your app, silly I know but it did. Please reconsider.

Not better than Bing Weather for me... Nice app beautiful layout, don't like in app purchases either, plenty of great free weather apps.

"don't like in app purchases" Sums it up. The in app stuff needs to translate across devices like a traditional purchase. The GMaps+ team ruined the reputation of in app purchasing for me. I will only support pay to own going forward.

Thank you for a sensible comment I completely agree.

I just use Bing weather as they are all the same to me all I ever do is look at the live tile. I haven't opened the app in a long time

I'd just use Bing Weather, because it's so good and beautiful. The problem is it has no transparent live tile. Yes, you can make it transparent, but it's not live and it won't show information on my 1520. Neither will Amazing Weather HD. So I use Vieather, because it does have a transparent live tile. I'd also like a transparent Battery live tile, but it too is only Transparent, and not live. I need Netflix too.

Amazing Weather HD does have a transparent live tile and it works great on my 920.

I can't get the tile to ever update. It just sits there with the blank weather tile. I bought the full app, but it just won't update or show any info. I tried later, and it shows a live tile, but I couldn't get it to be a transparent tile, even though transparent was checked when I pinned it. Finally gave up. Will stick to Vieather until Bing gets a transparent tile that is live.

I like Blue Skies, Bing and Breez. I love Breez's simplicity and live tile, plus the cool 24 hour forecast realtime scrolling

Bing Weather is in need of a serious update to keep up with all these latest weather app updates. Last time I tried it, it had issues. Temperature is always hours behind.

I have tried a lot if the weather apps and primarily use Amazing Weather HD. I have had Blue Skies installed since it was first introduced here. I really would like to see the chance of rain percentage easily, like I can with Amazing Weather. I wish it would be on the wide live tile for the today side and for each of the next five days on the flip. If it had that it would be my primary and probably only weather app. I like being able to see the chance of rain percentage daily on the live tile. Does paying for the live tile upgrade give you this? Either way, if that is available, I would buy both upgrades. Thanks!

It does now, you have the option to set the back side of the tile. There's an option to change it to show that as well as the high and low and humidity, very convenient. All on both live tile sizes.

Thanks! Do you get that when you buy the $1.49 live tile upgrade?

Well, I bought the live tile upgrade, but it doesn't show what I want it to. I would like to see a 5 day forecast with the high, low, and chance of rain percentage daily. I would like to see that for each of the 5 days.

I live in NC and the Blue Skies forecase is almost always wrong. This week all its temperatures are 8-10 degrees lower than all other sources, and it uses a rain symbol for every day when there is a only a partial chance for afternoon showers. Viaweather seems to work for me.

Strangely enough the update is not working on my 920, I just get the error screen

I agree that the app is nice but i cannot believe I paid for the radar that completely sucks! If you pinch to zoom, the map zooms but the Doppler images is stationary. A complete waste of money!!!!

Thanks for saving me $1.49.
I bought the live tile upgrade...hopefully updates keep coming.

It looks very nice and radar weather works in Europe as well. It has lockscreen notification icon choice for Blue Skies as well, but no temperature shows under it on a lockscreen. Publisher needs to fix this.