Bookviser Reader Premium for Windows and Windows Phone is this week's myAppFree Deal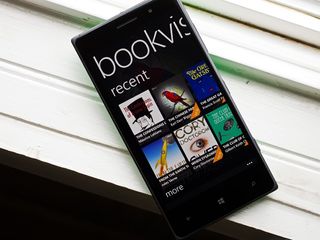 Bookviser Reader Premium is a feature rich Windows Phone ebook reader and this week's myAppFree Deal. The Windows Phone app has a host of customization features, easy access tools, library management options and text to speech support.
Normally Bookviser Reader Premium runs $4.99 without a trial version. However, for the next twenty-four hours through the myAppFree campaign you can pick Bookviser up for free.
Here is a quick run-down of Bookviser's key features.
Bookviser Reader Premium supports fb2, ePub (DRM-free) and .txt formats
Customization features includes color themes for day and night, font types and sizes, adjustable margins and on-page indicators (battery, time, page number, etc.)
Quick settings menu offers options to easily adjust brightness, switch between day/night modes, set font sizes and block/unblock auto-screen rotation while you are reading
Import books from OneDrive, your SD card, internal memory or Bookviser account
Text to Speech support
Transparent Tile support
Create bookmarks
Copy, translate and share snippets of text
Additionally, with a Bookviser account (free) you can synchronize your reading across multiple Windows Phone and Windows 8.1 devices and backup your books, bookmarks, notes and highlights.
As an added bonus this week, if you pick up the Windows Phone version of Bookviser Reader Premium you will also have access to the Windows Phone 8.1 version free. The Windows 8.1 version of Bookviser is also normally priced at $4.99 so this week you could save almost $10 through the myAppFree deal!
Please Note: The Windows Phone Store listing for Bookviser is already reflecting the myAppFree deal but it may take a bit before the deal shows up in the myAppFree Windows Phone app.
myAppFree
Windows Central is proud to be partnering up with myAppFree to bring you savings on Windows Phone apps and games. myAppFree is a free Windows Phone app and service that highlights special deals for software on the Windows Phone Store. Make sure you download their app to keep track of all the specials they run weekly, as you'll never know what you may find.
Windows Central will continue to highlight select apps and games, such as Bookviser Reader Premium, from myAppFree on a weekly basis as a benefit to the Windows Central community.
George is the Reviews Editor at Windows Central, concentrating on Windows 10 PC and Mobile apps. He's been a supporter of the platform since the days of Windows CE and uses his current Windows 10 Mobile phone daily to keep up with life and enjoy a game during down time.
It's not bad. I've used it before discovering FictionBookReader app. Good deal if u use it.

This is one hell of a deal. I have the non premium, well not anymore with this deal, and the app is really nice. Get it even if you don't need it now, for you may in the future. I've had people email me a book and the app opens it right up, everything like photos and extra content is available. Can't say enough good things. You can even change the look of the books pages to a vampire theme, hobbit, etc. Neat.

Yeah, as I've said I've used it before switching to FictionBookReader (which is free u pay for sync options separately). It is very good and solid app, but I prefer FictionBook to it for,many reasons which I'm not going to include here (added some of them later in the thread)...but would rather let people discover for themselves in case they are interested. Book Reader is very personal matter with respect to needed features, looks, etc...so I wont say it I better, but it is better for me :)
Still great deal on Bookviser, I concur.

Hey Ballsak, thank you for being our advocate :). We've got a secrete Star Wars theme hidden in the app. If you are a fan, let me know via Bookviser.com contact form, I'll send you a hint on how to unlock it.

Thank you, will do. I cant say, in words, no pun intended, how cool and fluid your app is.

When will we get the windows 10 update for this app?

It's a work in progress, but no ETA yet, sorry.

This is an EXCELLENT ereader. Use it everyday for my ebooks

I love this app...been using it for a while...
The best I've used on WP!

Not a single review at the Store?

One of the best e-reader apps, You can check the reviews of the free version named "Bookviser"

It is awesome for a book app.

maybe because it does not have trial version in the Premium app item. So all reviews goes to the free version where most user downloaded and used.

Better transitions than FlipBoard

Very much...they should learn from this app

What additional features does the premium one have over the free version?

The premium features are: Multicolor highlighter, notes, Vintage paper, customized textures and categories.

Bookviser Reader Premium has text-to-speech, multicolor highlighter, notes, custom categories, vintage textures and page personalization themes inspired by Hobbit, Star Trek, Holmes, Ice and Fire and more. The same features are available via subscription in free Bookviser Reader.

its good, excellent interface and please dont whine for pdf, pdf files are not ebook. i used to use this before i got freda+. locking the premium version coz you never know..., but freda+ has no parallel yet.

Have you tried FictionBookReader? Just wondering. It has excellent sync (similar to bookviser) and great metadata library manipulation (similar to freda+)....just saying...

yes but freda+ has great customization options. i found no other ebook readers recreate the page formatting like it. for example page break and justifications etc.

I c what you are after...In my case priorities shifted a little. I'm looking more for librarian functions (similar to Calibre) cause I keep books in series and sorted by author/genre,mostly as well as sync (to read on PC as well as different phones). And I like default FictionBookReader formatting, and I load and read books on 3 different languages on it as well as several devices - Lumia 1520, HP Stream 7 and work phone HTC M8 Windows. But it is my $.02. Everyone has different opinions and requirements. Honestly, there are only 2 things I'd add to FictionBookReader personally (taken i am used to old I2Reader on Cydia and MoonReader on Android - 1) Allow me to swipe pages using volume rocker...2)Allow me to export formatting/library to use in different environments, eg to share with someone for example.

everybody to his own preferences :) i have a shared onedrive ebook folder with my friends/ family. In my system, books are stored categorized in seperate folders by genres/ authors/ series and are retreived by multiple users one at a time as per their requirement from their wp/ pc and everbody use whatever app they are comfortable with. I use my wp as my primary ebook reader, and i tried every last ebook reader apps in the store before setlling for freda+. What i like about this app is its rich page rendering capability. for example, if an ebook page has part of text in right allignment with justification and part in centre allignment, freda renders it prefectly just like a pc ebook reader; but other wp readers render it monotonically, like with all text with right justified allignment/ right allignment and so on. another thing i apreciate abour freda is the developer is very active to the users' feedback. the ui of bookviser is actually better than freda, but freda has better text/ image rendering and customizations, so i stick with it.

Same for me for fiction book reader dev support. Developer is constantly updates the app and listens to user voice. He even updated to support Windows 10 already (PC). I do store all my books under Calibre librarian which is known for it's functions...and this is what I share with my friends. Unfortunately not many WP apps tends to keep Calibre metadata format, but bookviser and fictionbookreader certainly do (but would be nice to share directly from app though, cause I like to make corrections on the fly to metadata). I have also tried many apps in store before fiction book( ready, mohoo, Freda, racoon, bookviser, bookmate)...and this serves my needs the best at this moment. Plus I do like the UI and librarian customization better in it compare with bookviser.But good to know that there are different requirements out there.

Also tried couple,of,books in Bookviser and FictionBookReader (same books). I do prefer FictionBook formatting and fonts over Bookviser Preminum. It is for sure.

You say WP and WP version. Shouldn't that be WP and Windows8.1 version?

I use the free version a lot! Thank you so much! :)

Now I don't have to carry my Vade Mecum with me all the time. :)

Why don't windows central be free?

I just found out that my bookmarks and highlights aren't saved when I opened them with this premium version....

My favorite app on windows phone.

Is there any 3rd party reader for Amazon Kindle eBooks?
They haven't updated their app in a very long time and I would really love to use a reader with built-in dictionary.

Just paid for last week. : \

Its worth the cost. Some apps are and this is one.

Great app, but the page and text formatting is horrible. Freda+ is still the best book reader on WP!

Excellent news and excellent e-reader app. Many thanks!

I already paid for all the features in Bookviser, so what now is this release they otherwise want money for?

The "premium" release is for those who prefer to buy paid apps instead of getting free apps with locked functionality. If you have features unlocked in Bookviser Reader already, your app is the same thing as Bookviser Reader Premium.

A deal is a deal , 4.50 bucks is quite nice saving and the apps is quite good too

It's funny, because I like the tablet version, but the phone version tends to disappoint me.

Use this on my phone and tablet. It's head and shoulders above the rest.

Love this app anyway. Even better that I can get premium for less than what I paid for the ad based version. :)

Great apps lately on myappfree. I love getting stuff for free, but I don't mind paying for a good app either. Would like to see an option via either myappfree or the free apps themselves to donate money if I still like the app, say three months later.

In some cases you can still buy other apps from same developer (when he published more than one app on Windows Store)

This is the BEST reader on Windows!!

Oh common, I have to rely on WiFi I won't be getting it in 24hrs, can someone snap this for me then send it to me ?

Best deal for the best app..

This is free for one year... Unlimited is running at 10$...

this deal unlocks premium forever

its an awesome reader, but it keeps crashing on my 535. probably because of the non standard resolution and pn screen buttons. hope thy fix it soon.

Yes, there was an issue with 535 because of its non standard resolution, but we fixed this. If you're using the latest update and still have problem please contact us via contact form on Bookviser.com.

What's the difference between the premium version and the standard one? I don't see any difference...

You have all add-in unlocked with the premium version.

The themes+colors settings is throwing an exception for me

Hi, I'm Bookviser developer. Could you contact me via support form and describe your problem? Will try to help you out.

Awesome app... Get while you can

Hi, I'm Alex, Bookviser developer. Thank you everyone for supporting our project. Also thank you Ballsak, vladfrenkel and dipayanster for a very valuable discussion here above in comments. It made us think we have to pay more attention to formatting and library metadata, so stay tuned and check out our nearest updates.

Not free for me anyways the free version already does the job
Windows Central Newsletter
Get the best of Windows Central in in your inbox, every day!
Thank you for signing up to Windows Central. You will receive a verification email shortly.
There was a problem. Please refresh the page and try again.