Borderlands 3 'Moxxi's Heist of the Handsome Jackpot' expansion gets 13-minutes of gameplay footage
Hyperion Loader Bots and more await you in Borderlands 3's upcoming expansion.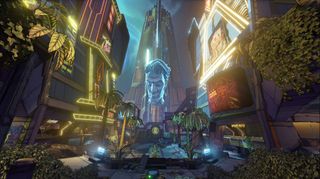 (Image credit: Gearbox)
What you need to know
Moxxi's Heist of the Handsome Jackpot if Borderlands 3's first major campaign expansion.
It is included in the Season Pass or Super Deluxe Edition of the game.
It is set to release on December 19, 2019.
Get ready to raid Handsome Jack's casino for the riches inside in a couple of weeks in Borderlands 3. Despite his death, the lavish casino is armed to the teeth with Hyperion bots and other defenses aimed at ensuring you don't make it out alive — but we all know that won't happen. We're the real heroes of this story. Gearbox has released a video showcasing the first 13-minutes of the expansion that you can watch below.
Like any good Borderlands expansion, Moxxi's Heist of the Handsome Jackpot comes complete with a new campaign, new locations, and new loot to collect. In order to access this expansion, you'll need to have at least reached Sanctuary III in the base game. Enemies and loot will scale to your level.
Moxxi's Heist of the Handsome Vault launches on December 19, 2019 to Season Pass owners or those who purchased the Super Deluxe Edition of Borderlands 3. You can also pick it up as a separate purchase if you own the game itself.
Welcome back
(opens in new tab)
Borderlands 3 - Super Deluxe Edition
Prepare for the fight of the galaxy

Get ready to raid the Handsome Jackpot for Moxxi, and reao the rewards of Jack's lavish lifestyle for yourself. This DLC is available to owners of the Season Pass or those who buy the Super Deluxe Edition of the game.
Jennifer Locke has been playing video games nearly her entire life, and is very happy Xbox is growing a stronger first-party portfolio. You can find her obsessing over Star Wars and other geeky things on Twitter @JenLocke95.
Windows Central Newsletter
Get the best of Windows Central in in your inbox, every day!
Thank you for signing up to Windows Central. You will receive a verification email shortly.
There was a problem. Please refresh the page and try again.