Deal Alert: Box cloud storage giving away 25GB of online space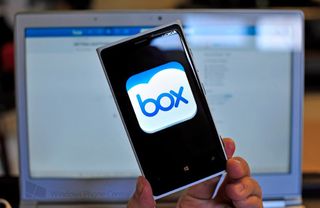 Although we're all about Microsoft's ecosystem around these parts, we're not going to pass on a good deal especially if you have a specific need. Box (box.com) cloud storage, akin to Dropbox, SkyDrive and SugarSync, is a cloud based syncing and storage service.
They usually offer 5GB of space for free but have a special running where you get bumped up to 25GB (new customers only).
What makes Box a compelling option is of course their Windows support--they have a full desktop sync client and Windows 8 RT app in addition to sporting an official app for Windows Phone 7.x and 8 (suck on that, Dropbox). The app is quite good and similar to the SkyDrive experience.
In case you are wondering why Box is better than say Dropbox, the site SmalNetBuilder did a nice comparison, noting that Box is better geared for enterprise users:
Last we checked (though we could be wrong), a 25GB account with Box would run you $9.99 a month as opposed to this free offer. Even if you don't have an immediate usage for it, it may be worth signing up if you haven't already to lock this deal in.
To download the Windows Phone client, just head here to the Store.
[Note: You must use this link to get the 25GB, don't sign up via the app: https://www.box.com/pricing ]
Have some pros or cons in using Box over SkyDrive? Let us know in comments.
Source: Box (fixed link); via DealSea
Daniel Rubino is the Executive Editor of Windows Central, head reviewer, podcast co-host, and analyst. He has been covering Microsoft here since 2007, back when this site was called WMExperts (and later Windows Phone Central). His interests include Windows, Microsoft Surface, laptops, next-gen computing, and arguing with people on the internet.
Thanks for the tip signing up now!!!!

Ditto. Don't need it yet...but I'm sure I'll find a use.

I wonder if we will ever see an Xbox app for these other services. I guess when the next one comes out running Windows Rt without the desktop. Anyway this is a great deal and I'm signing up. Still pissed that MS can't/won't transfer over my SkyDrive limit from my @msn to my @outlook.

You could have renamed your MSN account to Outlook. That's what I did!

One of bonuses of getting a fire sale Touchpad. 50 GB free for life. Box is actually pretty good AND they have a WP app!

Same here. I have yet to use that 50GB, but it's nice to know it's there.

I just signed up but only got 5gb of storage. I used the wp8 app to sign up.

Eck, I did online 30 mins ago and got 25GB. You must use the link and not the app--it's a promo thing.

Didn't work. I only got 5GB :/

Doesn't look like 25GB. Only option is 5GB free.

Use this link: https://www.box.com/signup/o/25gigsforgameday I just used it for this article and have 25GB.

Now that i already signed up before this link came up is there a way to get the 25 gb?

Don't think so only way is with that link I just used my allied email. Got my 25gb Thanks Danny

Contact support and they will do it for you. I didnt notice the link when I read this and just signed up on my phone, then contacted support and they upgraded my account to 25GB.

I signed up for box a few months ago and got 50GB free. I still have it too. I'm very surprised that it dropped waaay down to 5GB. I should start using it for music or something.

I only got 5GB. was there a special link to get this offer?

Don't see any mention of the 25GB offer/upgrade on their site. is there a code that's needed or special hoop to jump through?

Thanks for the heads up! Got my 25 GB by signing up online. I'll get the app now.

I clicked link and got 25gb. Don't need it but slickdeal

https://www.box.com/signup/o/25gigsforgameday


true or false, max up load is 100 mb...

False, max upload is 250mb. At least that's what I saw.

if your moving files, get Winrar...you can span large files into smaller files then just reassemble them after you download it


I'll just put all my Videos and pictures and documents on Skydrive (That way I can view those on my xbox) and my music and podcasts on box (that way Xbox Music doesn't fuck those up).

If you can find someone with an LG Android phone, and sign into Box from there, you can get 50GB Free. We've got one at work and we've all been signing into it to get our extra space.

Any option to encrypt & decrypt files from a windows smartphone?

Nice! Signed up. 25 gigs Will come in handy :)

I use both Box and SkyDrive. I got the 25GB with an HP Touchpad. Good stuff. As the article says, they are not on board with the whole "Make it a streaming Cloud media server" thing yet and the file size limit is the biggest drawback. As a Music Storage Device for back up its good. Most MP3 songs under 8 minutes will fit under the limit at 320 Kbps.

Got in on it this morning. I think I'm going to use it to store music. Great that it has a WP app too!

This is great. Cloud storage FTW! Get multiple accounts across the servies and I have plenty of cloud storage to deal with now :)

Thanks, used the link and not the app to get 25gb.

Nice addition, thanks for the tip Sir. 25gb it is.

woohooo! Got it! 25GB of fresh cloud storage :) Thanks for the tip!

After i saw this i instantly signed up one, despite having no use for it yet. But, who knows, it might become useful in future, thanks for the share.
Most of the students in my campus use dropbox, though i dont really like dropbox that much. 2Gb of free storage is a joke

thanks, i got the 25 GB but i waana ask something.....when i go in my account settings it shows 25 GB storage available and 10GB of bandwidth available.....what does the bandwith here imply and how is it gonna be used ???

IMO, that bandwidth thing is to limit your transfer rate to prevent massive download/upload files. Each month we will only get that much. CMIIW ... Clarification needed.

clarification needed indeed. anyone ????

Well, again, this sucks. I can't even upload my 14gb I want protected without waiting two months, then basically not using the service for those same two months?

If you want to protect a large amount of data, try Amazon Cloud Drive / S3 / Glacier instead. No stupid restrictions, extremely reasonable pricing, rock solid. I haven't done much with Cloud Drive yet but I've been happily using S3 for years and it's never let me down.

Duh... I've signed up using the link, got the 25GB mentioned at the article, and end it wont be useable in the near future since the WP app didn't exists in my region (ID) ... Oh well ... (-_-)a

Their mobile site isn't too bad. Just pin that to your start screen. Or change your region temporarily to US and download the app.

Worked great... Thanks
WPcentral has proved to be a wealth of information to me since getting myself a lumia 800 about 3 months ago... Thumbs up!!!

I got 25gb:D...you have to use the link...dont sign up from the app

I'm happy I got 50 Gb free on Box with my Playbook. Plus 25Gb free on Skydrive through grandfather rights:)

Great grandfather more like it.

Thanks for the heads up. I had an account but more storage is always good.

Sweet! 25GB from Skydrive and another 25GB from Box. That's a win win!

Is it possible to upload VIDEO file from my WP8 to the Box cloud storage?

According to their site there's a 250mb limit so... Depends on the size...

One of the things HP did well with the TouchPad was the deal with Box to offer 50GB free with 1GB file size limit. Glad I got that when it was available. I tried setting one up for my wife recently on the Touchpad and she got 50GB free but 100MB size limit...

I'll sign up just because, but I already have 25 GB with SkyDrive. Thanks for the tip.

Just created 3 Box accounts and got 75 gigs of storage! Also, I have 50 gigs of SkyDrive storage already. Thanks!

I signed up with four. I missed out on the 25gb for SkyDrive. This makes up for it.

What's the advantage of this over SkyDrive? I have to accounts with 53gb total so I'm not sure if I need more and why I would need this one.

I didnt notice the link when I read this and just signed up on my phone. When I noticed I only had 5GBs, I contacted support and asked them if I could have my account upgraded for the promo - they had it done in less than an hour.

I also have a 25gb skydrive and one from box....what am I going to use box for ? Hmmmm

Thanks for the tip Daniel. Got the 25GB.

So I signed up with four email addresses so I now have 100GB of storage space. Now what to do with it.

I did the same and there was no questions asked.

I didn't follow the link and ended up with 5GB. I called support and was able to get the storaged bumped to 25GB.

Box gave me 50gb with my touch pad also its like having a huge closet you will never fill but I love having it

Thank you very much. 25gb is nice for me.

Got the 25GB. Only wish it was better integrated into Windows because now it is kinda pointless. However in sure I'll find a use eventually.

They've got at least one feature I wish SkyDrive had (if I'm understanding it right): Upload a new version of a file and keep the same sharing link intact. You won't run into this problem on SkyDrive if editing, say, a word document via the web app or office... but edit it elsewhere (or a non-office document) and you can't upload "over" the diocument... which Box seems to do.

I hate how their installer doesn't give the option to install to another partition/drive on my PC. I have an SSD as my Windows drive and am trying to keep the 40GB of free space I have on there, well, free. Humbug.

Thanks for the heads up. I resisted signing up a couple of months ago for an offer just like this. Don't need it now, but if the next phone I get doesn't have an SD slot, I'm sure it'll come in handy.

For anyone who gets the app I would suggest turning off the background task. It drained my battery 15% in about 20 minutes. I have no idea what it even does. Blocked.

nice!!! just signed up. Thank you WPC!

Thanks a million WPCentral!!! 50 FREE gigs b/w this and SkyDrive :)
Windows Central Newsletter
Get the best of Windows Central in in your inbox, every day!
Thank you for signing up to Windows Central. You will receive a verification email shortly.
There was a problem. Please refresh the page and try again.