BulletAsylum and Navigon GPS are this week's Windows Phone Red Stripe Deals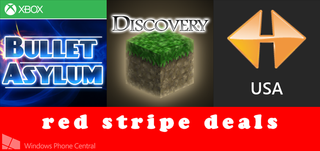 Last week's Xbox Red Stripe Deal knocked it out of the park by offering Modern Combat 4 – a game that had never been on sale before – at a significant discount. But we can't expect a new game to go on sale every week… Not if we don't want our hearts broken. The latest discounted Xbox Windows Phone game has been on sale twice before, most recently in June. Yep, UberGeekGames' BulletAsylum is 99 cents once again. We'll try to contain our enthusiasm.
Meanwhile, the non-Xbox Red Stripe Deals are actually a lot more exciting. Indie Minecraft clone Discovery from Noowanda (?) is only 99 cents, which should please the construction crowd. And all three versions of Garmin's GPS app Navigon (USA, Europe, and Australia) are half off as well. Descriptions and Store links after the break.
BulletAsylum (Windows Phone 7 and 8)
Regular price: $2.99 Sale price: $.99 Download size: 16 MB Store Link
BulletAsylum is a modern take on the arcade classic Missile Defense. Aliens rain down from the sky and it's up to your turrets to stop them. You can use a single finger to fire all your weapons at one area or two fingers to split the fire. Game modes include the extremely easy Arcade, an endless Survival mode that has no Achievements for some reason, and the frustratingly hard Architect mode.
It's easy to get into BulletAsylum thanks to the pretty colors and flashing lights. The unlocking system is decent, and the Achievements are attainable for most mortal men and women. Still, I found the gameplay far too simplistic to maintain interest; the lack of depth really keeps the game from having much staying power. At least it's only a buck right now! Check out our review to learn more.
Discovery (Windows Phone 7 and 8)
Regular price: $1.99 Sale price: $.99 Download size: 17 MB Store Link
Survivalcraft is the king of Windows Phone Minecraft clones, but that doesn't mean it's the only game in town. As you'd expect from this type of game, it allows players to explore a large, blocky virtual world, gather resources, and build things. This one has some especially nice features like cloud saves and online sharing, so it definitely looks worth a buy.
Features:
smooth, high quality 3D graphics with up to 60 FPS on 1st generation phones
realistic light and shadows
giant world of blocks
World Browser for sharing your worlds with others
Backup/Cloud system
different times of day
atmospheric music
TNT :)
Navigon USA (Windows Phone 7 and 8)
Regular price: $49.99 Sale price: $23.99 Download size: 11 MB Store Link
Windows Phone Central's own Daniel Rubino proclaims Navigon to be his favorite GPS app, so you know it's got to be good. Developed by Garmin, Navigon has all the advanced features you could possibly want in a GPS app. It also looks about a million times nicer than the free apps our phones come with. However, it's quite pricey by default. Even at half off, it's still kind of expensive – but you get what you pay for.
Features:
Traffic Live
Reality View Pro
NAVIGON MyRoutes
Active Lane Assistant
Speed Assistant
Safety Camera
Weather Live
NAVIGON Reality Scanner
Last Mile Navigation
Google Street View
Text-to-Speech and precise spoken announcements
Extended Pedestrian Navigation
Destination entry with coordinates
Emergency help
Special destinations along the route
Can be used in portrait and landscape format
2D and 3D map views
Automatic day and night mode
Direct access and navigation to contacts saved in the smartphone's address book
Take Me Home function with a single click
Route planning function
Favourites can be saved directly on the Windows Phone Start screen via the NAVIGON shortcut
Latest Map Guarantee: Guarantees that you receive the latest maps when you make your purchase!
Link from Bing Search to the NAVIGON app on your Windows Phone. Lets you start navigating immediately to destinations which you have found on the Internet.
Navigon Europe (Windows Phone 7 and 8)
Regular price: $99.99 Sale price: $49.99 Download size: 12 MB (at least 1.1 GB with maps) Store Link
Navigon Australia (Windows Phone 7 and 8)
Regular price: $46.99 Sale price: $28.99 Download size: 12 MB (at least 900 MB with maps) Store Link
Thanks to Marcel for the tip!
Paul Acevedo is the Games Editor at Windows Central. A lifelong gamer, he has written about videogames for over 15 years and reviewed over 350 games for our site. Follow him on Twitter @PaulRAcevedo. Don't hate. Appreciate!
Getting bullet asylum. Never really had a thing for it much therefore never purchased. Can't pass up a deal though... jejeje Edit: ha! Went to get it and... Looks like I already had bought it before... Guess I didn't pass it up last time. jejeje

Time to buy Navigon. Whoever thinks Drive and other navigation apps don't cut it, this is your opportunity. Navigon is awesome. I have been using it since it came out on WP7.

Same here. It was my go to app on my HD7. Got to love a company that has been supportive since WP7's inception

If I was still using an HTC device (and didn't have GPS on my car) I would jump on that but Here Drive from Nokia does the trick for me. Awesome deal though.

I'm going to take the plunge. My grandmother always says, it's not how much you spend, but how much you save that counts. I consider this a savings of $26, just about the most ever for a Windows Phone App!

Womanomics is what I call that. lol

How about a saving of $50 by not getting it at all.


John, that's enough negativity out of you for one day. Try to be a little more pleasant, please.

Does it need cell service data to function or does it work off line like HERE maps?

The European version has downloadable maps (and you can select which countries you want to download).

Just installed it. In the USA you download the states that you want to drive within.
You can be offline but not if you want live traffic of course. I am not sure when or if HERE will catch up. While I will still use HERE for local and transit I need something more robust for when I travel and the current price cut is enough to have me do that.

I believe Nokia will bring HERE up to par soon enough, especially after their main focus is on HERE when they sell devices and stuff to Microsoft.

I downloaded just because i wanted live traffic rerouting. I've had it built in to most cars I've owned, but my current one doesn't have sat nav at all and I've lost count of the amount of times I've cursed Nokia drive for taking me down a blocked route. And this seems to work well, i set a few dummy locations and it advised of rerouting. However i don't like how fiddly the controls are and how small the txt is, wont be easy to use when mounted on the window. I wonder why they didn't just use the same big button designed UI they used on the standalone garmin units? Is that a windows store limitation?

Discovery could release in Brazil....or my phone lumia 520 can't run it?

Sure it can, even wp7 can, but survivalcraft is waay better anyway :)

why would you get Navigon when HERE Maps works perfectly and essentially does the same?
or what does Navigon have that HERE Maps can't offer?

For one thing, just look at the screenshots. But you can also read our past articles to learn more about it.

If you read it, you'd see that it has more than HERE Maps does. It includes Street View, for one.

I think Garmin is the one that sells that little HUD accessory. That looks killer.

Navigon: how about selling your update maps for less than $20+? Navigon is a great GPS but the update map is pricey.

Since navigon is garmin what's the difference between garmins street pilot and this

How does the Navigon compare to Garmin Street Pilot?
http://www.windowsphone.com/en-us/store/app/garmin-streetpilot/eb4c6c3c-...
Reviews are definitely lower on Garmin.


Would be nice to have a side by side comparison for Navigon, but even at that price for the European one it's really expensive. Why did they have to make one for the whole of Europe? I'd much rather have UK only one and pay a fraction of the price.

Phew, I was successfully able to contain my excitement for BulletAsylum as the DotW.

Bulletasylum has been Dotw so many times before that I forgot I had purchased this game last time only .. Lol

I have a question for you guys... If I buy Navigon for my Lumia 900 with WP 7.8 and later when Lumia 1020 will be available in Sweden I will swich to WP 8... do I have to buy this app againfor the new OS ?

You pay for it only once as long as you use the same Windows Live/Microsoft Account on your phone.

Ok, thank you. I asked because it said "Navigon for Windows 7 & 8" and it wasn't clear for me if there are two different apps or only one.

Why do you say that? It looks just like Minecraft to me.

They can keep the Navigon EU if they think its appropriate to make it double the price of the US version.


Why don't satnav makers just release value-add apps on top of Nokia Location Platform, for proper turn-by-turn directions, traffic, weather, POI, etc? Then I just download the maps once.

Great pricing on Navigon EU. Feck you.

I prefer Copilot Live. I tried it for about a week or so. It has live traffic updates every 5 minutes with rerouting option. Loved it. Eons better than Here , for which I could never find alternate routes and live traffic updates. Number 2 in my list is Scout from TMobile, yeah, they make a great nav app
Windows Central Newsletter
Get the best of Windows Central in in your inbox, every day!
Thank you for signing up to Windows Central. You will receive a verification email shortly.
There was a problem. Please refresh the page and try again.