Burnout Paradise for the Xbox 360 will be backwards compatible with the Xbox One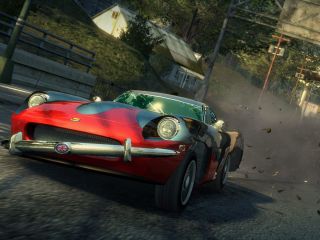 Xbox One owners who are waiting patiently for the console's promised backwards compatibility feature with a number of older Xbox 360 games will be happy to learn that one of them will be Burnout Paradise, the popular open-world racing game from developer Criterion Games and publisher Electronic Arts.
Criterion confirmed that the game would work on the Xbox One in response to a Twitter question on that subject:
The Xbox 360 version of Burnout Paradise was first released in early 2008 and was praised for its combination of fast-paced racing with lots of crashes in a big open world. It's also the final game, so far, in the main Burnout series.
Microsoft has previously said that it plans to support over 100 Xbox 360 games when the Xbox One's backwards compatibility feature as part of the New Xbox One Experience in November.
Source: Criterion Games (Twitter)
Windows Central Newsletter
Get the best of Windows Central in your inbox, every day!
What about Burnout Revenge? That was a fun game.

Burnout 3: Takedown was by far the best title of the series

Love that. I loved that game. Never completed it either. Here's my chance.

Yessss!!! This game is sick! I will totally rebuy this game!

"Anything wrong with the title?" said a Microsoft fan with a pole up his ass. It should be just "compatible", not "backward compatible".

Or is it, a game re engineered for backwards compatibility on Xbox one

Shouldn't it be "(Forward) Compatible"?

I thought that too, but forward compatibility is for systems designed to work with future versions of other systems or products. It should be: Burnout Paradise for the Xbox 360 will be made compatible with the Xbox One

I was thinking this too.. the title of this article really urked me for some reason :) Posted via the Windows Central App for Android

This is awesome. Digging the XB1. November it's going to be awesome.

Cool, fun game, nothing like smashing a car or truck to see how much damage is possable....there really is something awesome about that... Would love to see if Revenge could be added as well...

Awesome! One of my favorite driving games!

Nice! Just hope the dlc works too as none of it can be bought in the PC version anymore!

Lol as long as "content not available" pops up it ill be a problem

This is just one of those games that just fucking works man it's just fun most games nowadays are pretty and all but some where makers forgot to make them just plain fun

I was annoyed when this game was first released because it was so completely different from Burnout 3 and Burnout Revenge which were awesome party games. Once I accepted the fact that Burnout Paradise wasn't SUPPOSED to be just a refresh of the previous titles, I really started enjoying it. In fact, it's one of the few games that I will continue to play even though I've already "finished" the game.

Awesome! I hope GTA IV is next

I hope the Bioshock series is next.

Bought paradise on release, played about 3 hours, realized it was a radical departure from the previous titles and never played it again. The open world was poorly implemented. Having to drive all the way back to the beginning of a race just to try it again was ridiculous. Especially considering in the previous titles it would take me 20 or 30 tries of various lengths to nail every shortcut and turn to max out rewards for a track.

Just choose replay last event from the quick menu. You can on the pc version anyway.

You couldn't do that when the game released.

How can it be backward compatible when xbox 360 was released before xbox one?

Because Xbox one is bring Xbox 360 emulator and this feature of Xbox one is called as Backwards compatibility, hence the game released for Xbox 360 will come in backwards compatibility and will be called as backwards compatible with Xbox one .

Are there any plans to release a new Burnout game in the future?