9 months later, Surface Duo is cheaper than ever — and you still shouldn't buy one
Using the Surface Duo as a first-time customer now reveals some new insights and expected mainstays.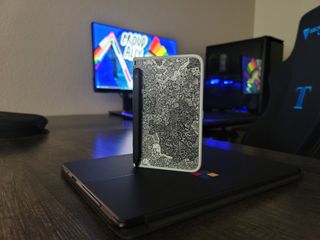 (Image credit: Zachary Boddy | Windows Central)
The Surface Duo represents a ton of firsts for Microsoft. It's both the first dual-screen device and first Android phone to be released by Microsoft, and concludes a long hiatus following the cancelation of the unfortunately maligned Windows phones. At launch, the Surface Duo was an intriguing concept held back by unfinished software, strange hardware omissions, and a staggeringly high price tag. After nine months on the market, has buying the Surface Duo as a first-time customer become more palatable?
I've spent just over a month with a newly purchased Surface Duo, and have used Microsoft's experimental dual-screen device as my primary phone for just over a week. As a longtime phone and Surface enthusiast (read: nerd), I wanted to see whether the Surface Duo could feasibly become my only phone, as seen through the eyes of someone who hasn't owned the Duo since it launched nine months ago.
Where does the Surface Duo stand after nine months on the market, and should new customers still consider it?
Dual-screen, first-gen
Only for the enthusiasts

Microsoft's first-generation Surface Duo is a fascinating device for many reasons, and recent software upgrades and price cuts have made it a more appealing purchase. Still, the Surface Duo is probably just for the phone and Surface enthusiasts, at least until the Surface Duo 2 is released.
The Surface Duo nine months after launch
Before I dive head-first into my personal experience with the Surface Duo, a quick recap on its life so far. If you're not intimately familiar with the experience Surface Duo promises, this is a not-so-traditional Android cellular device that combines two 5.6-inch AMOLED displays with a cleverly engineered 360-degree hinge and an impossibly thin design. Overall, Microsoft positions the Surface Duo and its unique blend of features and hardware as the "ultimate productivity device," rather than your average mobile smartphone.
The Surface Duo initially became available on Sept. 10, 2020, and has since expanded to new markets and been subjected to multiple price drops and discounts. It has, for the most part, held up Microsoft's promise of monthly software updates, culminating most recently with the May 2021 Surface Duo update. The Duo has also benefited from slowly increasing accessory support, like with our list of best Surface Duo accessories.
Nine months after its launch, the Surface Duo is undeniably in a far better position than it was at first, with improved availability, a superior price point, and (apparently) noticeably better software and stability. Still, many of the characteristics of the Duo that held it back nine months ago hold true today — and they're not so easy to fix.
Dual screens, the hinge, and good things
I can't profess to have had a perfect first experience with the Surface Duo since my first device was defective and unusable out of the box. Despite a bent hinge and damaged battery, however, I was still immediately struck by the alluring elegance of the Duo's overall hardware package, with the physics-distorting thin frames, satisfying hinge action, and confusing mix between "this is big" and "this is smaller than I expected." Fortunately, Microsoft was quick to help me get set up with a brand-new Duo, which has none of the critical hardware failures I saw in my first device.
Hardware
After weeks of using the Duo as much as I can, some things haven't changed. The Duo is still comfortable and immensely satisfying to open and close, from the incredible hinge to the gentle "clack" when you snap it shut. Despite its unorthodox shape and size, and its slightly hefty weight, the Duo is also surprisingly easy to handle and even hold in one hand (although you'll practically need to use your other hand actually to use it).
While perhaps not as fancy as the top panels from Samsung and flagship devices from other companies, the screens are more than good enough for how I was using the Duo. I found that colors are plenty vivid and contrast is great, and I never thought the Duo's screens weren't "sharp" enough with their suitably high resolution. I do lament the lack of a high refresh rate or eye-scorching max brightness coming from my Samsung Galaxy Note 20 Ultra, but the Duo kept up enough that I didn't mind.
Another pleasant surprise was how the Duo's "outdated" spec sheet (don't worry, I'm not here to throw a bunch of numbers at you), featuring an aging two-year-old processor and a middling amount of RAM for multitasking compared to modern smartphones, managed to more than keep up with everything I threw at the Duo, including regularly running two apps at a time and quickly switching between different apps. Even without being a modern powerhouse flagship under the hood, the Duo still holds on to its title as "multitasking king."
Battery life joined performance by soundly destroying my expectations. The Surface Duo can't be considered an endurance champion by any stretch of the imagination, but a relatively smaller battery combined with two high-resolution screens meant I fully expected the Duo to struggle to last a full day. To my genuine surprise, I never worried about running out of juice, even with hours-long solitaire sessions, social media usage, and gaming. For me, at least, the Duo is a solid one-day phone that didn't have me constantly reaching for a charger.
Software
Source: Windows Central | Zachary Boddy
Surface Duo currently runs Android 10 with a very gentle coating of Microsoft layered on top and Microsoft Launcher as the default home screen. Launch-era Duo was plagued with a myriad of flaws, issues, and software-related bugs that detracted from the experience, and stability and consistency were real issues for early adapters. Since then, Microsoft has been fairly regularly about releasing patches and firmware updates, which have seemingly improved things considerably.
As someone who didn't witness the Duo first-hand when it launched, I can't comment on exactly how far things have come. I can say the Duo has been mostly great on the software front, with good performance and only a handful of noticeable bugs (only a few more than my Note 20 Ultra, at least). The only issue I have is that occasionally you can't be fully certain that the phone will behave the way you think it will when you switch between screens, change postures, rotate, or move apps around.
Microsoft still has to iron out some issues with dual-screens and Android, which supposedly will improve with the arrival of Android 11 (hopefully arriving later this year).
The combination of Microsoft apps and Microsoft Launcher have made using the Duo a pleasure 99% of the time. As the Duo is now, it's perfectly usable as my daily driver with little-to-no qualms, even if the Duo rarely solidifies itself as a unique dual-screen device and sticks to, at least for now, barely modified Android.
Gaming
If anything truly came out of the left field, it's Xbox Cloud Gaming on the Duo. If you aren't aware of what Xbox Cloud Gaming is, it's Microsoft's game streaming platform that lets you play full-blown Xbox console games on your mobile device, tablet, or PC. Recently, Microsoft added official Xbox Cloud Gaming support for the Surface Duo, and the experience is genuinely impressive.
Players can take one of the best Xbox controllers and prop up the Surface Duo like a tent or laptop for mobile Xbox gaming, or they can transform the Surface Duo into a ridiculously close rendition of the Nintendo 3DS with customizable and individually tailored touch controls positioned on the bottom display. I won't go too far into depth on this, as I've already discussed at length why Surface Duo and Xbox Cloud Gaming come close to the Xbox handheld dream.
What I will say, however, is this is the one use case for the Surface Duo, besides simply having two apps open at a time on the dual screens, that made me recognize the absolutely massive potential this form factor possesses. Even with hardware and software that both often feel "just good enough," Xbox Cloud Gaming and Surface Duo is a combination that could happen only because Microsoft built both of these products and brought them together in a unique way.
Software, unfulfilled potential, and bad things
Many Surface Duo skeptics may expect the "bad things" section of this article to dwarf the rest of the article by a comical amount, but collecting my thoughts on the Surface Duo has made me realize that this simply isn't the case. During my time with my Duo, which I purchased myself, I've almost always enjoyed using the phone, often in ways that I don't when using traditional one-screen smartphones. The Duo has a lot of flaws and issues, but it didn't stop me from loving the experience it gives me.
That being said, after this article is published, I will most likely be returning to my Galaxy Note 20 Ultra. Despite the Duo's actual strengths and the potential in its design and form factor, it's often underutilized in this first iteration.
Hardware omissions like the lack of 5G, no NFC, and (most critically for me) no Qi wireless charging are all features I enjoy and use on my Note 20 Ultra. The camera on the front of the Duo is usable (most of the time), but its quality is subpar at best and awful at its worst. Everything that makes the Duo's hardware and design exceptional also contributes to its fragility and durability concerns, like plastic frames that can lead to bending and cracked charging ports.
Software is arguably an even more important contributor to my decision to relegate the Duo to a secondary device. There's a surprising lack of Duo-only features in Microsoft's overlay, which often makes the Duo feel less like a complete package and more like a regular smartphone that happens to have a second screen. Software consistency still leaves some to be desired, with gestures, screens, and apps all interacting in different ways (and not always in the way you expect them to).
These hardware complaints are things that can be resolved only with future sequels to the Surface Duo. The software weaknesses, on the other hand, could potentially be fixed as the Duo continues to receive platform and security updates. I always believe it's best to buy a product for what it offers right now, instead of what it could be in the future, and the Duo still feels unfinished nine months after launch.
Is the Surface Duo worth it?
I've used the Surface Duo for over a month now and carefully evaluated its worth as a productivity device and mobile smartphone. So, is it worth it?
I'm going to be upfront about my thoughts on the Surface Duo. I adore this phone, and I really have been loving my time with it. It's clear that software updates have improved Microsoft's first foray into dual-screen phones, judging from initial reviews, and the hardware is still very impressive nine months on (even with a spec sheet that was arguably outdated at launch). Even better, the Surface Duo is considerably more affordable than it was at launch, with its wallet-crushing $1,400 price tag being reduced to less than half by repeated sales and discounts.
Right now, you can pick up the Surface Duo from Microsoft for less than $750, or $800 for the 256GB version. If you don't mind a different source, the Surface Duo has been seen for as low as $550. These are far more attractive prices and can be tempting even to people who weren't necessarily looking at the Duo for their next phone.
And, yet, I still can't recommend the Surface Duo wholeheartedly. Despite its improvements and more palatable price tag, it's likely not worth it for most people. Much of what was said in our initial Surface Duo review still rings true, more or less — the Duo's hardware failings aren't going to be resolved at this point, and even the software isn't guaranteed to be improved in the future.
If you're truly interested in the Surface Duo and are a tech or phone enthusiast, like I am, you may find the Duo's recent price cuts to be too attractive to pass up. If that's you, then you'll probably really enjoy what the Duo has to offer. If you're looking for your next phone and are willing to wait, however, I recommend holding off to see what the Surface Duo 2 has to offer. We're expecting massively updated hardware with Duo's successor, and Android 11 is expected to bring much-needed enhancements to the software experience. Surface Duo 2 may break ground this September or October, so we also don't have long to wait.
Microsoft's long-awaited return to smartphones, the Surface Duo, packs unending potential that just isn't met in its first generation, even after nine months of updates.
Dual-screen, first-gen
Only for the enthusiasts

Microsoft's first-generation Surface Duo is a fascinating device for many reasons, and recent software upgrades and price cuts have made it a more appealing purchase. Still, the Surface Duo is probably just for the phone and Surface enthusiasts, at least until the Surface Duo 2 is released.
Get the Windows Central Newsletter
All the latest news, reviews, and guides for Windows and Xbox diehards.
Zachary Boddy (They / Them) is a Staff Writer for Windows Central, primarily focused on covering the latest news in tech and gaming, the best Xbox and PC games, and the most interesting Windows and Xbox hardware. They have been gaming and writing for most of their life starting with the original Xbox, and started out as a freelancer for Windows Central and its sister sites in 2019. Now a full-fledged Staff Writer, Zachary has expanded from only writing about all things Minecraft to covering practically everything on which Windows Central is an expert, especially when it comes to Microsoft. You can find Zachary on Twitter @BoddyZachary.