Call of Duty: Advanced Warfare now available for pre-download on Xbox One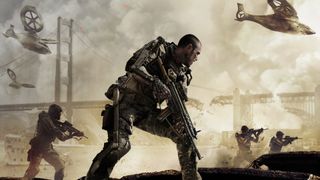 Don't want to wait for Call of Duty: Advanced Warfare to download when it launches on November 3? If you've pre-ordered the game for Xbox One, you can now go ahead and download the game, which will be ready to play on launch day.
Activision is offering two editions of the game. With the $60 Day Zero edition, you get two exclusive weapons and one-day early access and double XP on launch day. Then there is the Digital Pro Edition, which will set you back $100 and comes with the game, season pass subscription, Atlas Gorge bonus multiplayer map, Atlas Digital Content Pack and all the content available in the standard version of the game.
If you're looking to buy the game for the Xbox 360, you will receive a free upgrade to the Xbox One version.
The digital download comes in at just over 46 GB, so you better get to it.
Will you be pre-downloading Call of Duty: Advanced Warfare?
Source: Call of Duty
Windows Central Newsletter
Get the best of Windows Central in in your inbox, every day!
Harish Jonnalagadda is a Senior Editor overseeing Asia for Android Central, Windows Central's sister site. When not reviewing phones, he's testing PC hardware, including video cards, motherboards, gaming accessories, and keyboards.
So if I have already pre-ordered with Gamestop it would be best to cancel in order to get the digital download? On another note though, can't someone come up with an idea to if you digital buy a game and you decide you want to trade it in or sell it back, they can like remove the game from the console or download the new game or something? Too complicated I know... Its 3am. I'm watching Family Guy.

They tried that people complained !

That's because their first attempt was stupid and arrogant. It also tried to cover physical media, which was also stupid as well as having an established way of trading and selling. Both Apple and Steam have blazed the trail and shown how digital media can be shared within a family and outright gifted.

Dude try to tell that to someone who doesn't have 3-360's and 1-xb1. One the 360 when the disc cracked in the center caused by storing the game in its case, I had to purchase a new our used one at$19.99-$24.99 or new one at$59.99+taxes because gamestop would not give me another one even though I purchased warranty. If I could digitally downloaded it, I wouldn't have that problem

"If I could digitally downloaded it, I wouldn't have that problem." Then why don't you? What's stopping you digital wanting people from buying them from the store?

Don't misunderstand me, I'm all for digital download, its all I have done with the One in hopes they will eventually make it on par with physical. I'm just saying their initial overly intrusive DRM scheme was because it covered installs from physical media. If you could share your digitally downloaded game the same as physical, you wouldn't have to get the physical one, and all the problems that come with it, you would just own digital.

Digital trade is coming in the future

But don't cancel just get disc!

If you've got a slow internet connection, don't cancel the disc copy. Get it home, install it, take the disc out, and then download the digital copy, it'll see you've already got the game so it'll just download a few mb and voila, you have the digital game and can then sell the disc copy on ebay or something. I did this with watch dogs, titanfall and destiny, worked a treat. Otherwise id have to wait a whole day to download 30/40gigs. 1.5mp/s internet speed :( first world problem solved though.

WOW! and I thought my 3Mb/s was slow.

AW or wait for Bf hardline?

Hard line doesn't come out for a long time just get this

I just want to mainline....think medical and narcotics, ok bad joke

Hardline sucked, I played the beta. The MP at least...

xbox one now available at Amazon India for 29,990 without kinect. with kinect 34990₹

Its the same game with new paint job.,

You would be right if this was Black Ops 2 This is an entire new engine because of all the new maneuvers you can do now. Its like Destiny, but soldiers.

Lets just copy Titanfall and call it a new call of duty. How weak!

I'll be honest I haven't watched any footage of advanced warfare, but I haven't heard anything about there being giant mechs you can seamlessly jump in and out of within this game.

I would never purchase a Call of Duty game for myself, but this is nowhere near a Titanfall ripoff. There's no way development on this game started after Titanfall's initial announcement, so there's no way this is a copy. Learn how the industry works before making your bogus claims.

Downloaded it yesterday evening. 46 GB in 3 hours. Love my speed.

That's pretty fast lol I remember bf4 talking half a day for me

Is the digital pro $100 on Xbox 360? I want that so I can upgrade to X1 for free?

If you buy the 360 version and get the Xbox One for free can you play both or will the Xbox One version disable the 360 version?

All I can tell you is my son owned Minecraft on 360. He downloaded it for a couple of pound on his profile on my xbox one and now we can both play it on my xbox one on our separate profiles so I more or less got it for free. So yes I think it does work that way. Not 100% sure though would like to know if anybody tried with destiny they had the same deal buy 360 version and get one upgrade

With destiny I just put my account on my sons 360 and bought the game. Downloaded it. Deleted my account then went and downloaded it on my xb1. Now he can play the game on his own profile and I can play it on mine.

I am not buying any digital game titles at retail prices thats ludicrous. There are no middle men or overhead like a brick and mortar so why do we have to pay retail? We should easily be paying $25 less

I see what you're saying, but I think it's a business decision. If you sell it for less digitally, then you would probably anger your brick and mortar store partners and lose their business.

Exactly. Both prices are insane and should be adjusted if you ask me. The fact that you pay an initial $60 for a game that's essentially unfinished is bullshit. On top of that, you'll be paying $100+ in the end after DLC which is beyond me. Prices for console games have sucked since last generation and will probably continue to suck, which is sad.

If people keep buying them like that, companies will keep making it this way. Personally, I refuse to buy games this way. I'll either 1) wait for the "Game of the Year edition" or in Gears of Wars case, wait a month to buy it when I can probably get it at 20-30 dollars off and buy the season pass. But, they're crazy if they think they're gonna nickel and dime ma ass.

You're talking about the end of Gamestop. Not exactly a bang bang play.

Can we Douglas this on the 360? If not, I'd we download it on the one, can we get the free 360 download like they're offering on the 360 download for the one?

Holy crap, 100 bucks for the limited edition is a frigging rip off, that's how much they cost here. Then again the season pass for ghosts over her is 65 bucks, so it's not surprising that they're trying to squeeze that much out of US customers. Personally, I think I'll pass until it's in a bargain bin.

So, can I pre-buy it on my 360 yet so I can get the Xbox one version for free ? I wish I could just get the Xbox one version and get the 360 version but, if I get them both I guess I dont really care...

Some games I do disc and some digital. Idk about this one. Hmm...

For anyone complaining about download size, I feel ya. I install all my games on an external HD and for some reason all games load a little faster. I think the console itself is a little quicker multitasking. And I'm getting the 360 version just for the kids and I'll have the one for me. Like $30 each.
Windows Central Newsletter
Thank you for signing up to Windows Central. You will receive a verification email shortly.
There was a problem. Please refresh the page and try again.