Call of Duty Modern Warfare Remastered needs Infinite Warfare disc to play with physical copies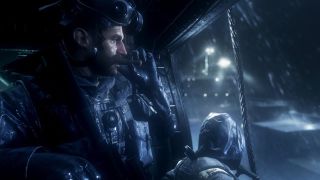 If you purchase the physical version of the Call of Duty Infinite Warfare Legacy Editions on the Xbox One and PlayStation 4, you will need the disc to be inserted in the consoles to play the extra Call of Duty Modern Warfare Remastered game.
Published Activision confirmed the rumors about this situation in an updated FAQ post on the game:
The PlayStation 4 version is slightly different in that Modern Warfare Remastered is a pure digital game, which will be downloaded via a voucher code or insert in the Infinite Warfare box. However, the Infinite Warfare disc must still be in the console to play Modern Warfare Remastered. The PC versions of Modern Warfare Remastered and Infinite Warfare are both digital downloads on Steam so no disc is required.
Call of Duty Modern Warfare Remastered, a graphical reboot of Call of Duty 4: Modern Warfare, will not be sold on its own, according to Activision. It is only available with the $79.99 (opens in new tab) Call of Duty Infinite Warfare Legacy Edition.
See at Amazon (opens in new tab)
Windows Central Newsletter
Get the best of Windows Central in in your inbox, every day!
I've heard so many people talking about buying the legacy edition then selling infinite to keep modern. Guess that's a wrap on that idea.

I was thinkin that myself. I mean I haven't liked any of the new gen cods

This won't last. It'll be selling individually within a month of release. Posted via the Windows Central App for Android

Not likely.. I'd say at minimum 9 months so their money baby will grow nice and fat.

I've been trying to decide between the $80 and $100 packages. I'm not into the multiplayer though.... is there any reason for me to go with the $100? Zombies content maybe? I haven't tried any of the zombies games yet, but if I could play single player I might be interested. Just seems a waste not to pay the extra $20 for the season pass... but I don't know if I'd use any of it. I for one am very much looking forward to IW, as will as MWR.

Im hoping season pass is for both, I fear the new one will be the dlc system with old school weapons etc.

Incorrect. Modern Warfare Remastered is also part of the digital deluxe edition, which obviously does not require a disc in the drive to work.

They're clearly talking about the physical versions here. Pipe down.

Take a hike Activi$ion. Posted via my Nexus 5X

Like I said, which CoD game do they really want to sell? Infinite Warfare, or Modern Warfare?


Between this and the unwillingness to sell MW: Remastered by itself, it's clear they know that people care a LOT more about MW than Infinite Warfare. They're using that leverage to artificially pump up the sales for IW, in a desperate attempt to make it look like people are interested in their new game.

No disc needed for digital copy though

Wow.. that's a real surprise.

Yeah, they know Infinite Warfare's value would tank because so many people would trade it in and just keep Modern Warfare, meaning the used market would be flooded.. Don't think I'll be able to ever buy this game, simply because of that kind of dirty dealing.

Wowwww. You can see they know exactly what they're doing. If they're locking it down THIS tight then there is no doubt this was a scam plan. *******...
Windows Central Newsletter
Thank you for signing up to Windows Central. You will receive a verification email shortly.
There was a problem. Please refresh the page and try again.