Can you wear glasses inside an Oculus Rift S?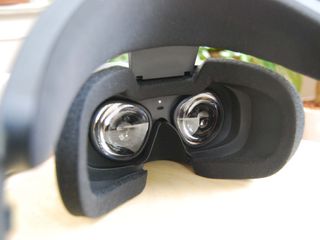 (Image credit: Windows Central)
Can you wear glasses inside an Oculus Rift S?
Best answer: That depends on the size of your frames. Glasses with a width of 142mm or less and a height of 50mm or less should fit. However, the Rift S lacks protective lens coating or a physical glasses spacer, and some glasses-wearing users report that scratches can appear quickly unless you take precautions.Standalone, glasses-safe VR: Oculus Go ($199 at Amazon)Easy-to-install prescription inserts: WIDMOvr Prescription Lens Adapters ($65 on WIDMOvr)
One size fits or doesn't fit all
Whether you have a Rift, Rift S, Quest, or Go, you'll need the same size frames to fit inside an Oculus headset: 142mm (5.6 inches) wide, 50mm (2 inches) high. The measurements on the inside of your glasses only describe your lens width, bridge width, and depth—all useless in this case—so you'll need to either measure with a ruler or check the manufacturer's website to be sure that your frames will slot inside.
Even if your frames physically fit inside the device, that doesn't necessarily mean youshould wear them. The Rift S's design lacks a built-in spacer to prevent your glasses from scraping against the Oculus lenses, which can quickly lead to immersion-killing scratches and discoloration. Considering the Quest and Go both ship with an insertable glasses spacer, it's odd that Rift S users weren't afforded the same in-box option.
As an alternative, you should use the depth adjustment button on the bottom of the Rift S. It allows you to move the Rift lenses deeper into the headset, making room for your glasses. Then, slide the headset over your glasses while still wearing them, taking care not to let the lenses touch, and then tighten the head strap.
Ditch the glasses, keep the prescription
If your glasses don't comfortably or safely fit, some lens makers offer specialized prescription lens inserts, which you can place directly on top of the Rift S lenses. With these inserts attached directly onto the device, you'll have an in-focus virtual FOV without the uncomfortable pressure of frames constantly jammed against your nose and forehead. Plus, any scratches will impact the replaceable inserts, not the Rift S itself.
Of the main companies we found that sell these inserts—Frames Direct, WIDMOvr and VR Optician—all fall in the $70 to $120 range, depending on the strength of your prescription or if you want blue light protection. That's admittedly a high cost for inserts that are tailor-made to fit onto one type of headset: you probably won't be able to transfer them to a new headset.
While each of these companies has a positive reputation with Oculus users, we recommend WIDMOvr for two reasons: the lens covers that protect against light damage, and the snap-on, snap-off design that lets you easily remove them if someone else wants to try out the headset.
To order these lenses, you will need to have your exact prescription information handy.
Check your prescription for the SPH, CYL and AXS values for your right and left eye.
Go to the order page and check if the available options include your numbers. Particularly strong prescriptions, including ones for a prism correction, you may need to contact the manufacturer directly to ask for a custom order.
Test your interpupillary distance. This guide lists the step-by-step for how to measure your IPD if your prescription doesn't list it. Then insert this information into the order page.
Purchase your prescription lenses.
How to install a lens insert
After your specialty lens adapters arrive, you'll need to install them directly into your Rift S headset. Thankfully, the whole process should take no more than a couple of minutes.
Remove the black, plastic retaining rings from both sides of the headset.
Check your lens adapters for an indicator if it is for the left or right lens.
Slide the new left eye insert on in place of the old retaining ring. You should hear a clicking sound once it's attached fully.
Now slide on the right eye insert. Do your best not to smudge the insert with your fingers while placing it.
Use your lens slider and depth adjustment button to check that your prescription seems clear in the right settings.
If you ever need to switch back to the original retaining rings, reverse the above steps.
The Rift S will take in most glasses, for better or worse
If you've fit your glasses into any Oculus headset before, then the Rift S will also accommodate them. Unfortunately, the standard facial interface and foam cover does nothing to separate your frames from the lenses. Your only free option is to increase the maximum lens depth and try to keep the frames a safe distance apart. Beyond that, you'll need to order custom lens inserts, or else build your own glasses spacer to keep the lenses apart. Dedicated VR fans have been known to share specs for 3D-printable spacers on VR forums, or you can simply tape a soft material like foam directly onto your frames.
If you're a glasses-wearer who prefers official options to DIY hacks, then consider the Oculus Go or Oculus Quest. Both headsets ship with an insertable glasses spacer that, once installed, will physically bar your frames from getting close enough to scratch the lenses. Oculus also named Frames Direct's VirtuClear prescription inserts as an official third-party accessory on its Go store page, if you want to forego glasses altogether. You can install them in any other Oculus headset, but it's only "recommended" for Oculus Go, not Quest or Rift S.
Standalone, glasses-safe VR
Back off, glasses!

An excellent entry-level headset that doesn't require a PC or wires to power its VR experiences. It also offers the best Oculus-endorsed solutions to protecting your screen, from an in-the-box spacer to third-party prescription lens inserts.
Easy-to-install prescription inserts
WIDMOvr Prescription Lens Inserts
Say goodbye to scratches

These inserts are tailor-made to match your prescription and slot onto whichever headset you currently own. With no frames digging into your nose or blocking the edge of your vision, you'll get a clear, wide FOV and avoid damaging your headset.
Get the Windows Central Newsletter
All the latest news, reviews, and guides for Windows and Xbox diehards.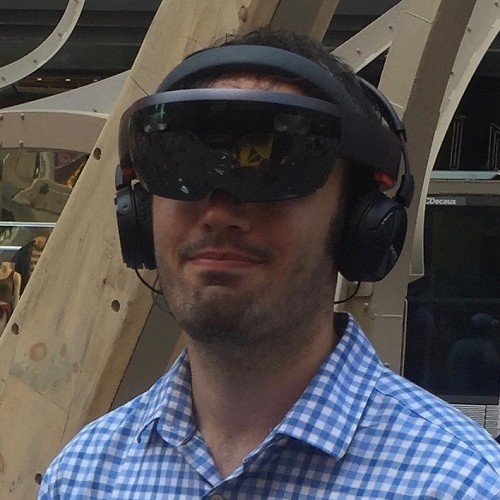 Senior Editor, Android Central
Michael is the Senior Editor of VR and fitness tech at sister-site Android Central, but happily lends his help to the Windows Central team for games coverage.