Report: Record-breaking 341 million PCs shipped in 2021, highest since 2012, with 'digital acceleration' for 2022
Despite severe supply-chain constraints, worldwide shipments of PCs grew 1% year on year to 92 million units last quarter versus 91 million a year ago.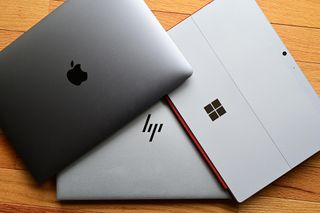 (Image credit: Daniel Rubino / Windows Central)
What you need to know
Canalys released a very bullish report on the PC market today.
PC vendors shipped an estimated 341 million PCs in 2021, the highest since 2012.
Ownership of two or more PCs per person has become more common in developed markets.
PCs are now in the hands of both young students and older family members.
Canalys released a fascinating and promising report today on the status of the PC market (Update: Research firm Gartner has also weighed in). While many had anticipated a severe weakening or even drop off PC shipments with the pandemic winding down slightly, the exact opposite has happened.
Based on vendor and supply checks, the research company estimates that a whopping 92 million new PCs shipped last quarter of 2021 (desktops, notebooks, and workstations; not tablets), up from 91 million for late 2020.
That quarterly boost helped propel total shipments for all of 2021 to 340 million PCs, which is "15% higher than last year, 27% higher than 2019, and the largest shipment total since 2012."
It wasn't just volume, either, as revenue is estimated to be about $70 billion for Q4, which is up 11% year-over-year (YoY).
More people owning more than one PC is now common
There were numerous takeaways from the report that Canalys concluded that are very interesting. For one, the research company says that new PCs are "now in the hands of both young students and older family members," suggesting that this growth wasn't just for enterprise but rather a broad spectrum cultural shift in PC technology adoption.
And while many tech reviewers and "pros" may own more than one PC, most people do not. However, even that is changing as Canalys claims that people owning "two or more PCs" has become "common in developed markets." The continued strong PC gamer market and increase in laptop sales suggest people want both desktop performance and mobility in their lives.
Canalys hammers this point home with some firmer numbers:
Ishan Dutt, a Senior Analyst at Canalys, goes on to describe the shift:
Of course, PC makers are likely pleased with this added computer usage. Assuming remote work continues to accelerate, all those PCs will eventually need replacing in 3 to 5 years, which bodes well for continued market stability. While PC growth will ultimately be limited (or even waning), it's clear that PCs are now central to many people's lives.
The top three: Lenovo, HP, and Dell
Breaking these numbers down by vendor, it is no surprise that Lenovo remains in the top spot. For Q4, it shipped 21.7 million units, a YoY decline of 6.5%. But it still hit a record 82.1 million units for all of 2021, a 13.1% increase over 2020.
HP came in second with Q4 shipments of 18.7 million units and 71.4 million units for all of 2021, up 9.5% over the previous year.
Dell was just behind HP for third with 17.2 million units, with an impressive 8.9% Q4 growth, pushing it to 59.3 million units shipped for all of 2021. It saw a very impressive 18% growth YoY, which garnered an extra 1% of market share, likely taken from Lenovo and HP. (We can only imagine what the new XPS 13 Plus will do for it.)
Apple is a distant fourth, but due to the popularity of its M1 processor (and lock-in for upgrades), it had an impressive 28% annual growth with 7.8 million units shipped in Q4 and 29.0 million units in full-year 2021.
Rounding out the top five for Q4 and the year is Acer, with shipments of 6.6 million in Q4 and 24.4 million units in 2021. It also saw an impressive 22% increase in annual growth.
Combined, Lenovo, HP, Dell, and Acer account for 70% of the PC market, with another 21.6% left to "others" like Razer, ASUS, Microsoft, MSI, etc. for 91.5%.
Apple improved its market share from 7.9% in 2020 to a modest 8.5% in 2021, according to Canalys.
Looking forward: 2022 is about digital acceleration
Finishing off the report, Canalys Principal Analyst Rushabh Doshi repeats what could be Microsoft CEO's Satya Nadella's talking points from Build keynotes:
Microsoft has been pushing security for years now, solidified in its Pluton Chip, which is starting to ship in new PCs this year as well as building out Microsoft Defender across devices.
Likewise, mobility has been a cornerstone of Windows for years now, starting with Windows on ARM in late 2016, but also the rapid adoption of 4G LTE and 5G PCs (Lenovo had the first mmWave 5G laptop commercially available back in 2020). Indeed, just the week Microsoft began to sell the Surface Pro 8 and Surface Go 3 both with 4G LTE.
And with Intel 12th Gen and AMD Ryzen 6000 Mobile processors shipping in the coming months, new form factors like PCs with foldable displays will continue to push mobile computing even further.
In other words, it sounds like a good time to be into computers.
Windows Central Newsletter
Get the best of Windows Central in in your inbox, every day!
Daniel Rubino is the Editor-in-chief of Windows Central, head reviewer, podcast co-host, and analyst. He has been covering Microsoft since 2007 when this site was called WMExperts (and later Windows Phone Central). His interests include Windows, laptops, next-gen computing, and for some reason, watches. Before all this tech stuff, he worked on a Ph.D. in linguistics, watched people sleep (for medical purposes!), and ran the projectors at movie theaters because it was fun.
I thought we were in the 'post-PC' era. :-)

@Kaymd We were before the global pandemic changed how people work and play. The fact that Android now has 39% to Windows 31% and iOS has 17% against OS X with 6% tells you people are moving away from the pc realm. This data is a blip...assuming of course we ever beat Covid and its mutations and return to life as before.

Wrong, you are mixing with mobile phone/tablets OS. This is about desktop, laptops. "
Microsoft's Windows is the most widely used computer operating system in the world, accounting for 69.61 percent share of the desktop, tablet, and console OS market in December 2021. Apple's macOS and iOS rank as the next most widely used operating systems, with the latter being the standard installation on all iPad devices. Linux OS versions serve as the primary option for users who prefer open-source software and intend to avoid the influence of major OS developers.
"
https://www.statista.com/statistics/993868/worldwide-windows-operating-s...

@Xanc6 "Wrong, you are mixing with mobile phone/tablets OS. This is about desktop, laptops" I was making the point that mobile devices far outweigh desktop devices. I'm sorry you were unable to comprehend that. "Microsoft's Windows is the most widely used computer operating system in the world" Yes, on desktop it is. I would point out though that StatCounter has Windows desktop down at 60% in the U.S with OS X at 30%.
Globally, StatCounter has Windows down at 75% on desktop and that's mostly thanks to third world countries who don't have the resources to look elsewhere. The facts are that Windows is losing market share globally over all platforms as the world is moving to mobile.
The pandemic has eased that abandonment from Windows but it is temporary assuming, as I stated, we can overcome the Covid mutations.

"The facts are that Windows is losing market share globally over all platforms as the world is moving to mobile." "The fact that Android now has 39% to Windows 31% and iOS has 17% against OS X with 6% tells you people are moving away from the pc realm."

What a weird, non-sequitur analysis. Windows isn't "losing market share to Android," it's just people now own more

types

of devices. The market has diversified. It's strange, however, to compare phone to computer OSs and equate them. What about Watch OS? Are we including that now too? OSs in cars like Tesla? What about TVs? Gaming consoles? What exactly is the point of this analysis in light of the data here e.g. people are now more likely to own TWO (or more) PCs, which is something not found before? Your entire premise is nonsensical because you don't actually articulate an argument (or provide evidence) that people are

giving up

on PCs and are using phones

instead

for work (or play). If you could make that case (which you can't), it'd be an interesting take. But you don't, so this is just conjecture. Canalys claims we've had three straight years of growth in PCs and, more importantly, the market has shifted to remote work/mobile, which is why PCs are important again especially for the creator and gig economies. Do you have an answer for that that says phones are the real driver and not laptops? If so, how do you explain the numbers in this article? And, by way of comparison, smartphone shipments have either been flat or in slight decline the last few years (e.g. Android was down 9% Q3 2021), revealing a different trajectory than PC

despite

both having severe supply-chain constraints to contend with.

"The pandemic has eased that abandonment from Windows but it is temporary assuming, as I stated, we can overcome the Covid mutations."

Gartner says otherwise, and, again you provide no evidence for your claim e.g. that remote work is somehow going to just end, or that the way we work hasn't fundamentally changed. I'm unaware of anyone serious claiming that:

"During the pandemic, shipment growth has been supported by an average selling price (ASP) hike, resulting in higher revenues and a healthier market overall. As a result, annual PC shipment volumes are not expected to decline to pre-pandemic levels for at least 2-3 years."

But sure, fundamentally, the PC market is mature, so any growth is an anomaly. That doesn't undermine the point that the market has changed in favor of PC, overall.

You know, with 333 million people the US constitutes 4.3% of world population. So your US windows market share and associated trends is / are not representative for global market share / trends, you should have used at least a volume weighthed average (taking into account PC/laptop penetration in local markets assuming higher presence of PC equipment in 1st world versus 3rd world countries) Anyhow you are trying to make a point that is not correct.

Xanc6: the market bought 341 million PCs/Macs. I would say that a lot of people around the world bought PCs.

Nobody should be surprised. While you can my accessible on the go with a smartphone, it is hard to deal with work solely using a phone. Some professionals do not need complex business processes. But if you work for a company of 20 plus people, there will be business processes. If you work with customers, then you need a laptop/big screen to deal with their complaints.

Ps the track pad on Surface Go generates a lot of problems typing. I hope to see a haptic trackpad at some point.

Do you guys not have phones?

Everyone has phones. My wife was in Africa in 2019 and say a Masai warrior walking down the road with a cell phone. People get confused about the difference between a PC and a smartphone. Can you do a lot of things with a smartphone? Sure. Can you run your business with a smartphone? Sure. But most people recognize that a keyboard, mouse/trackpad, 14" screen, and a connection to the internet is best to be productive in your professional life. The first computer I used was an IBM XT, which used two floppy drives. I still have a PC, but it is now called a Surface Pro 7. Now I just carry it with me and dock it at home or the office or use it while I am out and about. I have a basement with 10 or so old PCs and one Mac. Just because we now have the cloud does not change the fact that a keyboard, mouse and large screen somehow have become obsolete.

"Do you guys not have phones?"

Phones are a mature market meaning it's effectively flat or in slight decline. Reason? Everyone has one, and they're "good enough" to not warrant yearly upgrades. This was the same issue the hit PCs during the mid-2010s:

"With more than 50% penetration across all regions, the replacement cycle is expanding, leading to lower unit sales, especially in areas like the United States and China, among others."

So does a device like the Surface Go get counted as a notebook? Or even the Surface Pro 8.

This is a problem you can often run into in tabulating information. We now have many different form factors that are considered PCs. the traditional desktop can be bought in all shapes and sizes. Last year, I bought one to run a monitor in my office for an NVR system located at another location. The desktop PC was little. But how to do you classify a Surface Pro. Is it a tablet or a PC? So info on PC sales in 1990 have fewer form factors than sales data in 2021. I would count a Surface (Go, Pro, Book Pro X, etc. ) as a PC along with all other laptops, 2-1, etc.

Only iPad OS is not counted, IIRC. Even if they didn't count Surface Go/Pro 8, it'd be a drop in the bucket in the overall picture as Surface is < 1-2% of all PCs.
Windows Central Newsletter
Thank you for signing up to Windows Central. You will receive a verification email shortly.
There was a problem. Please refresh the page and try again.