Dell unveils redesigned 'XPS 13 Plus' with haptic trackpad and capacitive function keys
Dell has redesigned the XPS 13, and it's absolutely gorgeous.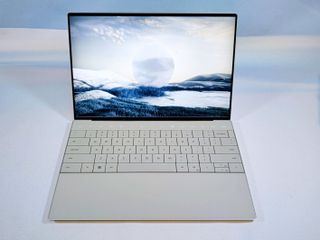 (Image credit: Windows Central)
Dell has today announced a brand new XPS 13 "Plus" at CES 2022, featuring a reinvented simplistic design with extremely thin bezels, a large haptic trackpad, function touch keys, and more. It's a major redesign of the Dell XPS 13, one of Dell's most popular products and indeed the king of laptop design.
This new design features a keyboard deck that spans the entire width of the laptop, with larger keycaps that provide a comfortable smooth, and efficient typing experience. Additionally, Dell has replaced the top row where the function keys would normally be with capacitive touch buttons instead.
While capacitive keys may seem gimmicky, Dell tells us they did it for a good reason: It gave them more room for thermals, which lets them run Intel's new 28-watt P-series chip with 14-cores and 20-threads. Users can toggle between Function and Media keys in Dell's software.
Swipe to scroll horizontally
Category
Dell XPS 13 Plus
Operating System
Windows 11 Home
Windows 11 Pro
Display
13.4 inches
16:10 aspect ratio
1920x1200/3456x2160/3840x2400
Touch/Non-Touch
LCD/OLED
Processor
Intel Core i5-1240P
Intel Core i7-1260P
Intel Core i7-1270P
Intel Core i7-1280P
Graphics
Intel Iris X Graphics
Memory
8GB LPDDR5
16GB LPDDR5
32GB LPDDR5
Storage
256GB PCIe 3
512GB PCIe 4
1TB PCIe 4
2TB PCIe 4
Front Camera
720p
Security
Windows Hello Face and Fingerprint Unlock
Connectivity
Intel Killer Wi-Fi 6E 1675 (AX211) (2x2)
Bluetooth 5.2
Ports
2x Thunderbolt 4 USB-C
Audio
Quad speakers
Battery
55Whr battery
Dimensions
0.60 x 11.63 x 7.84 inches (15.28mm x 295.3mm x 199.04mm)
Weight
1.24kg (2.73 lbs.)
Colors
Platinum
Graphite
Dell has also updated the trackpad design, placing it under a long pane of glass below the keyboard which gives the appearance of an invisible trackpad. It's also powered by haptics, meaning it doesn't move yet still provides a satisfying click when you press down on it.
Everything about the XPS 13 Plus focuses on design. It has a 4-sided InfinityEdge 13.4-inch display with up to 4K resolution and OLED options available, two hidden upward-firing speakers underneath the keyboard deck, and two down-firing speakers for an excellent audio experience. It's available in both Platinum and Graphite color options too.
Even the webcam is improved (though still 720P). Dell now has two cameras (one RGB, one IR), which gets better quality/resolution. Previously, the IR/RGB was combined into one camera resulting in about 20% loss of the pixels used for the IR portion and Windows Hello.
On the inside, we have Intel 12th-Gen i5 or i7 chips at 28W, making the XPS 13 Plus the most powerful XPS 13 ever. It also has up to 32GB RAM, 2TB PCIe storage, 2x Thunderbolt 4 ports, and ships with Windows 11 Home or Pro, or Ubuntu if you opt for the XPS 13 Plus "Developer Edition."
Pricing has not yet been announced, with availability expected sometime in the Spring.
Image 1 of 6
Windows Central Newsletter
Get the best of Windows Central in in your inbox, every day!
Zac Bowden is a Senior Editor at Windows Central. Bringing you exclusive coverage into the world of Windows on PCs, tablets, phones, and more. Also an avid collector of rare Microsoft prototype devices! Keep in touch on Twitter: @zacbowden.
Any info about an improved webcam? It's always mediocre at best which is a head-scratcher given how good everything else usually is.

It's improved. Dell is doing what everyone else is doing: Separating out the RGB and IR sensors into two sep cameras. All previous designs (on all Windows laptops) used a single lens, which sacrifices around 20% of the pixels for IR. It's still 720P, however.

So how do users know where the trackpad area is? I cant tell from the pictures.
Or is the entire bottom useable as a trackpad?

It's the middle section. It's large, but not the entire bottom at all. You can just feel it when you use it. Muscle memory works well here and I had no issues using it when I briefly tried it. We'll see how it is for reviews. It's pretty rad tho.

Is it true that it doesn't have a headphone jack, and if it is...is that a trend we can expect with more laptops and especially surface?

It is true. They may include a dongle in the box (I believe they will; they are still deciding). Regarding a "trend" I don't think so, but it may be more common for certain "extreme" designs.

Quirky though that Apple brought ports back, but Dell on their premium laptop continue to remove them. That's not a negative particularly, I thought bringing back Magsafe was a step back (*), just an observation. * A USB-C world makes a lot of sense.

Well, there's literally no room for the port. This laptop is too thin. There are/will be other XPS laptops. Notice, this is the XPS 13 PLUS, which implies a regular XPS 13 still exists. It's prudent to assume Dell is going to have more on that later this spring.

The new XPS13 (Not Plus) won't have a headphone jack either.

smdh 1 step forward 3 steps back

Nothing says you can't do a Magsafe USB-C(ish). Don't know if the new Macs MagSafe ports(?) have all the functionality. The simple magnetic connection and pop off are what were missed. You can buy third party magnetic connectors for USB-C to be used on Macs and phones.

My spouse swears by the headphone jack, but personally I'm perfectly happy using up a USB-C port or going wireless. I suspect most people are like me but who knows exactly what data Dell marketing was going by.

No fencing for trackpad is going to be a pain when trying to haptically right click or position the pointer in the centre. I had a Compaq (HP really) budget laptop with no track fence and I ended having create one myself.

Agree, it sounds like an ergo nightmare, unless they have some trick up their sleeve that involves that tactile click engine that just makes it work.

I think both the haptic trackpad and capacitive function keys are going to bite them. No problem with haptic, but not defining it's extent is likely going to frustrate some. The function keys are another thing. Apple did away with them for a touch bar which adjusts its functionality based on app. Lots of hard core mac users hated it, and Apple is putting physical function keys back. Why? Because touch typing. People know where the function keys are and even these capacitive keys are going to slow people down with no tactile feel. XPS is sort of their Pro/Business line, so you have to think about people getting work done, not just looking at how pretty it is. The lack of headphone jack probably won't be much of an issue. People working are fine with BT or USB headsets.

Yeah well see on the reviews, but the actual work environment will determine the success of that capacitive function row. Some users will require that tactility and this new XPS may be a no go for those group of users. This borderless track pad isn't new, but the new haptics just maybe make it work. But already can be annoying if you are dragging stuff and suddenly you slide your finger away fro the track pad, loosing control.

The Touchbar removed the Function keys though, these are still there. I thought the same but you only jab at a particular Function key. You don't type using the Function keys. I guess if you have to press a particular Function key a lot it would get annoying. Good points though. You also forget many business users are not technical. They are business people.

I agree with your worry about typing ergonomics. No tactile feedback for where the trackpad ends sounds like real bad design. And exactly who was complaining the last gen XPS line was too thick? And I am willing to bet money the key switches are worse, not better.

The keyboard can be concern indeed, considering it was good before. This redesign is a risk and we will see on reviews. It could be okay at least, but remains to be seen if it as good if not better than before.

Stop trying to steal my function keys! I've owned several XPS machines, including several XPS 13s, and I won't ever intentionally buy or use one that doesn't have physical function keys. Not until Windows and all the software that runs on it is redesigned to use keyboard shortcuts that don't involve function keys. On the plus side, since the function and media keys will be so much harder to use, maybe Dell will give me back my Fn+left and right arrows = home and end functionality?

Most Function keys don't have a use. Whoever uses all 12 function keys? You jab at a particular one.

The actual Fx keys I don't use I reassign, so I end up using all the function keys. And I rely on tactile feedback in addition to placement. I don't think I'm alone!

There better not be a capacitive power button. That would be a massive design flaw...
Is the entire bottom of the computer a trackpad? Does that have palm rejection??

There better not be a capacitive power button.

It's not.

Is the entire bottom of the computer a trackpad?

No.

This looks freaking great! Fantastic job Dell. Looks a device that would actually be enjoyable to use.

The heat on this thin laptop will be hard to bare, even with its so called cooling...the physics cannot be dodged..this isnt arm architecture ..its x86 at 28W..so this under load of cpu+igpu will reach at least 50-60W in total This is for office uses and basics...and for that Dell didnt needed to place 28W cpu inside

1) Probably worth waiting for reviews 2) Going to suggest Dell's engineers probably know what they're doing more than you?

The most impressive part, you'd swear those were renders if you didn't know better. Slick.

Oh, I like this a lot. I wonder how the larger keys will feel, but the trackpad looks awesome. Looks like a very futuristic laptop. I can imagine a Lenovo Yoga using a more advanced (and 'tweak-able') haptic technology for the keys.

They are forgetting the simple things........HDMI, Network port...........mmmm I'll pass.

Not a fan AT ALL
Also we're still in this panini WFH and video conferncing abound and Dell couldn't fix their fingers to add a decent webcam
smdh
Windows Central Newsletter
Thank you for signing up to Windows Central. You will receive a verification email shortly.
There was a problem. Please refresh the page and try again.