Surface Pro 8 with LTE is now available to order from the Microsoft Store
Grab a Surface Pro 8 that can connect to the internet from anywhere!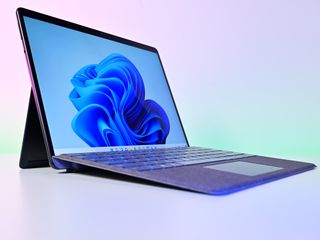 (Image credit: Daniel Rubino / Windows Central)
What you need to know
Surface Pro 8 with LTE is now available to purchase.
It's in stock at the Microsoft Store.
Pricing begins at $1,349.99.
The Microsoft Surface Pro 8 with LTE capabilities is now available to order direct from the Microsoft Store. Just a handful of months after the Surface Pro 8 went on sale, the LTE models can now be ordered in both Intel Core i5 and Intel Core i7 models, though it appears it's only available in the Platinum colorway.
Right now, the LTE models can only be found on the Surface Pro 8 for Business SKU. It's unclear if the LTE models will be coming to the consumer SKU, but it shouldn't matter either way as consumers are able to order the business models just fine. Pricing starts at $1,350 for LTE with an Intel Core i5, 8GB RAM and 128GB storage.
For the first time on the Surface Pro line, Microsoft is also making the LTE model available with an Intel Core i7 processor. Previous Surface Pro models that offered LTE were limited to the Intel Core i5 variants, as those were fanless and therefore had the room for an additional LTE modem. With the Surface Pro 8, Microsoft has engineered the device with enough room for both fan and LTE modem.
Surface Pro 8 with LTE is shipping now direct from the Microsoft Store. We'll be sure to update this post with links to other retailers should they become available.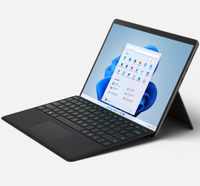 (opens in new tab)
Surface Pro 8 (opens in new tab)

Classic 2-in-1

The Surface Pro 8 finally adopts the modern design that Microsoft first introduced with Surface Pro X, now with two USB-C ports that are Thunderbolt 4 enabled, an upgraded 13-inch display with a high-refresh rate of 120Hz, and support for the Surface Pro X style Type Covers with the Slim Pen charging cradle.
Windows Central Newsletter
Get the best of Windows Central in in your inbox, every day!
Zac Bowden is a Senior Editor at Windows Central. Bringing you exclusive coverage into the world of Windows on PCs, tablets, phones, and more. Also an avid collector of rare Microsoft prototype devices! Keep in touch on Twitter: @zacbowden.
Max RAM seems to be 16 GB, max SSD is 256 GB for the i7 LTE version. Will they offer LTE versions with 32 GB RAM and 1 TB SSD?

Yes, it's available as a model if you order it through Microsoft's business channels, though shipping dates are up in the air. It's possible that those models haven't been released yet so they chose not to list them until they release.

Very exciting news! I've been looking forward to an i7 LTE model for a while, so totally going to jump on this. One question, though. Are all of these models using the same Intel generation? Is there a particular reason only some configurations say Intel Evo? This seems to appear on some Wi-Fi models, as well.

That's a great question about EVO certification. I don't know, but I doubt it's about using chips of a different generation. Looks like none of the LTE versions have EVO badges. The WiFi i5 models with 128 GB SSDs and the WiFi model with an i3 are the other ones without the EVO badge. Since EVO is a kind of certification based upon meeting some certification benchmarks, we can speculate that these configs just didn't meet those benchmarks. For example, the LTE models may not have met the 9 hours of battery life, or maybe not as consistently as needed.

This is cool. I wonder why MS makes the buiness line versions available for consumer purchase. Maybe for small businesses? I wonder what the advantage is for either party.

Honestly I think it's about reducing the number of SKUs they have to offer. Because they're "for business," they only come preloaded with Windows 11 Pro (which is what I want, but a regular user would have no need for).

Ah yes that makes sense. There are already so many configurations just for the consumer. (Buying a computer online is never not at least a bit overwhelming unless you know exactly what you want.) Plus maybe it's a way of targeting their business services marketing.

Business versions have always been available to consumers thru the MS store. But be prepared to pay more for a computer that comes with Win Pro installed and without junkware subsidizing the cost.

Im sory i cant write in inglish
If som one can talk to me in arabic. I will be glad to hear that
Thanks.

Anyone know if you can just pop in a nano Sim on a typical mobile plan into this and connect via LTE or does it have to be on a "tablet" plan?

In November 2021, I bought a SP 8 w 16 GB RAM, 1 TB storage, i7 processor. Never have I been so disappointed by Microsoft on Day 1 of receiving a new device.
* Windows 11 design is a dealbreaker. I want to be able to pin more apps to my start screen than they allow.
* They killed tablet mode. After 5 years of using an SP 4 or 5, flipping the keyboard out of the way is second nature to me. By day two, I had downgraded to Win 10.
* The narrow bezel is a nuisance. Trying to adjust the kickstand invariably places my thumb on the edge of the screen and causes some unplanned interaction or closes a window.
* The ports. I know Microsoft was responding to years of users screaming for a USB-C port, so they gave us two of them. But they eliminated USB-A altogether. So I have to drag around a lame C to A adapter to use existing peripheral devices and my FitBit charger. I like the slim pen (BTW, the customer service rep told me that the old-style Surface Pen could attach to the edge of the SP 8 screen - it can't. I had bought one because the slim pen was on backorder and I wasn't sure I'd like it. I ended up returning the old-style Pen). I wish I'd bought a SP 7+ through the MS business store. It has USB-A and USB-C ports and is available with LTE. Frankly, with 5G becoming more widely available, I'd pass on any LTE device. Just as easy (and a bit cheaper) to tether to my phone.

Everything you listed was known by everyone including you, so why are you complaining? Pretty clear you just want attention...
Windows Central Newsletter
Thank you for signing up to Windows Central. You will receive a verification email shortly.
There was a problem. Please refresh the page and try again.