Can't download apps due to an 805a0193 error? You're not alone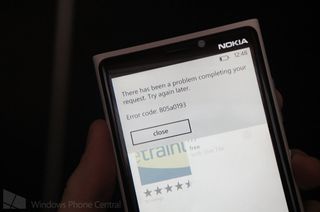 We've been hit by a number of reports this morning that the Windows Phone Store is playing up and not allowing consumers to download apps and games. We're able to confirm that the issue is indeed present, with the error 805a0193 displaying when attempting to grab an app for our handset. This isn't the first (and probably not the last) time the store has fallen unwell.
We'll be the first to agree with those who feel Microsoft should update error messages to detail exactly what the issue is, in favour of useless codes that may force one to search the cloud for answers. Here's hoping the company is well on its way to a working solution and everything should be back up soon.
We've checked the Xbox LIVE status page, but there are no issues being reported with any service. Be sure to join in the conversation with other Windows phone owners over on our forms.
Are you experiencing the same issue? Be sure to sound off in the comments. Thanks to everyone who tipped us!
Rich Edmonds is Senior Editor of PC hardware at Windows Central, covering everything related to PC components and NAS. He's been involved in technology for more than a decade and knows a thing or two about the magic inside a PC chassis. You can follow him over on Twitter at @RichEdmonds.
yes, i still have it in greece

I think it is due to maintenance works, maybe first steps on winRT and WP8 store unification :) ??

it's ok now with a restart guys

Unfortunately, a reboot didn't resolve anything for me.

Working here now in the UK, just updated all my apps.

Sorted now for me...in the UK.

Normally if I get this message I go to my accounts, reenter my windows password, then go to download the app and it works

Same thing here, Canada. Dont work since 5am (maybe before,but I was sleeping ). Thats bad, I have 10 update to do. Will try latet...anyway,no surprise with MS having troubles...At least there is no bluescreen:-D

Error still present in the UK.. So many problems with Windows Phone 8!

Only problem ive ever had with Windows Phone 8 and I am in UK as well.


There are quite a few I'm afraid, and I'm pro Windows Phone, had a HTC Titan before my 920.
Store issues, app updates not showing, phone freezing/unable to wake up, Xbox Music not letting you create a playlist/playlists not synching.
These are just the ones I've experienced. I didn't have any of these issues on my WP7 phone.
I'm also in the UK.

Same for the whole day, Russia.

Having the same issue in germany.
Those Store problems occur way to often... so annoying

Has been that way in Boston since 10 pm last night.

I am trying to update a few things and get the error message

Still getting issue here in Australia with my Lumia 920

Aha. I am not alone. Relief.

since this morning 7 am in France...

Downloaded Spotify just fine earlier today. Wouldnt say this is a huge problem. Just wait a day.

I would say it is, at least for me. Its now 10pm here in Australia and I've not been able to update or download new apps since about 5:30pm yesterday.

When it happens so frequently, its a big problem

Yup, error in the US. No downloads or updates.

Can't update as well, from au

Unfortunately.....still getting them same error.....noticed it around 3am est

Same issues with me..have updates to install but can't do to the error..up here in Canada

I've had this too..(I am always alerted via having to update an app. Todays was TV SHOW for WP8. Cant update and since deletion its no longer available in the store at all now !

Same issue here - at&t Virginia -USA

This Sucks.. Hope they fix it soon!!

My problem started since like 1am.

Update:- I'm no longer getting an odd code error. I now get "The Microsoft account service is not available please try later"

I get that message when trying to update apps with a cellular connection and the error code when using wifi

In Europe only some apps not all.

Also receiving error message. AT&T, Texas. Trying to download Tile Path full version while it's free.

Yep not working here either .sleepy Somerset UK:-)

I just upgraded to 7.8 on my TMO HD7 last night and now I get this same error when trying to install or upgrade apps from the store. The phone appears to be working great otherwise. I am using WiFi only...no data plan. And YES, Marketplace worked fine before the 7.8 update.

I'm in the US btw...TN

Mark

My store tile doesn't even update, doesnt show that updates are available for my downloaded apps. Hmpf :-/

Same problem here in Liverpool :(

No problem here! South florida area.

Still present in Sweden :( with my lumia 800 wp 7.8.

It does happen far too often and it is the one thing that is most making me think twice about if I should update to wp8 in April (along with all the complaints about Xbox music). Ps off track but has anyone found the volume from the headphone jack to be lower since updating to 7.8, tried using Netflix on train and could not hear it properly

I've seen mention of that in the forums. I'm still on build 8783 for this and a couple of other reasons.

I've got the error in the UK

Doesn't work in Finland either. Off topic: has anyone been able to download Cranky's story add-on to Where's my water? I always get an error when trying to buy it.

I've got Cranky. But then again, I've had Where's my Water for a mo. or so

Ugh, my wife and I might get new phones today. She'll be mad if I talk her into a Windows Phone and she can't get any apps. She might have to just go with Android.
I'm still getting a 920, though. I can wait. :D

Phone diversity in a family is good

Same problem here in Massachusetts

The day I wanted to buy an Xbox game, they go down. Don't take my money then fine.

i have it.. Middle east crap

Why oh why must Microsoft use this kind of language with their users?
Instead of saying error codes of random letters and numbers mixed they could just say "There has been a problem completing your request. We are aware of the issue and are investigating the cause of this. Try again later and we are sorry for any inconvenience. "

Same problem here in Romania :(

It's working again - US/Tennessee

India users also facing same issue..

Working again in Australia too :)

It is working again... sort of.. now it seems to work after 2 or 3 trys

Same prob. Lumia 710 in India :(

Same here...and am in Sudan goddamn it...

Same error here. Uk, lumia 920

IDK only time I've experienced the error code was from this app, trying to download Spotify when I went to wmpoweruser the app downloaded just fine no errors.

im from India and me too having this issue.. are they having some maintaince things up ??

Discovered this last night, still not working. Both updates and downloads.
Lumia 920 @ Telenor, Norway
I agree with the fact that we need a understandable msg. Not the error code..

Started working in India now. Although had to try 1-2 times.

The marketplace works for me again, in Canada.

Same problem here in the UK. Just got my 920 and can't download a thing!!

Just started working just now on my 920 if you get issue still occurring though i found on my 800 i had to turn the phone off and back on then it was ok yippie !!!

MS seriously need to sort this out if they want app developers on board. Its like a shop in a mall loosing a days trade on what (I imagine) is their busiest day of the week, because the mall can't get their doors open.
I'd not be happy if i lost out on one, let alone hundreds of downloads because MS couldn't get their act together.
It's also putting consumers off. If i bought a new WP8 phone today and found I couldn't download anything, I'd take it back tomorrow and get one that could

It should be working now.

Problem still persisting.. In India

I got the same issue like all of you Macedonia HTC HD 7.8,but in my case funniest thing is that since the Store is down i keep getting notification that there's an update for my Apps.When i woke up this morning i got 3 updates for my apps and when i try to updated i got the error massage and so far still have it but the numbers of the updates for my app keep raising right now i got 9 but still can't update them

What the hell going on Microsoft can't solve this problem.

Same problem here in Singapore, on both 3G/4G and WiFi.

I am getting 805a0194 error trying to download Spotify app, Boston.

Still getting the same error in Toronto Canada on an unlocked Rogers Nokia Lumia 900.

My Microsoft-Account isn't syncing propertly either. After a hard reset, I don't see any appointment in the calendar app. All calendars are stored in the cloud and working propertly using Outlook on my PC..
/edit: oups, somehow automatic configuration of time+date isn't working -> the date was wrong :D

The biggest issue is that to average consumer 6865434xct is not very helpful as others have said the error should say we are experiencing technical issues with our marketplace please try back later so the user knows what is going on. Also there should be a page on the windows phone site with green amber and red notifications for each location in the world with service status and known current issues so the customer is kept up to date.

Looks like the problem is solved.Marketplace is back.Downloading and updating apps while I'm writhing this.Macedonia HTC HD7.8

I was getting the error message but now it's working again.

My problem is still not solved.. :(


Working for for me now. Did a reboot and sim pull on my 8X. Its fine. I'm on T-Mo's 2G in northern New Mexico.

I'm starting to get tired of these errors especially when trying to send an email and having to delete my email account and then reinstalling it because it says my passsword in incorrect. WTF?

My problem is solved, just update 9 apps here in the UK on my 920.

Fixed,not sure if turning off WiFi did the trick

It's working again for me here in the US, I have a Lumia 920 on AT&T Wireless.

I had this issue too. Turned off WiFi and reconnected, now it works

Had to turn off WiFi and use cellular to download an app.

Mkt place works now....just did an update

Yup it is not working =( I'm getting the same error code.

In Germany everything works now :)

Still not working in Russia.

Had this prob myself..and several customers came in figured it then to be a global app store prob..

Bloody annoying that's what it is!

Service is back in Belgium, I can download again from the Market. :)

It's working for me now here in the southern U.S.

Still problem in INDIA :( My-CROW-SOFT :(

Not working here in Singapore. Can't play some games too. Robotek and some xbox games.

I am in Canada. The problem is the same ... BUT I found that I can download apps. The steps are ...
1. Press install button ... It will show the error message. Then press close to miss the message.
2. Press install button again .... Now the app is installed.
Anyone can install apps with this?

Got it on my L920 trying to update apps this morning. It says 'try back later' Wah-wahhh.

It was a persistent problem until 9+ pm Singapore time when I last check. Now its seems to be back to normal.

VietNam lumina 620 the same...

I am also facing the same problem here in qatar, got pissed off with this.

Please resolve.

Happens last night. Woke up and is back to normal

It's been an issue for at least the past 10 hours... However, it's finally working again (Australia)

Same problem here! In Saudi Arabia

Rebooting my Lumia seemed to fix the problem. I can download apps no problem now.

On cell data in Canada, working ok now. I was getting the error on WiFi earlier.

Saudi Arabia is down too,,,it's TOTALLY unprofessional to have a service down worldwide like that and dont announce it officially, sometimes I feel that we are dealing with a bunch of teenegers rather than a well experianced "MS" employees!!

Status Update:- Seems service has resumed to normal ...phew!!

Still problems in Italy..

Restarting my phone solved the problem(on WP 7.8)

Working fine in Silicon Valley on WP7.8

after a restart everything is back on track :)

Market is up and running again..

Restarted my phone and it is running again. Sweden - Lumia920

Had the same problem all throughout the early morning hours. Finally gave up at 4am. Tried again as soon as I woke up (it's now 9:37am) and everything is working as it should. Was even able to add a new credit card which I was unable to do last night through both my phone and the internet on my laptop. Hopefully the rest of you will be coming back online soon as well. Sacramento, CA, USA.

I was able to update one app just now. WP 7.5 in USA.

Great phone but this is not good need this Asap....

Working again for me. L920, AT&T, Jacksonville, FL

Working again on middle east

This has to stop happening...

ANy update done by Microsoft?

I hope Microsoft starts being more open when there is a problem and what that problem is exactly. To be honest one of the biggest reasons I didn't buy an iPhone was that Apple is secretive about any problems they happen to have. I personally don't have an issue with a company having problems (as long as they are fixing them), I do have an issue with a company that hides their problems.

Problem solved here in CT, Lumia 900

Lets face it. A simple message that says the problem is with MS, it your Account, or your phone, followed by a statement of the state of the Store system is what people need. Throw the detailed code in in case the problem is intractable, but for heavens sake, its 2013 - error messages should communicate to the User whether the problem is something THEY should fix, or that MS is working on.

To Microsoft's credit at least you get an error message. In iOS the apps just crash back to the home screen with no message, no explanation, no nothing.

It wasn't working last night. Working today for me. Updated all my apps. Sometimes you just need to wait a day and it fixes itself. Patience.

Last night marketplace wouldn't even open. Reboot phone today and now working. Some of my tiles stopped updating too and reboot fixed that also.

Had no problems downloading ragdoll run this morning. I'm US Florida.

I can download trial apps but cant purchase any

[Belgium] Noticed the issue around noon local time, but appears to have been resolved now - apps and updates work normally.

Working in Australia downloaded an app on my 920 about 2 hours ago

Had the problem about 10 hours ago when I was buying an app here in the Philippines. Tried again just now and it's working fine again.

Just restart your router, that's it, I'm here in Philippines. I noticed it.

Yes i still faced same problem on sataurday bt today its working fine:)

Still getting it here, in Detroit, 6am Sunday.

Indeed, my apps download statistics went down on 9-feb and even on 10-feb.

i'm in uk i have nokia lumia 710 and i can't dowloand anything becouse of that stupid error for whole week i'm actualy thinking about getting a new phone but not the windows one i don't trust them anyome becouse a few days ago they sayd they will fix it but they don't

I cannot download and install any app on my HTC hd7,always error with code.please help me

I got error code 80048264 when I try to download any apps from marketplace it says this is a problem completing your request try again later up till now I cannot download anything please help me
Windows Central Newsletter
Thank you for signing up to Windows Central. You will receive a verification email shortly.
There was a problem. Please refresh the page and try again.