Cardback for Windows Phone helps users in India maximize credit card benefits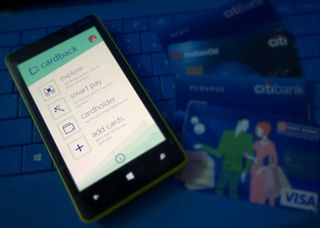 Cardback is an Indian startup that intends to help debit and credit card users in India identify their best card for every payment they make, and see how much they will save from using that card.
The official Cardback app has recently landed on the Windows Phone Store. All you need to do is indicate how much you're paying, and where. Cardback will save you the trouble of doing complicated calculations and checking out promotions before every payment. This is based on several factors, including how you earn and redeem reward points on your cards, and any running special offers.
The app allows you to optimize rewards, cashback and interest on your cards even if no offers are available. It offers in-depth information about reward points, EMI and cashback schemes, and other deals, offers, discounts and benefits on your cards.
Cardback claims that no information that's irrelevant for the user will be displayed until it is actually needed, and the app is personalized and intelligent. The app detects your location and helps explore places around you. The app works even if you hold just one card, and you can unlock benefits even if no offer is available when you are paying.
The app works for offline stores, restaurants and cafes, petrol pumps, and supermarkets, as well as online services and retailers. The app supports over 600 cards, including credit, debit, prepaid, and loyalty cards from HDFC Bank, ICICI Bank, Kotak Mahindra Bank, Citibank, State Bank of India, Axis Bank, Standard Chartered, American Express, and IndusInd Bank and currently works best in Delhi, Noida, Gurgaon, Faridabad, Mumbai, and Bengaluru.
The app doesn't need your card numbers and personal details, which throws any security worries out of the window. The bank name, card type, and the name of your cards is enough. Give it a whirl, and let us know how you like it.
Windows Central Newsletter
Get the best of Windows Central in in your inbox, every day!
I hate when they restrict login to facebook or twitter accounts.

HEY !! ABHISHEK what about the #gowider competion .. i know itz of this topic but didnt know where to post ? who is the winner or when will it be annouced ?

how about making an app that accepts debit cards to purchace apps via WP store. MS doesnt accept debit cards you know very well.

But I have purchased apps from store using debit card itself! O.o

Which debit card did u use?

i'm using state bank of travancore debit card ive tried entering the details a zillion times correctly
a debit card which is mastercard certified with the 16 digit numbers i had changed my card specifically to buy apps from wp store earlier i had the ordinary atm card but the store simply doesnt accept this mastercard certified 16 digit debit card !! upon contacting the store customer care they said they wont accept debit cards ! what more do you need ?? im so disappointed ! MS sucks in India ! cant make any purchase with debit cards !

U need a visa debit card, when u buy an app using it, It directly redirects you to the visa gateway.

Is it possible to buy with Any Visa Debit card??? Like Bank Of India or UBI debit cards?? They are not accepting SBI Maestro Debit Cards :( it feels so sh*t!!!

Not sure, but I've a Federal Bank and a SBI debit card (both are VISA) and I can easily purchase stuff from the store using them. I guess it just needs to be VISA enabled card for transactions.

My Vijaya Bank Visa Debit card works too. Had purchased Windows Central app.

I have been having this problem right from HTC HD 7. Microsoft has NOT BUDGED at all on this.

Yes indeed India gets more love from developers with regard to wp.hope market share plunges to double digits.

I do most of the transactions using my credit card. Will definetly give Cardback a try. Thank you "Orangut Labs"!

80% Indians don't have credit card.

Tha main reason is black money. Ppl love cash more.

Maybe we all will get apple pay for our windows phone. ... Lol flame me

Just now got the update to Windows Central on my 1520!

i've updated Windows Central app, cool
congrats
cheers

Why does this fellow need a facebook login?? Again, even with facebook login, the app stay on the same login page but never resumes... just gave a 1 star rating for this junk.

Same with me, I gave a 1* plus a stinker comment and got an email from the app devplr team and I mentioned my concern and also told them to take off the FB login option.
I guess you should change your rating back to 1* from 3*

...but...but...when will it come to US? :-p
Windows Central Newsletter
Thank you for signing up to Windows Central. You will receive a verification email shortly.
There was a problem. Please refresh the page and try again.