Carphone Warehouse offer up the Nokia Lumia 710 at a price too good to be true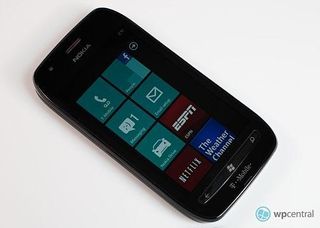 Listen up UK people. If you fancy picking up a Windows Phone then it may just be the right time to do so. Carphone Warehouse (opens in new tab) dropped me an email today to announce that their Smart Deal of the week features the Nokia Lumia 710. From now until next Thursday (16th August) you can pick up the Lumia 710 for only £7.50 per month on a two year contract and the phone has no upfront cost - bargain!
For your money you will get 100 minutes per month, 5000 sms and 250MB of data per month. While this offer may not be of interest to heavy users it certainly could be tempting for those of you on a budget. Could Carphone Warehouse be trying to tempt the British teenagers away from their beloved BlackBerry smartphones?
With customizable Xpress on covers you can really make the Lumia 710 look unique. Combined with a 3.5" touch screen, 5MP camera and running Windows Phone 7.5 I have a feeling that this special deal could go down rather well.
You can take advantage of the offer either in store, online (opens in new tab) or by telephoning 0870 087 0870
Umm unless its a ltd edition 710 it comes with a 3.7" screen lol

I agree the Lumia 710 has a 3.7" screen ... :P

that's insane pricing and you have to be daft not to go for that deal.

I already have a 710, bought from CPW for £129. I then have 600 minutes, 3000 texts and "all you can eat" data (truely unlimited, I use ~9GB per month) from Three for £15.00 per month. I got paid £88 for taking the deal through Quidco (my tariff was originally £12 per month with 600/3000/1GB but 1GB wasn't enough for me). So effectively, over 24 months, if I use Quidco again (its a 12 month contract) I'll have all this for £13 per month. Or on the original deal with 1GB data, it would be £10 per month. I don't think in insane for not wanting this deal :-P But yeah, its a pretty amazing deal tbh, I hope they promote it heavily!!!! This could blow the android competition for low spenders/user to pieces.

I went into the local cpw, for around 600 minutes its £25 a month. Not a great deal as over the contract it'd cost me £360 extra, may as well get it off eBay and stay on my existing plan.
Admittedly if you are a light data/call user this is exceptional.

Though a little light on the # of minutes that is a good deal. Certainly better than anything we get here in the US.

Damn thats a good deal. Wish we could get rates like that here in the US.

http://www.hotukdeals.com/deals/nokia-lumia-710-24-month-free-handset-7-50-pm-100mins-5000-texts-250-data-carphone-1278814

Upvote on here to get more people in the UK aware of Windows Phone and this scorching deal.

This deal is amazing! I'm trying to get a few of my friends to get it (I'm still rocking the HTC Mozart), they're all impressed by the price, but none of them have done it yet. I'll keep pushing.
Windows Central Newsletter
Thank you for signing up to Windows Central. You will receive a verification email shortly.
There was a problem. Please refresh the page and try again.