Cash in at the Windows Phone Store with Bing Rewards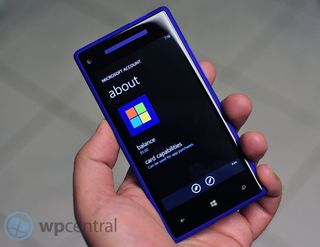 The other day we mentioned how you use your Bing Reward points for a chance to win an HTC 8X Windows Phone. Did you know you can also use Bing Rewards to make purchases at the Windows Phone Store?
Redeeming 170 Bing Credits will get you $1.25 worth of Store Credit that can be used to buy apps and games. Note, this is the same redemption offer we mentioned earlier this month but it appears the $5.00 Store Credit option is no longer available and it is only available for Windows Phone 8 because of the Wallet feature.
You'll need to sign up for the Bing Rewards Program (opens in new tab) and credits are earned each time you use Bing for your search needs. It's an easy way to pay for your Windows Phone Store purchases. Now if we could only get gift cards...
Thanks, Richard, for the tip!
George is the Reviews Editor at Windows Central, concentrating on Windows 10 PC and Mobile apps. He's been a supporter of the platform since the days of Windows CE and uses his current Windows 10 Mobile phone daily to keep up with life and enjoy a game during down time.
Shame the Uk can't use bing rewards :(

I wonder if you sign up through a US proxy server, will you be able to use it then?

According to their site it is limited to Windows Phone 8 only.

I read that too. I guess I don't have much incentive anymore to use Bing rewards, as I am not eligible for a phone upgrade until September of next year. It isn't enough that us WP7 users aren't getting WP8, but now we aren't going to get any of the perks. Especially since this particular perk has nothing to do with phone hardware capability.

That means you have 10 months to save up points....

And in that 10 months maybe someone at Bing will realize that apps come in denominations ending in .99 and .49, and not .25 and .00, and you'll be able to buy a denomination that won't leave Microsoft hanging on to your spare change.

You can get amazon,groupon,Xbox live or cash in for tango and they send you $4.21 for every 470 points. A check you can cash. Still plenty of reasons to keep in rewards

yes. Save your points. If you have an Xbox use the points for Xbox points. :D

If WP7 had the Wallet feature, they would have probably made it available to them too, right?

I got $10 in Xbox Live points and another $10 in Amazon gift cards from Bing rewards.

So even if you can't buy phone apps, surely you could find something you want to buy on Amazon right? Or redeem the other various non-Microsoft specific offers. Or you can pass up the "free money" and continue to be butt hurt about not having a WP8 handset...

It has a LITTLE to do with hardware, as I think their intent is NFC capability with the Wallet app. However, we've seen that Apple ignored NFC and added something like it with Passbook (or whatever it's called), so it's possible to do it without a NFC chip.

Regardless, like people said, start saving now. You can only earn about 30-40 points on any given day, so when the $5 credit costs you 515 points, you're talking almost 2 weeks for a $5 card, and that's if you make sure to do 20 searches per day (because 2 searches = 1 credit, and it's capped at 30 credits per day).

I personally got 2 400 MS-point cards (475 credits each), as well as 2 $5 MS Store cards (515 credits each; gave one to my sister). That's 1,980 scredits, and I have 713 left, a total of 2,623 credits. That would take 75 days of getting 35 credits per day, so I'll again say that you shoudl start now to feed any and all app purchases you might want come 9/13.

Bing rewards won me a lumia 900 a few months back. Had to sell it since o couldn't afford to switch to ATT. Still, Bing rewards is the best thing on the internet.

Found out about this last week and have been working on my rewards ever since! Seems pretty cool, and will be nice to put them towards apps once I have enough. Everyone should do this :)

Bing feature not available in the Netherlands.

Not avalable to anyone out side the USA as far as i know, the rest of the world is to small to be considered.

I think it's pretty lame this doesn't work with the search button on WP7. I use that a lot

You can create a Bing tile on the start screen and search from there. Actually I do this but only so I can click in on a daily basis and do the required number of random searches to get the 15 points. Today you can get 30 points!

Awesome idea man... I love it. Gotta go make a tile now.

If your Gold, you can get 60 today as I just did!

I agree this should be attached to the Bing search.

Wasn't there already a story on this? Nevertheless, it's a great program to get free stuff (and a great scheme to get more searches on Bing from Microsoft); the better deal is to redeem your points for Xbox Live Gold or points, but for anyone who doesn't have an Xbox it's a good alternative.

There was indeed. Still a cool program

All we need now is for Bing search on wp8 to count in the rewards from the toolbar. Let me register my WP 8 to my Bing rewards account so my phone searches count too!

Everytime I hit 500, I rent a movie on my Xbox on Friday night.

475 points once you're gold

That I am. LOL ... don't know why I have 500 stuck in my head.

Only available in the US. Pfff xD

Bing Rewards is the best! Getting (basically) paid to not use Google is awesome. I just got a $5 Amazon gift card yesterday.

Sadly Bing rewards system used to be much better as you can earn rewards points by shopping online. Two years ago I racked up nearly $200 in cash back just by clicking links to the stores and purchasing Christmas gifts.

I took part in that as well. The nice thing about this is that it doesn't require purchasing anything.

Still have to argue the payout for windows phone store credit is much worse than just getting regular gift cards or Microsoft points. Still I do love Bing. I won $7000 in a sweepstakes on Bing over the summer. And also have gotten 10,000+ Microsoft points over the years.

I just cashed in some points to see how this works.

Doesn't seem to be updating my rewards when searching from my Lumia 920.

It's PC-only. You might be able to go to the bing.com desktop page on your phone and do it, though.

Wish this worked with the search "button" on the lower-right of my 8X.
You can get a free DVD rental from Redbox every 1.5 weeks or so using Bing Rewards. So yeah, it's pretty awesome.

If only it was available anywhere other than the US......

$5.00 dollar option still available in the US, at least where I am in Boston.

can the developer write a small (for u.s only) in the title of such news which are meant for u.s citizens only. I got half excited -_-

. I wish I could use my rewards points to buy credit for WP7 apps.

Would be nice if it worked for WP7, but it does for amazon at least. Just use the money that you save on other store towards your purchases for WP7, lol.

I've cashed in $10.00 worth so far.

It would be really nice if you could scan a bar code to enter the code instead of typing it all in if you acutally get a card plastic gift card. Copy and pasting isn't bad, it would be a lot easier if you could just scan it in though...

:--[ no Bing Rewards in Australia.


I won the Bing sweepstakes and they flew me to Microsoft. I met the Bing team, Xbox team, and windows phone team and even met Ben the PC guy and got a sneak peek at the 920 and 8x before it launched. It pays to search with Bing.
Windows Central Newsletter
Thank you for signing up to Windows Central. You will receive a verification email shortly.
There was a problem. Please refresh the page and try again.