Catch Nvidia's CES press conference livestream right here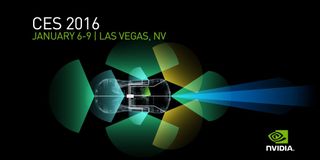 Nvidia has a habit of making fun announcements at CES every year, and it looks like this year isn't going to be any different. The company has been teasing some fun things planned during the announcement over the last couple of days, and like all of Nvidia's recent events there's a live stream where everyone at home can watch alongside those of us sitting at the event to see what new things are headed our way soon.
For the most part, Nvidia has done a decent job keeping their announcement free of spoilers. We know to expect something about their continued work in cars, which isn't surprising given the direction infotainment systems have gone over the last year, and we know to expect something about the next generation of GPU tech. Details have been thin to say the least, and you can bet a leather clad Jen-Hsun Huang will fill in the blanks soon. If you can't wait, have a look at the overall best graphics cards available now.
Everything is expected to start at 6PM PST (opens in new tab), and we'll be right there ready to put hands on whatever is there to touch and ask any questions that need asking. Grab some popcorn, if history is any indicator this event will be full of great information.
To find the time in your part of the world use this handy converter. It'll be a late/incredibly early one for a lot of us!
Windows Central Newsletter
Get the best of Windows Central in your inbox, every day!
Russell is a tech nerd who chases the best of everything, from phones to game consoles to laptops and everything glowing or beeping. He's the Managing Editor of gaming content for Mobile Nations and can be found contributing to all of the Mobile Nations sites. Reach out on Twitter!
I'm an AMD fanboy but I guess I'll watch to see what they've got to offer.

AMD is like a fart in the wind! First it stank then drifted away...

Lol. Admittedly they have issues but that's harsh.

LMAO xD So true! Long ago, I learnt never to buy PCs with AMD GPUs, due to their insanely crappy driver software support. Even in the CPU space compared to Intel, they're like a walking duck compared to a running horse. Avoiding them has significantly made a difference in how long my PC gets support and usability. With Windows 10 now, my relative's 2011 HP Pavilion G6 Laptop with AMD APU keeps getting BSOD on every wake up and booting up takes even longer than Windows 7 it came with. My 2008 HP Pavilion dv3510nr Laptop with Intel Centrino 2 CPU and Nvidia GeForce GPU runs faster with Windows 10 than Vista it came with, and boot up time went from over a minute and half to ~22 seconds. Still being used today in college by an accounting friend who I sold it cheap to while I upgraded to a Surface Pro 2, and it easily handles all Windows Store apps, even Asphalt 8.

Article says nothing about how to watch it...

Remember kids , to the hell with the TDP!

Umm no. Posted via the Windows Central App for Android

Nice but not what I was expecting.

Okay, that was super legit.

Long live my GTX 780Ti & GTX 980Ti

980ti buddy's!!!! Posted via the Windows Central App for Android

Is it windows central or laptop central....since long no updates on WM10 or Windows 10. Is Microsoft sleeping ?

Are you not happy with your OS 10586.36?

Can't write about no news. Windows related devices at CES however, lots of news. Posted via the Windows Central App for Android

No....not happy.....not upto the mark. No official release, no updation. Seems after .36, MS forgot to release it to non insiders. And no one is talking about also.

That's right. Bad Microsoft! How dare they take the Christmas holidays off!!

With the way the os is they should have cancelled the holidays lol nadella dressed as a Grinch to delivery that news...

Seems you're confused about which article you're responding to.

Trust me you don't want the latest preview version

The latest Insiders Preview works just fine on my 1520. More features? Always something to look forward to. But, it runs fine.

I hope the bew architecture gets released soon. !

Wow! From meh GPUs driving our monitors to super computers driving our vehicles!? I never would have expected that from a GPU manufacturer...just very incredible work Nvidia.