CBS All Access app available for Windows 10 Mobile users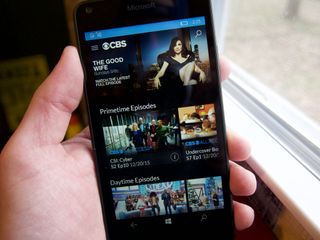 As promised a few months ago when it launched its Windows 10 PC version, CBS is now offering its All Access streaming video app for Windows 10 Mobile smartphone owners. The 1.2 update makes it a true universal app for Windows 10 PC and Mobile users.
CBS All Access allows users to watch full seasons of both current and classic shows either owned or broadcast by the network for $5.99 a month in 95 US TV markets. That includes current hits like the three NCIS series on the network, along with The Big Bang Theory, Elementary, Supergirl and others. Classic shows such as all five Star Trek TV series, I Love Lucy, The Twilight Zone and more are also available with that subscription. It will also be the exclusive home for the all-new Star Trek series when it launches in January 2017.
Thanks to Geoffrey for the tip!
Download CBS from the Windows Store (opens in new tab) (Free)
Windows Central Newsletter
Get the best of Windows Central in your inbox, every day!
But the platform is dead! Guessing this is universal since Xbox One is getting it at some point too.

So it seems... It's starting to feel a lot like Christmas aha :)

Yep. Just a short month or so ago it was the whole "its dead, everyone is pulling out", but now we see way more new first class app announcements than we do the odd one still bailing. The universal push would appear to be off to a good start, and once the Surface Phone appears it'll be fully on...

I hope the Xbox one app comes out asap...

Any word if this is coming to XBox One?

It's on Xbox 360, so one would assume when the Universal SDK is ready for Xbox One this might work...

Is already ready, isn't? But is private afaik. For sure CBS have access.

Nope not yet, some point next year we can hope

I don't think universal apps are ready for the Xbox One.
At the least, the store in the Xbox needs to be updated/unified.

My issue with this App! - Why should i pay for it ? Why is my cable subscription not being honored - in order to get access? I think this will fail, not b/c of the windows plaform, but because of the paywall.

It's their new program. I just watch the show online for free on their website. To watch them on the go, you'll have to pay just like you do with Hulu.

Hulu is $7.99/month. CBS thinks their one network is worth $5.99/month, by itself?

HBO thinks theirs is worth $15, so what's your point?

I can't believe that I have explain the point. First off, HBO is overpriced and getting killed by Netflix. Regardless, HBO is a Premium channel and the $14.99 streaming represents a savings to the consumer over getting it via traditional cable. CBS is a free over the air channel, supported by commercials. Other networks fitting that description have banded together under a more reasonably priced, Hulu. Even some cable channels are represented on Hulu. I'm betting that this CBS venture in its current form, won't make it. They will likely have to lower their rate. That's my point.

I agree, HBO streaming is worth it if you watch enough of their shows, but I only watch Game of Thrones. I believe the premium cable channels on Hulu are extra, but you get to add thier shows to your existing Hulu queue. You also have one place to go online to see anything you want.


Because it's on demand and includes old shows too.

The article misses an important point. For most current shows the last five shows are free. The need for a subscription is only if you want to watch older episodes. I use the app all the time and have never paid.

Why does it need to be installed in internal storage? Somewhat annoying

Yeah this isn't the first time I've seen this and I don't get it.

Probably due to SD storage not being 100% reliable

I think the reason to force it on Phone Memory is because some SD Cards are slow so it effects App performance.

If Microsoft can fix the Lumia camera app that would be awesome! It's just garbage atm...

Pretty sure it's getting phased out.

If just the camera was the only problem. Month by month Windows for phones is getting updates, but all the buggs remains. Xbox app? Works like ****, Edge web browser? All sites doesn't work, camera is really unstable and when it works the picture quality as really bad, and if I want to film I can't record any sound. But the biggest problem is that on both my 920 and 930 the screen sometimes goes black, then white and then black again. This is just some of problems I have and whit every update I find a new bugg. I did love Windows phone but when I can't use it as my daily driver I have to something.

Yeah, but what about that CBS app?

honestly, it sounds like you have bad hardware. i haven't heard of any of those issues ever. i had it on a 920, 928, and lumia icon. never experienced any of the issues you are mentioning. Edge? Works on virtually ever page i've gone to. Xbox App? Maybe i don't use it that much, but the few times i have, it does everything i wanted it to do. Camera? Worked wonderfully every time except for one bug I have noticed. I can rarely ever click on the little icon of the latest picture taken to open up the photos app. For some reason, the click doesn't work. But again, thats the only problem. Sound is fine. No screen issues. I'd suggest try re-imaging it. If that doesn't fix it, its hardware, not software.

you sure work fine on all my Lumia

Alright let's prepare for the new Star Trek series. I hope though that i can subscribe for the service, i'm not American and i really would like to see the new series!!

I noticed that I had to uninstall the previous version of the app before it would update/install with the new version.

Does this work for UK users?

Too expensive for a single network, in my opinion. The cost to create content is relatively fixed once produced, so you then want to maximize the income afterward. I believe they would make more revenue on the content by charging less, and gaining more users.

totally agree. i'd be pretty quick to sign up at like $1.99 or something. $5.99 is a bit steep.

I might subscribe to it when they have that new Star Trek show.

Doesn't showup in the store for me.

This would not have happened for mobile if Microsoft had not made it so easy for developers with UWP.