CDPR co-founder is 'deeply sorry' for Cyberpunk 2077 console launch
Marcin Iwinski explains why the game ran poorly on consoles and provides a road map for further updates.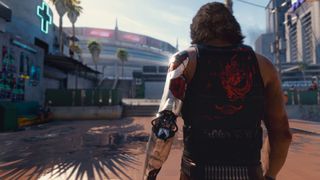 (Image credit: CD Projekt S.A.)
What you need to know
Cyberpunk 2077 had a rough launch, with numerous bugs and glitches bringing down the overall experience.
CD Projekt Red co-founder Marcin Iwinski released a video statement today explaining what the team thinks went wrong.
CD Projekt Red will continue releasing hotfixes and updates throughout 2021.
Free DLC is still coming, with the next-generation patch set to be available in the second half of 2021.
It's safe to say that Cyberpunk 2077 having a rocky launch is an understatement, with CD Projekt Red issuing refunds and the game pulled from the PlayStation Store after it was found to have numerous bugs, glitches and performance problems, especially on lower-end consoles.
CD Projekt Red co-founder Marcin Iwinski has given a statement on behalf of the team as to why the game ran poorly and what plans are moving forward. You can watch the video below.
Iwinski states that the complexity of the world being scaled down from the high-end PC version is a major reason it ran poorly on consoles. The official FAQ for this new roadmap states that the team is working on getting Cyberpunk 2077 back on the PlayStation Store while noting there is no "obligatory overtime" and that they are working to avoid crunch.
Right now, the team is also working on releasing more hotfixes to improve performance and remove glitches. The two major patches previously discussed and slated for January and February are also still being worked on. Free DLC is still coming later in 2021, though pushed back somewhat, while the free next-generation enhancement, which takes full advantage of the Xbox Series X, Xbox Series S and PS5 hardware, is coming at some point in the second half of 2021.
Cyberpunk 2077 has seen a wide, wide range of different reviews, with the world's writing and detail (on high-end PCs) praised while issues such as the representation of women or trans individuals were criticized. In spite of its launch woes, Cyberpunk 2077 sold over 13 million copies since the end of December, with refunds taken into account for that number.
Xbox Series X/S
Main
What is the Xbox Series X release date?
How much does Xbox Series X cost?
Why you can't preorder Xbox Series X yet
Windows Central Newsletter
Get the best of Windows Central in in your inbox, every day!
Samuel Tolbert is a freelance writer covering gaming news, previews, reviews, interviews and different aspects of the gaming industry, specifically focusing on Xbox and PC gaming on Windows Central. You can find him on Twitter @SamuelTolbert.
Difficult to believe him when he says they didn't see "a big part of the issues" affecting last-gen consoles. The only way that's true is if they didn't actually test it...

So he is not sorry for the broken PC version?

I'm 60 hours into the pc version and it's been fine for the most part, no game breaking bugs or anything.

I am the same it has glitches but nothing had crashed ect. My brother is the same for the series X version to.

Plenty of inmmersion killing glitches, though.

I was holding off purchasing until the next gen versions were ready, something I hoped was happening in February or March... not the second freaking half of 2021. Guess I'm playing Forza 7 then and Control UE in Feb. Maybe CP2077 will go on sale before fall for like $30 and I'll grab it then.

There might even be some DLC by then, but they could be all hands on deck fixing things first though.

This is exactly why I never buy games when they are newly released. The other reason is because I get them a lot cheaper used. Hopefully it will be all patched up by the time I get around to getting it.

Same I usually wait 8-12 months. iT's cheaper and more likely to be bug-free and optimised. I'm still waiting for RDR2 to come on a decent sale though.. That's one game holding good value!

I'm unsure of your definition of "decent" but RDR2 was on sale a couple of times recently (Black Friday & EOY sales). I forget what every edition was but Ultimate was $35 (USD).
Windows Central Newsletter
Thank you for signing up to Windows Central. You will receive a verification email shortly.
There was a problem. Please refresh the page and try again.