Celebrate Windows 10's launch in Skype with Ninja Cat-TRex emoticon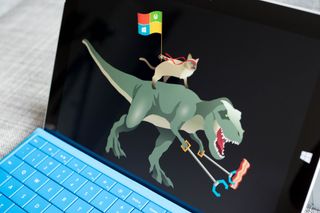 Microsoft's promotions for the launch of Windows 10 have been very interesting, including the use of the Ninja Cat meme. Today, Microsoft's Skype team sent out a reminder that anyone who uses the text messaging part of their mobile or desktop clients can send others a cool Ninja Cat-TRex emoticon
The Skype team reminds us that user can type in either (Win10) or (trex) into their text chat for the Ninja Cat-TRex emoticon to appear. They even provide a guide on how to "care" for that new creature.
Of course, you can create your own Ninja Cat background or lockscreen with a variety of different steeds to choose from. Will you be using the Ninja Cat-TRex emoticon in your Skype text messages.
Source: Skype (opens in new tab)
Here's the shirt I'll be wearing to the launch at the store in Atlanta! http://1drv.ms/1Ivk9ag

hahaha, its the windows insiders story.

Just tried it on my 925, not working?!?!

Not working for me either. Using the mobile app on my 1020...

Does,this work on Skype for business?

I tried it on Skype for Business and it didn't work.

Doesn't have a large version when you Send just an emoticon unfortunately but still cool

Heyyy they smoke nice s**t

Doesn't appear in the mobile app.

Shows up as "<span class="emoticon win10 animated large"><span class="emoSprite">(win10)</span></span>" in the online Outlook Skype, and as a blank space in Skype for WP10. Come on, Skype!

I've been using (ninjacat) for days now :)

Also works with (windows10) and (ninjacat) - but as noted above many times... only in the desktop app.

PirateDog rulez, NinjaCat droolz! =P

not working in mood message :(
Windows Central Newsletter
Thank you for signing up to Windows Central. You will receive a verification email shortly.
There was a problem. Please refresh the page and try again.