Microsoft thanks #Windows10 Insiders with #ninjacat wallpaper, mashups, and campaign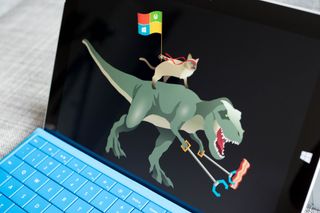 In just eight days, Microsoft is gearing up for what is certainly their largest release to date: Windows 10 for PCs. For many months now, a cadre of volunteers aka Insiders have helped Microsoft deliver an OS that you want through feedback, votes, and data usage.
Even though making an OS is srs bsns it does not mean we cannot all have a little fun too. Case in point: Ninja Cat riding on a unicorn. If you are not familiar with the bold, proud and ludicrous emblem of Windows Insiders insiders, then you can read my expertly crafted history of the unintentional Microsoft meme here.
For those of you already in the club (and who maybe own our t-shirt), you just need to know Microsoft has you covered. Today, they are releasing Ninjacat riding on various new steeds, including the classic unicorn and the new T-Rex and narwhal versions. From Gabriel Aul's post:
The form is in wallpaper for your PC, tablets, phones and yes, even the Microsoft Band.
Do-It-Yourself kit
What's even more fun than using this wallpaper is making your own mashup. After all, the original Ninjacat is just that, a mashup of various internet sub-memes. Now you can get on the fun too with a mini Do-It-Yourself kit!
The kit is rather simple: It is all the base parts, including variations of the ninjacat, the various steeds, the Microsoft flag and some bacon for good measure. Mix 'em up, add your twist and share with the world.
Once you make your bold creation (see this earlier one with the new login screen), you can tweet the results with #windows10 #ninjacat so that others can grab your PC art!
On a personal note, I think these kinds of whimsical community interactions are amazing. Let's face it, Microsoft has been bullied around for the last few years in the press and consumers. It is awesome to see not only the company getting their mojo back but its employees having fun with it as well.
Oh and Gabriel Aul ends the article with this cryptic challenge:
Update: In Skype, message a friend with (windows10) and you'll they'll get a nice surprise.
Grab the wallpaper from the Windows Blog, create your mashups, and spread the Windows 10 word!
Source: Windows Blog
Windows Central Newsletter
Get the best of Windows Central in in your inbox, every day!
Daniel Rubino is the Editor-in-chief of Windows Central, head reviewer, podcast co-host, and analyst. He has been covering Microsoft since 2007 when this site was called WMExperts (and later Windows Phone Central). His interests include Windows, laptops, next-gen computing, and for some reason, watches. Before all this tech stuff, he worked on a Ph.D. in linguistics, watched people sleep (for medical purposes!), and ran the projectors at movie theaters because it was fun.
Wen can I get, a "Wen in India" shirt?

never. because you spelled it wrong!

Actually, there is indeed a "seems faster" mention in the Windows Blog article! ; )

So they read Windows Central too, Awesome! Posted via the Windows Central App for Android

This last sentence ruined it "Posted via the Windows Central App for Android"

Microsoft need products like this stuff at their stores to sell.

Absolutely! Missed opportunity.

I hope those shirts can become available again... ;)

Hm, would be fun to do for Windows 10 day...

(ninjacat) Also works in Skype.

I'll definitely by that if it will be available again. Had no chance to order it first time :(

Internet slang for 'serious business'

Supplementary Restraint System?... Bull Shit, No Seatbelts!

My Band needs some bacon.

It's weird that Microsoft still omits the Office and Bing logos from their version of the flag.

Are Bing and Office different to the OS+Xbox group? Maybe a divisional reason?

I always chuckle at the seems faster T-Shirt hehe!

me too! when is #WindowsCentral taking orders again?

Daniel how do you have Recycle Bin in Explorer in the left pane?

Open Explorer, right click in the empty space and select "Show All Folders" - the Recycle Bin will be under the Desktop folder.

Lets raise a toast to windows Central by saying 'seems faster' at least 10 times right after me....SEEMS FASTER

I came to this article to comment on this very thing! Good job Windows Central comment trolls! #seemsfaster :)

The cat is a girl....whoooo

1st thing comes to mind birdo

I don't get anything when posting (windows10) on Skype... I'm on 7.7.80.102.

#ditto Tried on desktop client as well as Skype for Business....

(ninjacat) Also works, at least it did for me.

Nope, doesn't work for me. Which client did you try it on?

7.6.85.105 It doesn't actually show up until I send the message though.

It doesn't show up for me even after I send the message.

ditto. Me too on Skype 7.6.

Doesn't work for me on winpho 8.1 either. Nicely done. Works on the recipient's android phone, though!

(ninjacat) also works in skype, does the same thing

So glad they had a team working on this rather than video drivers for Intel 915GM; which, unfortunately, results in #IDoNotThinkThatWord(faster)MeansWhatYouThinkItMeans...

Those drivers will come from Intel, not MS.

Your words mean nothing. Go cry to Intel to make drivers for their hardware.

Windows 7 driver works just fine in windows 10, I'm using it on a test laptop

Got a link? AFAIK there are no drivers for the 915GM since XP.

Yeah because the teams doing art and web content are full of driver engineers. /s

I do not think you know how programming works. So I would stop commenting like you do, it makes you look bad.

can someone suggeset me an app/programm that i can use to mix them up?

Photoshop, Gimp (free Photoshop knock off), or if you're in a bind Paint might work.

Gimp, If you want! It's free so... Get to try!

thanks guys downloading Gimp :)

I like to use 'paint.net' as a free alternative

Yep, I use Paint.Net exclusively.

Cant install skype on my lumia 730 with windows 10 TP, i wanted to try sending windows 10 and ninjacat but it seems like I'll be only clicking the retry button in store :3

insider bacon is the best :D

Who would've thought, the Windows Blog post links to the page about the 'Seems faster' meme on the Windows Central site. ;)
Microsoft has had a bad marketing department, but they have the best community managers of the whole tech industry!

I tried sending it from my phone to my work Skype desktop client and nothing happened. Sending a message to my phone didn't do anything either. I'm ok with someone spoiling what happens in a reply to this comment.

I found out what happens. I feel pretty silly for not picking up on it right away. I did find out that this will not work with the Skype Window Phone app.

Haha I never saw the "seems faster" slogan before now :D

i like to see Ninja Cat taking a dump on CrApple iJUNK, and Android devices:-), along with his T-Rex, and show them who the boss is.

(windows10) does nothing, (ninjacat) sends a pic of the ninja cat on a dinosaur

Anyone else pick up on the fact that there is a QHD resolution background in the Phones download from the Windows Blog page?

I recieved a download of the full retail version of windows 10 pro two nights ago. Has anybody got it yet???

These are the best! Now bring me the Lumia I have been dreaming of....and get Supercell on board!

I really need the "seems faster" Shirt

What's the skype secret? I messaged (windows10), nothing happened.

When in surface coming to India???

Still seems like more a samurai cat than ninja cat

Ha, love the arm extensions.

In Skype, message a friend with windows 10. I doubt any have that installed yet.

I like to have that "Seems faster" shirt!

Vote Ninja Cat for official Microsoft mascot. I'd love to see Ninja Cat used for Xbox in some way.
Windows Central Newsletter
Thank you for signing up to Windows Central. You will receive a verification email shortly.
There was a problem. Please refresh the page and try again.