Microsoft Chatpad review: A small, sleek keyboard for Xbox One & Windows 10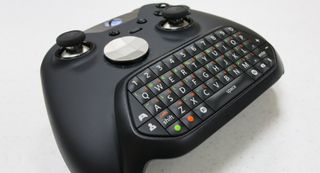 Not long ago, we reviewed the Nyko Type Pad – a keyboard accessory that connects to Xbox One controllers. Although the Type Pad offers a superior experience compared to simply using a controller for text entry, it suffers from a number of design flaws and issues. It's a hard product to recommend, especially now that Microsoft's official Chatpad is here.
The Chatpad is a tiny keyboard that plugs into standard or Elite Xbox One controllers, allowing you to input text directly from the controller on Xbox One or Windows 10. It also functions as a Stereo Headset Adapter and even comes with an Xbox One headset. If you do a lot of typing in Xbox One games or apps, this is one accessory you'll definitely want to consider. Find out more in our detailed review with video!
Package contents
The following items come inside the Chatpad box:
Chatpad (surprise!)
Xbox One headset with 3.5mm plug
Micro-USB cable
Connecting the Chatpad to a controller
The Chatpad is compatible with all Microsoft-brand Xbox One controllers, including the Elite Controller. It won't work with any known third party controllers – not even the fancy Razer Wildcat and Power A Fusion controllers. That's because third-party controllers currently don't have data ports like the official controllers.
The Chatpad itself is a single-piece accessory measuring 5-1/8 inches across (about half an inch smaller than the Nyko Type Pad). It connects to the controller via the controller's data port. Once connected, it should remain securely in place unless tugged away from the controller.
Just as with romantic encounters, however, the first connection can be difficult. Even with the connector appearing to be correctly lined up, it still took me a couple of minutes to fully insert for the first time. I think we all know how that goes.
After successfully making that love connection between Chatpad and controller, it has since become much easier to insert and remove. I had the same problem with the Nyko Type Pad, so this seems to be a minor design flaw with the Xbox One data port or its specs.
Keyboard
The Chatpad keyboard includes 51 keys, with 44 dedicated to typing and seven to other functions. All but four keys have a distinct convex shape that makes them easy to find by touch. The F and J keys also feature a small bump to aid with positioning, just as most computer keyboards do. Pressing any key causes the white, green, and orange portions of every key to light up.
The Shift key is just to the left of Z, again just like on a standard keyboard. Whereas the Nyko Type Pad only has a Caps Lock key (it uses Shift for non-capitalization purposes), the Shift key here works exactly as you'd expect. Hit it once and the next single character you type will be capitalized – no need to hold the key or anything. But if you do hold Shift while typing, all letters will be capitalized. Or you could use the Caps Lock function.
Like the Xbox 360 Chatpad, the Xbox One version features two unique function keys: green and orange. Here they're positioned right next to each other, which makes more sense than spacing them apart. The green and orange keys function just like the Shift key, affecting only the next keypress unless you hold the key down.
28 keys have a secondary function accessible via the green key. Most of these are standard punctuation marks. Curiously, the punctuation marks accessible via the top row of numbers on a standard keyboard are instead mapped to the QWERTY row below it. But at least they otherwise match the standard layout, with exclamation mark mapped to the key below 1, ampersand mapped to the key below 7, etc.
29 keys have a tertiary function accessed with the orange key. Most of these are foreign characters like á, ñ, and ¡. Being Hispanic myself, I love the convenient access to those Spanish characters. A few orange functions are punctuation marks, always paired with similar green punctuation marks. For instance, ? and ¿ are the green and orange functions on the period key, as ! and ¡ are on the Q key.
Although the green and orange key implementation deserve plenty of praise overall, one key's green function appears to be buggy. The green ~ function on the A key only produces ~ when green is held down. Otherwise, it either misses the keypress or performs A's orange function instead. If this is truly a bug rather than an intended effect, hopefully Microsoft will fix it with a future firmware update.
Screenshot and Gameplay clip shortcut keys
Surrounding the Chatpad's spacebar, you'll notice two keys with functionality not found in any other controller or accessory: X1 and X2. By default, X1 captures screenshots while X2 records game clips. Both functions require "Allow broadcasts and game captures" to be enabled in the console's Settings menu, of course – see our New Xbox One Experience guide for a step-by-step guide to enable the feature.
Xbox One gamers can already capture screenshots and gameplay videos using the NXOE Guide menu or Kinect voice commands, but having dedicated keys makes those functions faster and more convenient than ever.
Microsoft promises that users will be able to assign other functions to X1 and X2 sometime in 2016. You'll use the console Settings menu to reassign them.
Headset controls
One of the most exciting things about the Chatpad is that it also doubles as a Stereo Headset Adapter. That adapter was originally required to use 3.5mm headsets with the Xbox One, although first-party controllers began to include both 3.5mm jacks and data ports in June 2015.
If you own a controller with a 3.5mm headset jack, you don't technically need a Stereo Headset Adapter. But it does include five handy buttons that you'll likewise find on the Chatpad. On the left, two buttons adjust the balance between game and chat audio. On the right, two buttons adjust headset volume up and down. A Mute key rests just below Enter.
The Chatpad fills the Xbox One controller's data port and does not include an extra data port. That means you can't use launch-era Xbox One headsets with the Chatpad. But like the Stereo Headset Adapter, it does sport a 3.5mm headset jack. And it even comes with a basic 3.5mm Xbox One headset – a $24.99 value. Factor in the $24.99 value of a Stereo Headset Adapter and we're talking $50 worth of accessories on top of the Chatpad's primary keyboard functionality.
Chatpad versus Type Pad
How do the Chatpad and the Nyko Type Pad stack up? Here's a quick comparison.
Chatpad:
Hard plastic keys with no repeat rate issues
Backlit keys
Proper Shift and Caps Lock functionality
Punctuation marks and other characters placed logically. Lots of alternate characters and easy to access.
Shortcut keys: Screenshot and Record gameplay
Doesn't include a mini navigation stick, but who cares?
No USB port required
Doubles as a Stereo Headset Adapter with volume controls
Includes an Xbox One headset
PC support: Windows 10 only
Type Pad:
Soft rubber keys with severe repeat rate issues
Glow-in-the-dark keys
Has Caps Lock functionality but lacks the more important Shift functionality for capitalization
Punctuation marks and other characters are illogically placed, fewer in number, and more difficult to access
Shortcut keys: @ and .com
Includes a mini navigation stick for easier cursor control during text input
Requires a USB dongle
Does not offer Stereo Headset Adapter functionality or volume control
No headset included
PC support: Windows 7, 8, and 10 compatible
Considering the Chatpad and Type Pad sell for the same price at Amazon, choosing between the two accessories should be easy.
Why you might need a Chatpad
The benefits of the Chatpad might not be immediately apparent to some readers, especially those who've grown accustomed to using SmartGlass for text entry. But the Chatpad is a product that almost any heavy Xbox One user should find useful.
First, let's look at what you can do with the Chatpad's keyboard functionality on Xbox One (I'll let you guys discover how you'd like to use it on Windows 10).
Xbox One games don't allow you to play with mouse and keyboard. But some games do involve typing, either with the software keyboard, SmartGlass, or USB keyboards. The best example are Neverwinter, Onigiri, and Warframe. All three are online multiplayer games that use text chat for communication. The Chatpad considerably improves the trio's social experience.
A few more examples of keyboard support in games:
Forza Motorsport and Horizon series: Players can type names and descriptions for custom decals and car designs
Zombie Army Trilogy: Multiplayer lobbies support text chat
Many other games allow users to name their characters, save files, and custom creations.
Plenty of Xbox One apps support keyboards as well. Popular video apps like YouTube, Netflix, and Hulu are greatly improved with a keyboard. We do a lot of random YouTube browsing in my household, so I love the app's keyboard support. The Twitch app supports live chat during broadcasts - a big part of Twitch's appeal.
Many video and non-video apps also require users to input log-in information, as does the Xbox One itself when you add a new Gamertag to the console. And_ somebody_ out there might even use the console web browser, a very keyboard-centric application.
Then you have the Chatpad's most obvious use: sending messages to friends via Xbox Live! Typing detailed messages is so much faster and easier with a keyboard than with a controller. Party chat also offers group text chat, again more viable with a keyboard.
Can't you do all that with SmartGlass? Sure, but the Chatpad is still way better. You never have to reach away for it – the thing is always right there on your controller. With SmartGlass, you need to pick up a phone or tablet, turn it on, load the app, and then type out your message. The Chatpad is faster to use won't run down a separate device's battery. Plus the tactile feedback of physical keys will always triumph over touch-screen keyboards in speed and accuracy.
The Xbox One Chatpad is a slick and surprisingly affordable accessory. Not only do you get a small and beautifully designed keyboard, but you also get a headset, Stereo Headset Adapter functionality, and two unique shortcut keys. If you do a lot of messaging, play games, or use apps that support text entry, you'll find that the Chatpad quickly becomes nearly as indispensable as the controller itself.
Get the Windows Central Newsletter
All the latest news, reviews, and guides for Windows and Xbox diehards.
Paul Acevedo is the Games Editor at Windows Central. A lifelong gamer, he has written about videogames for over 15 years and reviewed over 350 games for our site. Follow him on Twitter @PaulRAcevedo. Don't hate. Appreciate!