Microsoft Chatpad review: A small, sleek keyboard for Xbox One & Windows 10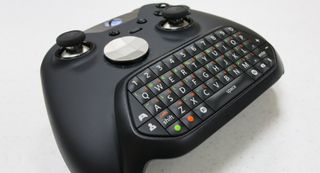 Not long ago, we reviewed the Nyko Type Pad – a keyboard accessory that connects to Xbox One controllers. Although the Type Pad offers a superior experience compared to simply using a controller for text entry, it suffers from a number of design flaws and issues. It's a hard product to recommend, especially now that Microsoft's official Chatpad is here.
The Chatpad is a tiny keyboard that plugs into standard or Elite Xbox One controllers, allowing you to input text directly from the controller on Xbox One or Windows 10. It also functions as a Stereo Headset Adapter and even comes with an Xbox One headset. If you do a lot of typing in Xbox One games or apps, this is one accessory you'll definitely want to consider. Find out more in our detailed review with video!
Package contents
The following items come inside the Chatpad box:
Chatpad (surprise!)
Xbox One headset with 3.5mm plug
Micro-USB cable
Connecting the Chatpad to a controller
The Chatpad is compatible with all Microsoft-brand Xbox One controllers, including the Elite Controller. It won't work with any known third party controllers – not even the fancy Razer Wildcat and Power A Fusion controllers. That's because third-party controllers currently don't have data ports like the official controllers.
The Chatpad itself is a single-piece accessory measuring 5-1/8 inches across (about half an inch smaller than the Nyko Type Pad). It connects to the controller via the controller's data port. Once connected, it should remain securely in place unless tugged away from the controller.
Just as with romantic encounters, however, the first connection can be difficult. Even with the connector appearing to be correctly lined up, it still took me a couple of minutes to fully insert for the first time. I think we all know how that goes.
After successfully making that love connection between Chatpad and controller, it has since become much easier to insert and remove. I had the same problem with the Nyko Type Pad, so this seems to be a minor design flaw with the Xbox One data port or its specs.
Keyboard
The Chatpad keyboard includes 51 keys, with 44 dedicated to typing and seven to other functions. All but four keys have a distinct convex shape that makes them easy to find by touch. The F and J keys also feature a small bump to aid with positioning, just as most computer keyboards do. Pressing any key causes the white, green, and orange portions of every key to light up.
The Shift key is just to the left of Z, again just like on a standard keyboard. Whereas the Nyko Type Pad only has a Caps Lock key (it uses Shift for non-capitalization purposes), the Shift key here works exactly as you'd expect. Hit it once and the next single character you type will be capitalized – no need to hold the key or anything. But if you do hold Shift while typing, all letters will be capitalized. Or you could use the Caps Lock function.
Like the Xbox 360 Chatpad, the Xbox One version features two unique function keys: green and orange. Here they're positioned right next to each other, which makes more sense than spacing them apart. The green and orange keys function just like the Shift key, affecting only the next keypress unless you hold the key down.
28 keys have a secondary function accessible via the green key. Most of these are standard punctuation marks. Curiously, the punctuation marks accessible via the top row of numbers on a standard keyboard are instead mapped to the QWERTY row below it. But at least they otherwise match the standard layout, with exclamation mark mapped to the key below 1, ampersand mapped to the key below 7, etc.
29 keys have a tertiary function accessed with the orange key. Most of these are foreign characters like á, ñ, and ¡. Being Hispanic myself, I love the convenient access to those Spanish characters. A few orange functions are punctuation marks, always paired with similar green punctuation marks. For instance, ? and ¿ are the green and orange functions on the period key, as ! and ¡ are on the Q key.
Although the green and orange key implementation deserve plenty of praise overall, one key's green function appears to be buggy. The green ~ function on the A key only produces ~ when green is held down. Otherwise, it either misses the keypress or performs A's orange function instead. If this is truly a bug rather than an intended effect, hopefully Microsoft will fix it with a future firmware update.
Screenshot and Gameplay clip shortcut keys
Surrounding the Chatpad's spacebar, you'll notice two keys with functionality not found in any other controller or accessory: X1 and X2. By default, X1 captures screenshots while X2 records game clips. Both functions require "Allow broadcasts and game captures" to be enabled in the console's Settings menu, of course – see our New Xbox One Experience guide for a step-by-step guide to enable the feature.
Xbox One gamers can already capture screenshots and gameplay videos using the NXOE Guide menu or Kinect voice commands, but having dedicated keys makes those functions faster and more convenient than ever.
Microsoft promises that users will be able to assign other functions to X1 and X2 sometime in 2016. You'll use the console Settings menu to reassign them.
Headset controls
One of the most exciting things about the Chatpad is that it also doubles as a Stereo Headset Adapter. That adapter was originally required to use 3.5mm headsets with the Xbox One, although first-party controllers began to include both 3.5mm jacks and data ports in June 2015.
If you own a controller with a 3.5mm headset jack, you don't technically need a Stereo Headset Adapter. But it does include five handy buttons that you'll likewise find on the Chatpad. On the left, two buttons adjust the balance between game and chat audio. On the right, two buttons adjust headset volume up and down. A Mute key rests just below Enter.
The Chatpad fills the Xbox One controller's data port and does not include an extra data port. That means you can't use launch-era Xbox One headsets with the Chatpad. But like the Stereo Headset Adapter, it does sport a 3.5mm headset jack. And it even comes with a basic 3.5mm Xbox One headset – a $24.99 value. Factor in the $24.99 value of a Stereo Headset Adapter and we're talking $50 worth of accessories on top of the Chatpad's primary keyboard functionality.
Chatpad versus Type Pad
How do the Chatpad and the Nyko Type Pad stack up? Here's a quick comparison.
Chatpad:
Hard plastic keys with no repeat rate issues
Backlit keys
Proper Shift and Caps Lock functionality
Punctuation marks and other characters placed logically. Lots of alternate characters and easy to access.
Shortcut keys: Screenshot and Record gameplay
Doesn't include a mini navigation stick, but who cares?
No USB port required
Doubles as a Stereo Headset Adapter with volume controls
Includes an Xbox One headset
PC support: Windows 10 only
Type Pad:
Soft rubber keys with severe repeat rate issues
Glow-in-the-dark keys
Has Caps Lock functionality but lacks the more important Shift functionality for capitalization
Punctuation marks and other characters are illogically placed, fewer in number, and more difficult to access
Shortcut keys: @ and .com
Includes a mini navigation stick for easier cursor control during text input
Requires a USB dongle
Does not offer Stereo Headset Adapter functionality or volume control
No headset included
PC support: Windows 7, 8, and 10 compatible
Considering the Chatpad and Type Pad sell for the same price at Amazon, choosing between the two accessories should be easy.
Why you might need a Chatpad
The benefits of the Chatpad might not be immediately apparent to some readers, especially those who've grown accustomed to using SmartGlass for text entry. But the Chatpad is a product that almost any heavy Xbox One user should find useful.
First, let's look at what you can do with the Chatpad's keyboard functionality on Xbox One (I'll let you guys discover how you'd like to use it on Windows 10).
Xbox One games don't allow you to play with mouse and keyboard. But some games do involve typing, either with the software keyboard, SmartGlass, or USB keyboards. The best example are Neverwinter, Onigiri, and Warframe. All three are online multiplayer games that use text chat for communication. The Chatpad considerably improves the trio's social experience.
A few more examples of keyboard support in games:
Forza Motorsport and Horizon series: Players can type names and descriptions for custom decals and car designs
Zombie Army Trilogy: Multiplayer lobbies support text chat
Many other games allow users to name their characters, save files, and custom creations.
Plenty of Xbox One apps support keyboards as well. Popular video apps like YouTube, Netflix, and Hulu are greatly improved with a keyboard. We do a lot of random YouTube browsing in my household, so I love the app's keyboard support. The Twitch app supports live chat during broadcasts - a big part of Twitch's appeal.
Many video and non-video apps also require users to input log-in information, as does the Xbox One itself when you add a new Gamertag to the console. And_ somebody_ out there might even use the console web browser, a very keyboard-centric application.
Then you have the Chatpad's most obvious use: sending messages to friends via Xbox Live! Typing detailed messages is so much faster and easier with a keyboard than with a controller. Party chat also offers group text chat, again more viable with a keyboard.
Can't you do all that with SmartGlass? Sure, but the Chatpad is still way better. You never have to reach away for it – the thing is always right there on your controller. With SmartGlass, you need to pick up a phone or tablet, turn it on, load the app, and then type out your message. The Chatpad is faster to use won't run down a separate device's battery. Plus the tactile feedback of physical keys will always triumph over touch-screen keyboards in speed and accuracy.
The Xbox One Chatpad is a slick and surprisingly affordable accessory. Not only do you get a small and beautifully designed keyboard, but you also get a headset, Stereo Headset Adapter functionality, and two unique shortcut keys. If you do a lot of messaging, play games, or use apps that support text entry, you'll find that the Chatpad quickly becomes nearly as indispensable as the controller itself.
Paul Acevedo is the Games Editor at Windows Central. A lifelong gamer, he has written about videogames for over 15 years and reviewed over 350 games for our site. Follow him on Twitter @PaulRAcevedo. Don't hate. Appreciate!
Just ordered from Game UK should get it Tuesday :) Great review made me buy one....gotta love impulse buying lol

Good stuff! Thx for the review!

You're welcome. Glad you liked it! :)

"I think we all know how that goes"... Lmao

Yea made me literally smile aloud a bit =)

My gf was reading this with me and says I definitely need this. So I guess I will be purchasing soon! Great review!

She needs you to answer to her messages while you are gaming.... That's the point

Hahahahahahaha... Nice logic dude... ;) Lol...

Subtle hint about your plug in methods? ;)

This comment has gone over my head.

Thanks Drew! I hope you guys enjoy the Chatpad. :)

This is a great accessory! Still getting a little used to typing with it, but overall it offers a lot of convenience. I had read somewhere that there were two programmable buttons and figured it was the X1 and X2, but didn't know until I read your review that they will be programmable sometime next year. Very insightful stuff!

Yeah was expecting a .com shortcut but if the macro buttons allow for that it'll make up for the lack of it.
It was interesting to see a fw update on day 1 guessing because of them already pushing the release date back they decided to push an update instead.
Still better then using the sg app, sure you can buy a clamp for your phone to attach to controller but the controller is just the right amount of weight
The green/red buttons work better on this 1 then on the original kb for 360
Theres a shoutcut for games & apps while your on the dashboard press backspace

I got mine, now twitch can be easy to chat with...

Very cool. I hope you will (or already do) join us for our weekend Twitch streams and contests. :)

I don't see myself having too much use for this, but the fact that it doubles as an adapter as well makes me wish i had it, and I wish would have known that sooner. If I hadn't just picked up an adapter I probably would have purchased this instead. Looks like it works great.

Any word of whether or not this will work with the wireless pc adapter too? Be slick if it worked with my steam games :)

Yep, on PC it looks just like a regular keyboard to the system. It doesn't have the same shell integration as Xbox (e.g. the X1/X2 buttons don't map to system functions yet), but otherwise it works as expected.

If I use it, while playing a game on steam, can I make a button work like a combination of shift
and tab? I need this in order to open the chat room!

The shift key works like shift on a regular keyboard, but since there's no tab key (or alt, ctrl, F-keys, etc.) you're probably out of luck unless the game lets you remap that key binding.

After having the one for 360 constantly attached to the control it feels wrong to use a 360 control without it and the one control feels the same way. Will be getting this soon. Great review Paul.

Thanks jmf! Always appreciate your support. :)

When will it be available for Italy?

The wife got me one for Christmas, I'm looking at it now. But I have to wait until Christmas Day to use it, I was a big fan of the Xbox 360 chat pad so this is a essential piece of kit for me

Having physical buttons to screen cap and record is probably the biggest draw of this thing. Pretty awesome actually although personally double tapping the home button for a screenshot is fast enough for me. Also the voice commands with Kinect to record works quite fast. So if you don't have or want a Kinect this is pretty much a must have.

My wife got me one for Christmas but cant use it....! Bahaha F that

Just use it! You gotta stand up to her dorian.

I don't have a chatpad for Xbox One yet, but from the video, the tilde key seems to work as expected.
It's probably not meant to be a tilde character key, but instead a tilde diacritic dead key. This kind of key works as a modifier, by pressing it and then pressing the character key that you want modified.
~ + A = ã
~ + O = õ
~ + N = ñ
~ + (~ or space) = ~ (standalone tilde character)
This is why it has to be pressed twice to get the ~ character. You might want to try out the ¨ key as well, it might be a similar dead key to generate ä,ë,ï,ö,ü,ÿ,¨ characters.

Worst thing about this chatpad is the keys being cluttered up with the tertiary functions I will never use. I would have rather had regionalized chatpads so they had actually useful keystrokes for the tertiary, of course ymmv.

I prefer the 360 version. I don't like the buttons as well and find it harder to touch type on because other than those small bumps on the f and h keys I get lost really easily. Thr bumps are so small they are almost imperceptible to me. Did not have this problem on the 360 pad. I could fly when typing on the 360.

This looks like a must have accessory. I will be picking one up during my xmas shopping. Great product and review.

Wow the chat pad looks real good with your elite controller

Nice. I might be picking one of these up soon.

Great review! Would read again!

I bet you say that to all the girls!

Mine is arriving tomorrow, but like others, I'm not allowed to play with it until Christmas day ☹

Whhaaa Christmas... What is that... I like it to be Christmas everyday... Hehehe... Great review Paul..

Thanks Little1on1. You remind me of a Sesame Street song called "Keep Christmas with you (all through the year)." :-)

Got to say, great review. Superb compare bit at the end. No idea why predictive text is not available for Xbox One, would alter controller only input for the better.

Lol 360 had that in apps like video mp long ago so im guessing their leaving it up to the devs again

Thank you kindly, Peachy! Predictive text would be nice, yeah.

Speaking of firmware updates, is there a way to do them without an XBox?

I have been a fan of smart glass. Open smartglass or the xbox app app on win 10 mobile. Activate txt box. Type or click mic to transcribe you words from your mouth. This pad looks great but the added weight to my controller or the swaping on and off for me would annoy me. Minecraft would be nice if your obsession with labels required it. Ill keep this device in mind.

I would just keep it on the controller all the time. It adds so little weight as to be inconsequential unless you're really sensitive to that kind of thing.

I would be using using it if Final Fantasy XI were to be released 10 years later.

Let's hope for XIV on Xbox One. If that happens I'm so buying it. With this chatting will be perfect.

Awesome! As soon as this puppy is in stores here I'm buying it, after using the 360 chat pad nothing else compares when it comes to typing on a console (well a dedicated full size keyboard would, but that isn't an option).

Using a full-sized USB keyboard is an option, you know. Just less convenient than sticking one on the controller.

Got this day one. I love that they made the elite controller case with this accessory in mind. It fits perfectly in the case with the paddles and I never have to take it off.

Looks great... I was curious about this a glad to hear a little more about it. Looks like I know what will be added to the Christmas list for the kids!

Party chat also has text chatting for when you don't want to hear your friends' voices

Thanks dude - added that to the review.

It looks nice might have to pick one up soon. Great review Paul, a little awkward with that love making comparison , but great review XD

Thanks man! Where was my mind when I wrote this? We may never know. :)

I think MS was thinking it wasn't necessary because of the Kinect.

Not to mention that you could have used your phone as a keyboard from day one with Smartglass.

Though one can wonder how long we'll have access to that once wm10 is available to older handjobs then it would mean using the broken xbox app

I mean, I don't know know where HJs fit into all this... But you're festive, and I like that. ;)

Made me think of a blackberry running into a game controller.

Minus the click wheel/trackball

Very tempted to buy an XB1 controller for my PC because of the chatpad. However I'd like to know if Xpadder works with the XB1 controller - I have bad hands and find using the controller via xpadder useful and better for my hands than mouse and keyboard in many MMO games. It's surprisingly how well it can work. The XB1 controller combined with the chatpad would be brilliant for me. So, anyone know if Xpadder works with the XB1 controller???

Consider playing FFXIV. It has controller support built in. As for the other mmo games, I'm not sure. But judging from what I've read I don't see why Xpadder wouldn't work with the X1, but I can't be certain.

Yes the xbox one controller works with xpadder. I have mine running with it and just downloaded a xbox one controller image for it(not needed). Basically most games that work with the xbox 360 controller will work with xbox one controller. Even my xpadder profiles I had set for the Xbox 360 controller work with the Xbox one controller. Also if you buy the new xbox one controller that has the 3.5mm jack at the bottom you can use it with your headphones/mic "wirelessly" from the windows 10 device/desktop.

looked at the site recently looks like Johnathan's out of commission again. It had been a while since I last looked it up everything was fine.

I will be picking one up soon!!!!